9 'American Horror Story: Coven' Fashion Looks We Covet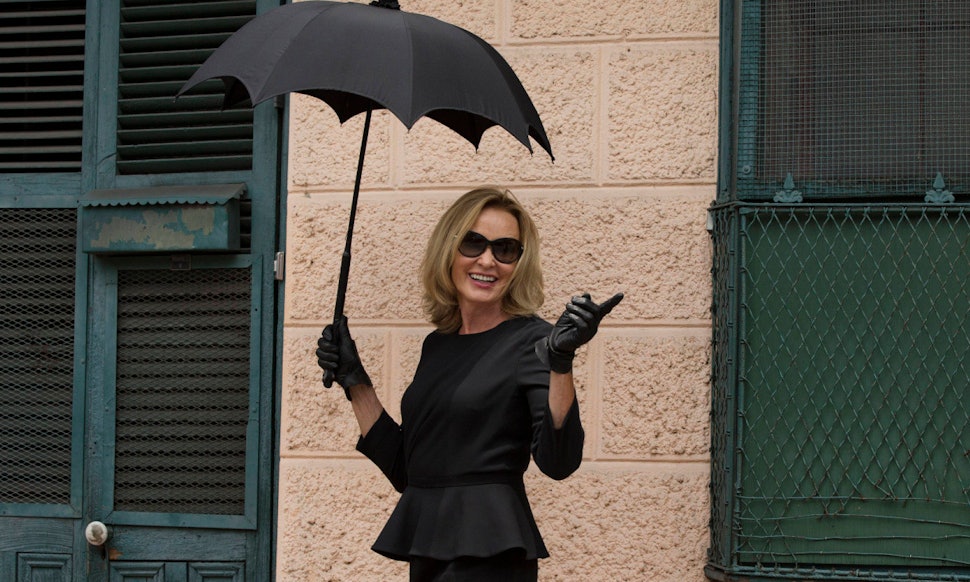 American Horror Story's past two seasons never failed to frighten us, but one emotion we're surprised to feel watching American Horror Story: Coven is fashion envy. Whether it's Fiona's (Jessica Lange) all-black wardrobe or Madison's (Emma Roberts) Kate Moss-inspired looks, we can't recall TV witches ever looking this good. Here are some of our favorite looks from the past two episodes. Tune in tonight at 10 p.m. on FX for some great scares... and wears.
Images: FX
Misty Day's Boho Chic Dress
Madison's Breaking-and-Entering Attire
The combat boots! The army jacket! The dark shades! Perfect for looking effortless while you break into a morgue to resurrect a dead body. You know, Tuesdays.
All Black (Magic)
It slims, and it indicates to the world that you are a group of badass witches. Bonus points for Fiona Goode's use of the sassy black umbrella.
Madison's Fur Vest
Ugh, if only she weren't so mean. I would totally be her friend in order to borrow her clothes. Let's hope it's faux.
Fiona's Bewitching Shoes
Every gal needs a classic pair of black heels. We hope these shoes don't hurt nearly as badly as Fiona's mind control does.
Laveau's Accessories
Marie Laveau may be a witch, but her real powers may be the ability to accessorize.
Everything About Cordelia's Outfit
The necklace, the variety in volume, the black-and-white color scheme. Clearly, someone got more than magic from her mom.
Zoe's LBD
Part college-girl-at-a-frat-party, part witch-about-to-do-some-very-bad things.