11 Wedding Flowers To Include In Your Bridal Bouquet This Spring, Because Roses Are Overrated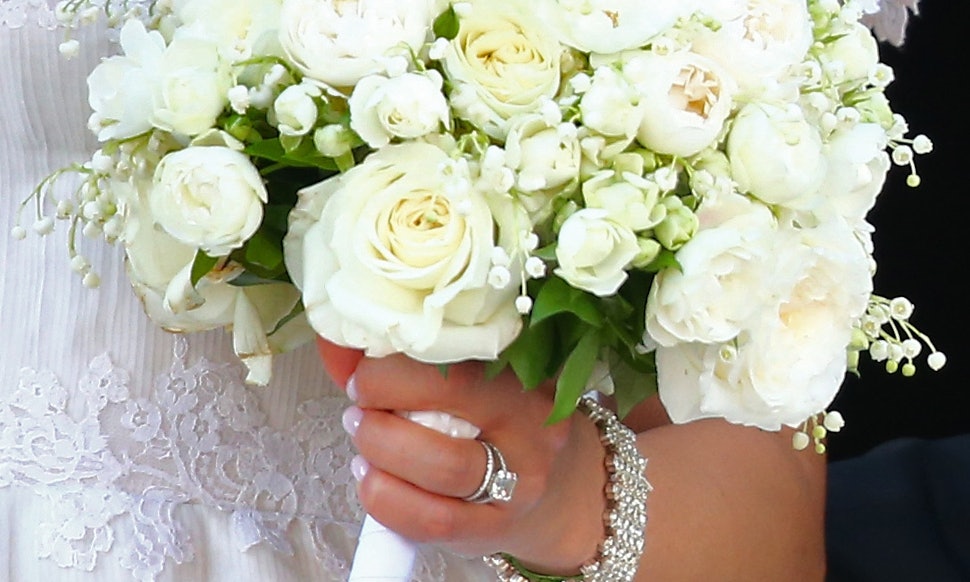 Andreas Rentz/Getty Images Entertainment/Getty Images
The beginning of spring also means it's the beginning of wedding season — whether you're prepared for it or not. And if you're planning a spring wedding yourself, you're probably thinking about which wedding flowers to include in your bouquet. When it comes to flowers, ordering ones that are in season is always a good idea, which is lucky for you since there are so many gorgeous flowers that bloom in spring! Don't get me wrong — roses are great and all, but once you see these other beautiful buds, you're going to be happy you did a little extra research.
Daffodil
Probably one of the more recognizable flowers, daffodils are perfect for your spring wedding. Not only are they bright and sunny, but they also symbolize the coming of spring, which itself symbolizes new beginnings — like getting married!
Tulips
Tulips have become a wedding mainstay recently, and they are among the most popular flowers in the world. They bloom in late spring, and are extremely popular in Holland, home of the famous Tulip Festival.
Peony
Peonies are considered one of the national symbols of China, and the flower still has great significance in Eastern cultures. They're big, vibrant flowers with a lovely fragrance — an excellent choice for a modern looking bouquet.
Fuchsia Peony Wedding Bouquet, $140, etsy.com
Lilacs
Lilacs are such delicate, beautiful springtime flowers. They typically come in pastel colors, which works well for spring wedding themes.
Image: Fotolia
Iris
The great thing about these flowers is that you can find them in a variety of shades, so you can try and match them to your wedding colors.
Image: Fotolia
Azalea
No, not the singer — the gorgeous flower! Azaleas are known for their bright colors and big blooms, making them eye-catching bouquet focuses.
Image: Fotolia
Lily of the Valley
A storied flower, the lily of the valley was used in both Princess Grace Kelly and Kate Middleton's wedding bouquets. But be careful — this flower is extremely poisonous if ingested, so keep it out of reach of children, pets, and drunk friends.
Simple Lily of the Valley Bridal Bouquet, $80, etsy.com
Redbud
A bit similar to cherry blossom branches, redbud works as a woodsy accent to a spring bouquet.
Image: Fotolia
Snowdrop Anemones
Anemones come in lots of different striking color block variations, but I like the snowdrop anemone for a spring bouquet best. The bright white and sunny yellow just screams spring.
Image: Fotolia
Crocus
These beauties are true wild flowers that usually bloom in early spring. Fun fact: saffron is harvested from the stamens from one variety of crocus.
Image: Fotolia
Summer Snowflakes
These little bell-shaped flowers are called summer snowflakes, but they actually bloom in spring. Their interesting shape and familiar color scheme make them a perfect choice for a bouquet.
Image: Fotolia