Top 10 Hottest 'Game Of Thrones' Characters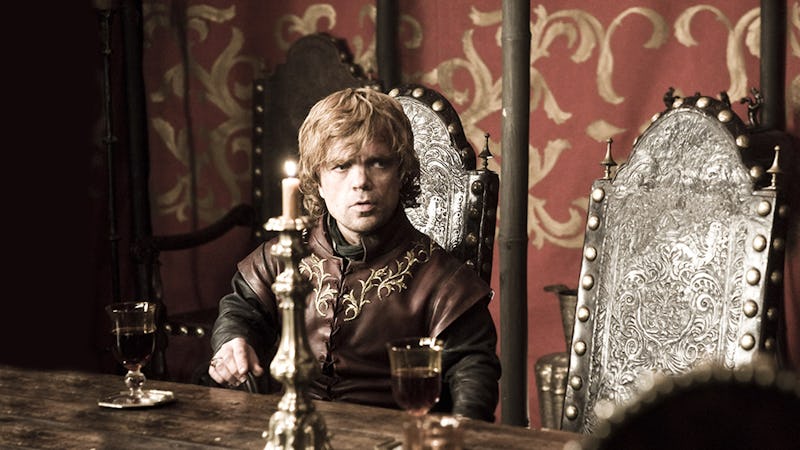 A few weeks ago, nerds everywhere breathed a huge sigh of excitement and relief when Game of Thrones returned to HBO for its 5th season. I, my friends, was among those nerds. I became a fan of the series about a year or two before the show came out, and it's been incredibly gratifying to see this story come to life every week. It's also been visually gratifying. This cast is stunning, and with promises of tons of nudity and sex, it's total fantasy fodder for a not-really-but-kind-of-perv like me. Judge away, but know that I know that you do it, too! I've seen your fan-fiction, people! I see you. I see all of you. Let's enter this judgment free zone together, shall we?
In the spirit of good-naturedly objectifying our favorite characters based on their physical beauty, I thought it would be fun to give a "Top 10" list for your consideration and debate.
First, some ground rules. We are limiting our scope to those characters still with us, which, in a show like Game of Thrones, really does narrow it down a bit. (Be warned: if you're not caught up there are spoilers beyond this point!) So let's take a minute to pour one out for Khal Drogo, Ygritte, Robb Stark, Oberyn Martell, Tywin Lannister, and the First Daario Neharis, most of whom could have made the list. We miss you, though I'd kill you all 100 times over to be able to super-glue Ned Stark's head back on his neck (#sob).
Anyway, here we go! These are the hottest of all the GoT hotties:
10) Melisandre
The Red Priestess is crazy... like, really crazy, and she's super into fire. If a child were as into fire as she is, you would send them to the school counselor and they'd call in their parents to have a chat. But she's also figuratively hot, and she does seem to recognize the threat White Walkers (aka, the creepy snow zombies) pose to the realm, so she has that going for her.
9) Gendry
The bastard son of King Robert Baratheon (RIP, dude) was apprenticed to a blacksmith, so he knows how to get things really hot and then... ummm... smash them with a hammer... yeah, this blacksmith metaphor isn't carrying me as far as I'd hoped. Point is, the guy is a stud.
8) Jon Snow
Okay, all you Jon fangirls can stop your damn caterwauling that he's not #1. I know he's everyone's big crush. But Jon just strikes me as the emo guy you dated in college, and when you look back, you think of him fondly, but you also think "Oh jeez, what was his problem? I really hope he's stopped listening to so much Dashboard Confessional." He has a sexy scowl, but I like... you know... a guy who makes more than one face. That said, if you ever ran into him at bar or something, you'd try to go home with him "for old time's sake."
7) Missandei
Daenerys' translator and right-hand gal, this former slave is talented, brilliant, and beyond gorgeous. I just feel like she'd be that awesome girl you date for a summer, and then you never see her again (she's not on Facebook: she's way too cool for Facebook), but you still write short stories about her years later.
6) Grey Worm
Aka, Barack Obama's hotter, younger brother. Grey Worm is the leader of the Unsullied, an unparalleled fighting force of stoic men trained from the time they're toddlers to be killing machines. They're also eunuchs. So, on paper, this dude has very little going for him, but it's very clear he has nevertheless got it going on.
5) Daenerys Targaryen
After her father was killed by Robert Baratheon, Dany and her sociopath brother Viserys were whisked across the sea to safety and spent their childhoods dreaming of regaining the Iron Throne. We've seen Dany come into her power since the beginning of the series. She is poised, intelligent, determined, powerful, ambitious, and stunning. She is hailed as the most beautiful woman in the world, and we're not going to argue. (Though we do have one woman ahead of her on the list: more on that later.)
4) Tyrion Lannister
The youngest, rejected child of the Lannister family, Tyrion has had to rely on his wit to guide him through the harsh realities of Westeros (often against his own father, Tywin... RIP). His smarts and bawdy sense of humor, especially set against his tragic underdog status, make for one attractive outcast... also he's just plain ol' good looking.
3) Tormund Giantsbane
Guys, I have such confusing adult feelings about Tormund. He's a giant-slaying, ginger wildling who once imparted the importance of a woman being "slick as a baby seal" before penetrative sex. W-wait, what? That's the comparison you're using? That's weird, dude. Still... that beard is making me feel kinda baby seal-ish.
2) Ellaria Sand
Ellaria is the radiant, sharp, bisexual mistress of the late Prince Oberyn of Dorne. She wore a jumpsuit to a wedding—a jumpsuit—and she was all, "Yeah, bitch, I'm wearing a jumpsuit. What? I still look better than you." And she did. Better than all of us.
1) Jaime Lannister
Okay, full confession: Jaime (seen here still sporting his right hand; RIP Jaime's right hand) is my favorite character, so I may be biased, but I challenge you to find me one feature that is anything less than textbook perfect. He's gorgeous. So gorgeous that you're like "Okay, I can overlook the attempted child-murder and twincest..." But you guys he's on the path to redemption! I can sense it! And we have the same name!
Whatever your own Top 10 list, may you enjoy it as we move through Season 5. And may they all make it to Season 6 in one piece.
Images: HBO(11)