8 Lifetime Movies You've Gotta See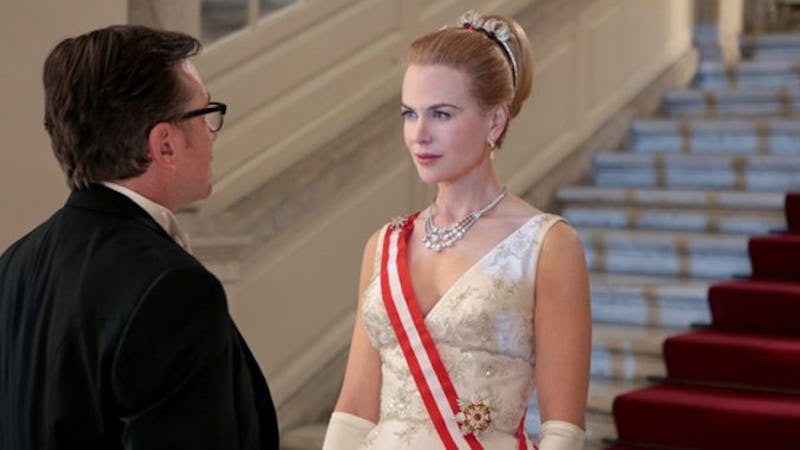 Nicole Kidman's Grace Kelly biopic, Grace of Monaco, has not had an easy go of things. While the Weinstein Company first bought the rights to the movie at the Berlin Film Festival back in 2013, its release date was continually pushed back, first from late 2013 to March 2014. Then, when a fight broke out between director Olivier Dahan and Harvey Weinstein, it was postponed indefinitely. For a while it seemed like it would never see the light of day, but it was good news this week after it was announced that Grace of Monaco would head to Lifetime, forgoing a theatrical release.
Granted, that might not feel like good news for stars like Kidman. After all, Lifetime isn't necessarily known for producing award-worthy programming — but then, it isn't trying to. The beauty of Lifetime movies is that the network is in on the joke. They know they have a cult following and they continue to produce made-for-TV movies (and acquire the rights to others) that will speak to that audience and further their reputation for inexplicably addicting watching. Grace of Monaco is in good company, and here are seven more genius Lifetime movies it'll rest alongside.
In the Best Interest of the Children (1992)
Sarah Jessica Parker plays Callie Cain, a single mother struggling to cope with manic depression while raising her five children. I watched this as a kid (seriously, I was 8 when it came out) and loved it instantly for some reason I can't even explain to you. SJP does an amazing job showing the struggles of a mother who loves her kids but just can't give them what they need. They're eventually placed in care and it's really painful to watch, but has a poignant ending.
Speak (2004)
While Speak initially premiered at the Sundance Film Festival, it found its immediate home on Lifetime. The movie, based on the novel of the same name by Laurie Halse Anderson, follows Kristen Stewart as Melinda Sordino, a high school student who basically becomes mute after being raped by a senior. It's incredibly well-acted and emotional and I'd recommend it to anyone.
When Friendship Kills (1996)
When Friendship Kills, also released as A Secret Between Friends: A Moment of Truth Movie, told the story of two teenage friends, Lexi and Jennifer (played by Katie Wright and Marley Shelton), who, through their desperation to become fashion models, develop serious eating disorders. When Lexi's mom (played by Linda Carter) becomes worried and gets involved, all hell breaks loose. This one originally aired on NBC but soon found a home on Lifetime, where it belongs.
Fifteen and Pregnant (1998)
If you haven't seen Fifteen and Pregnant, you haven't lived. Kirsten Dunst stars as Tina Spangler, a teenager who is - you may have guessed, 15 and pregnant. Her boyfriend dumped her and she's left with a few choices: have an abortion, give the baby up for adoption or raise the child herself. She goes with the latter option and while it's not always easy, Tina and her family find a way to make it work.
She's Too Young (2004)
Marcia Gay Harden stars as the parent of a 14-year-old girl who, at the influence of her two "friends" and various other students, succumbs to peer pressure and starts having sex, taking drugs and doing all kinds of stuff she shouldn't be. She ends up getting diagnosed with syphilis after discovering a sore in her mouth and the whole thing is kinda nuts. This movie is basically the the biggest scare tactic ever, but She's Too Young is impossible not to watch.
Steel Magnolias (2012)
The 2012 small screen remake of Steel Magnolias was a coup for a number of reasons, not least of which being that it's refreshing to see a more diverse cast. Frankly, the cast of this one was amazing. Queen Latifah? Check. Alfre Woodard? Check. Phylicia Rashad and Jill Scott? Check and check. This version of Steel Magnolias was a wonderful retelling of the tale of six friends and how they help each other through life. Totally underrated!
Amanda Knox: Murder on Trial in Italy (2011)
Pretty much everyone in America has been captivated by the Amanda Knox murder trial for years, so it was only natural that the story received the TV movie treatment. Hayden Panettiere took on the role of Amanda, who, if you've lived under a rock for the past 6 years, was accused, along with boyfriend Raffaele Sollecito, of killing Knox's roommate, Meredith Kercher. The Lifetime version does take some liberties in places, but it's still immensely watchable.
Liz and Dick (2012)
When you think about Elizabeth Taylor, it's likely that Lindsay Lohan isn't the first actress that would come to mind to play her, but you've gotta give Lifetime credit here - they went for it. Lohan took on the iconic actress, with Grant Bowler playing her longtime love Richard Burton. Liz and Dick is a work of genius particularly because it's so... not genius, if that makes sense. Whether or not you care about the true story behind the movie, Lohan's performance alone makes watching more than worth it.
Photos: The Weinstein Co. (1); Lifetime (8)