The First 'Jurassic World' Clip Is Here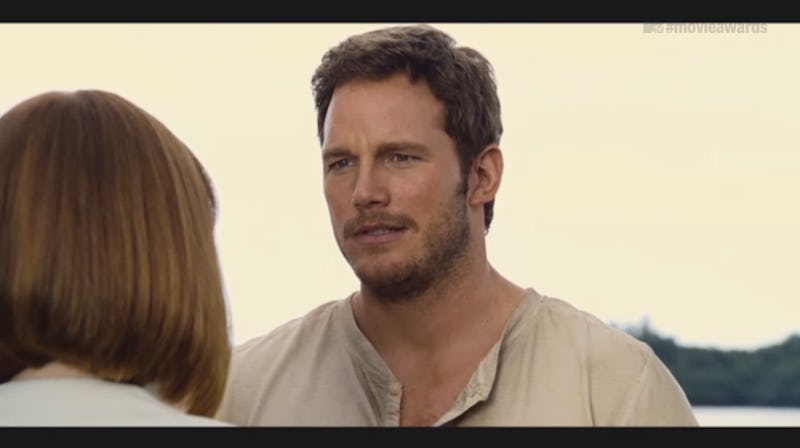 Upcoming dinosaur adventure thriller Jurassic World is promising to be the best follow-up to the original Jurassic Park (1993) that had us both awed and scared. On Wednesday, MTV shared the first Jurassic World movie clip that showcases the core debate that has long driven the sci-fi franchise: are these genetically engineered dinosaurs nature or science? We also get our first look at the two main characters, who battle over philosophies and a stalled romance.
At the request of the park's owner, Claire Dearing (Bryce Dallas Howard) asks ranger/dinosaur whisperer Owen Grady (Chris Pratt) for help in evaluating a genetically modified species she's created in her lab. The new hybrid dinosaur needs to be tested for vulnerabilities because it's set to be the star of a new park exhibit that will soon open. During the banter, we learn the pair went on one dreadful date, during which organized Claire printed an itinerary and Owen wore board shorts. The romantic tension underlying their polar opposite personalities sets up an intriguing character dynamic in love and in their views of dinosaurs. Claire sees them as "assets," while Owen sees them as animals — with real animal instincts.
Look I get it. You're in charge out here, you've got to make a lot of tough decisions. It's probably easier to pretend these animals are just numbers on a spreadsheet, but they're not. They're alive. ... You might have made them in a test tube, but they don't know that. They're thinking, "I gotta eat. I gotta hunt."
There's no doubt that Jurassic World will have a ton suspense and thrill so the decision to unveil a character clip, rather than an action-packed one, is surprising. But it's a smart move because it gives us a reason to care about what happens when the dinosaurs run amuck again. That's what helped make Jurassic Park an instant classic, and it might help Jurassic World be a worthy successor in the rebooted franchise.
And really, isn't it annoying when they give away all the good parts? (I'm side-eyeing you Furious 7.) Jurassic World hits theaters June 12. Check out MTV's exclusive clip below.
Image: Universal Pictures