7 Weird Prom Dresses From Movies — Because Taffeta Can Get Out Of Hand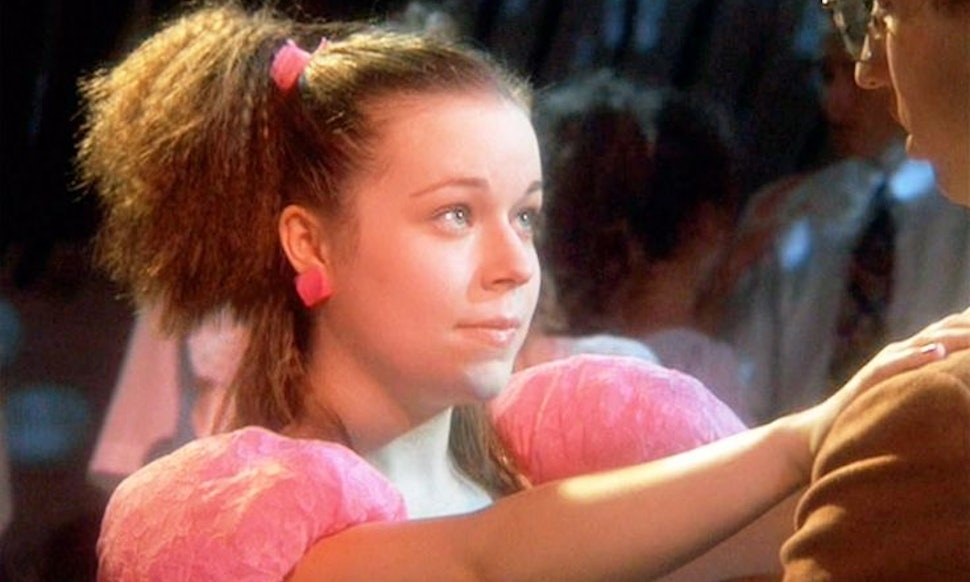 Prom is peculiar. It's a night during which everyone you know comes together for five or so hours wearing fancy attire, dancing to subpar music, and awkwardly posing for picture after picture in some kind of weird prom outfit. But prom also marks the end of high school — arguably your most formative and painfully awkward years. So why be boring and wear the same old dress your best friend is wearing? Mix it up and make it weird. You're graduating soon anyway, so what have you got to lose?
For all your fellow weird-fashion-loving people out there, here's a roundup of the best and weirdest prom dresses from our favorite movies over the years. There is no better fashion inspo than quirky cinema, after all.
Image: MTV Films
Andie Walsh In 'Pretty In Pink'
Perhaps the most classic prom dress situation in movie history, Molly Ringwald was certainly "pretty in pink" in the 1986 film. The silky pink polka dot dress is not particularly trendy, nor was it particularly stylish then either. But the dress's thrift shop sensibility makes it cool, while the unique neckline and exposed shoulders make Ringwald look super elegant and beautiful.
Image: Paramount Pictures
Romy And Michele In 'Romy And Michele's High School Reunion'
Romy and Michele are outsiders at their high school in the coolest way possible. While everyone else is slow dancing in their generic gowns, these best friends hit the school gym in nearly matching Madonna-inspired outfits. Short black dresses, chokers and headbands may not come to mind when you think of prom outfits, but maybe they should! Played by Mira Sorvino and Lisa Kudrow, Romy and Michele definitely stole the show at their prom. What's the point in going all out when you're not turning some heads?
Image: Touchstone Pictures
Josie Geller In 'Never Been Kissed'
I would go as far as to say that Drew Barrymore's dress in 1999's Never Been Kissed is the epitome of a prom night monstrosity. The shiny doily-accented costume shop mess is more absurd than weird, but it perfectly complements her nerdy high school persona. And let's face it: High school is awkward for everyone. Probably just as awkward as that dress.
Image: 20th Century FOX
Bianca Stratford In '10 Things I Hate About You'
This prom outfit may be weird, but it's genius! Not your typical prom gown, Bianca rocked a silky pink crop top and a powdery pink-colored tutu, pairing it with a fancy up-do and some prom-worthy jewels. Played by Larisa Oleynik, Bianca is quite the cool girl and clearly doesn't shy away from taking fashion risks. This is the perfect outfit for any fashion-forward chick who wants to present femininely at prom, but is not so into traditional prom gown attire.
Image: Touchstone Pictures
Janis Ian In 'Mean Girls'
Not all of the best prom outfits are dresses, as the prom scene in Mean Girls proves. Played by Lizzy Caplan, the cynical and super rad Janis Ian rocks a purple suit with some velvet accents, and finished with a polka dot bow tie. Her look is stylish, androgynous, and a bit sarcastic — a perfect match to the character's personality.
Image: Paramount Pictures
Deb In 'Napoleon Dynamite'
Everything about the 2004 cult classic Napoleon Dynamite is quirky and a bit off-kilter. Tina Majorino's character Deb perfectly encapsulates this vibe with her lopsided ponytail and her tacky technicolor aesthetic. Her tulle-covered, cotton candy-colored dress practically screams Deb. Not to mention those fantastic puffy sleeves!
Image: MTV Films
The Barbies In 'Never Been Kissed'
If you thought Josie's Never Been Kissed prom dress was weird, how about the Barbie trio? The mean queen bees opted for their favorite Barbie doll ensembles, and while you probably shouldn't want to idolize them too much, at least they prove that it's okay to go for a non-traditional prom outfit!
Image: 20th Century FOX