Peeps in Halloween Costumes Are Everything We Wanted and More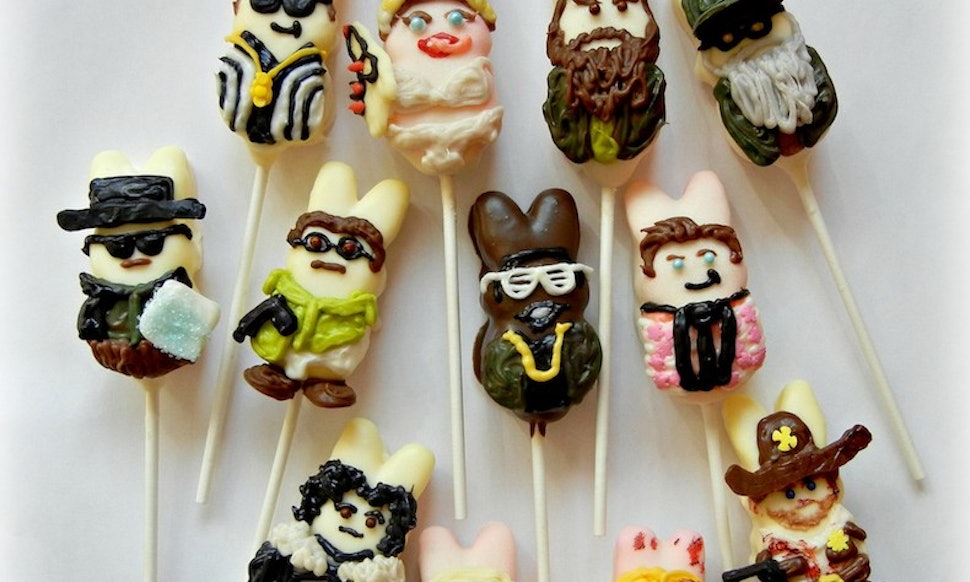 It's a week before Halloween, so we've been thinking about Halloween candy a lot (okay, and eating some, you know, to practice). You know what's weird, though? Despite Halloween's many and varied confectionary delights, one delicacy is conspicuously missing. Where are the Marshmallow Peeps?
We decided it was time for Peeps to stop saving themselves for Easter and live a little on Halloween. Like everyone else, though, they were going to need costumes. Blogger and seasoned Peep artist Michelle Clausen of Sugar Swings made our vision a reality. Here they are: Peeps ready to trick or treat.
Girl Zombie Peep and Rick Peep
Daenerys Peep and Jon Snow Peep
Game of Thrones meets marshmallows.
Walt Peep and HeisenPeep
Behold, the alpha and the omega: early Walt in his tighty whities and Heisenberg showing off his Baby Blue.
'Duck Dynasty' Peeps
Looking good, Willie and Si.
Robin Thicke Peep and Miley Cyrus Peep
Complete with foam finger.
Kanye Peep and Scott Disick Peep
The true stars of Keeping Up With the Kardashians.
How She Did It
To prepare the Peeps for their Halloween debut, Michelle first covered them in candy melt. "I use Wilton brand but there are others, or you can just use melted chocolate," she said. If you don't have bunny Peeps stored in your freezer like Michelle did, the ghost or cat Peeps currently in stores should work just as well.
Details, Details, Details
Michelle used more candy melt in various colors for most of the detail, and various sprinkles for the eyes, meth, and some of the clothing decorations. She added a little food gel for specific elements like the zombie blood.
The Whole Gang