10 Writers You Should Be Following on Twitter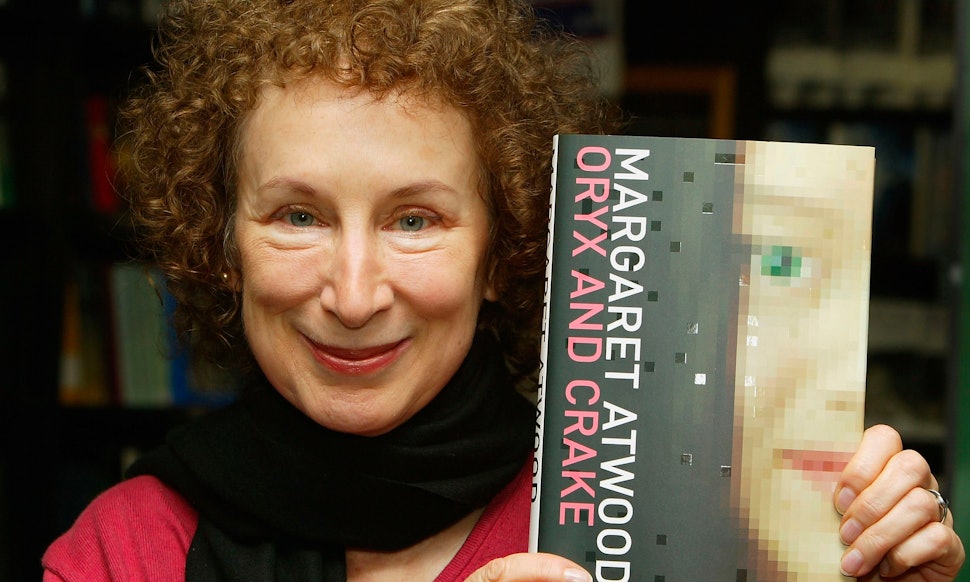 Scott Barbour/Getty Images Entertainment/Getty Images
Not all writers can cram their brilliance into 140 characters, but here are 10 who can make your time on the web a little more iliterary.
Worth Your Follow
Not all writers can cram their brilliance into 140 characters, but here are 10 who can make your time on the web a little more iliterary.
Margaret Atwood | @MargaretAtwood
"Rather than turn our noses up at Twitter, we should celebrate it and the Internet as new platforms for instant communication and as drivers of literacy." Preach it, Atwood. The award-winning novelist and poet tweets links to her favorite humanitarian and political articles and keeps her 400,000+ followers (whoa) updated on what she's up to. @MargaretAtwood: Wonderful evening of Griffin Poetry Prize readings tonight @griffinpoetry in #Toronto tonighte!
R.L. Stine | @RL_Stine
Stine tweets short, scary stories, 140 character gems of dark humor, and priceless links.@RL_Stine: Your Morning Scare: Average Americans eat 1-2-lbs of insect parts a year, hidden in pasta, spinach, broccoli, rice, and beer.
Maureen Johnson | @maureenjohnson
How Johnson publishes a novel nearly every year when she seems to spend all her time on Twitter is a feat. She tweets everything (seriously, everything), and her musings are often funny, occasionally thoughtful, and always frequent.@maureenjohnson: This Paula Deen stuff is turning out to be quite the swimming pool full of melted butter, and by "butter" I mean "racism."
Sarah Dessen | @sarahdessen
Dessen tweets about her day, writing, pop culture, and books (duh). Just like in her novels, Dessen is thoughtful, sweet, and funny. @sarahdessen: Love that my salon of choice plays classic rock. Listening to Bad Company while getting eyebrows waxed just feels right.
Neil Gaiman | @neilhimself
Gaiman's tweets are mostly focused on his tour for his latest novel Ocean at the End of the Lane, offering fans and readers a glimpse into the glamorous (read: not) life of a bestselling author. He also consistently makes an effort to interact with readers. @neilhimself: Traffic madness in London meant that we fled to Paddington and made the train with a minute to spare. Bath (a place) still happening.
Mary Roach | @mary_roach
Roach's dry humor we love in her books also keeps us laughing on Twitter. She usually doesn't tweet frequently, so she won't clog up your stream. @mary_roach: In a pinch, a small desiccant sachet works as an earplug. Crumpled up hotel shower cap plastic-not so much.
Laurie Halse Anderson | @halseanderson
Anderson tweets a winning blend of life, book news, humor, and fan interaction. After following her on Twitter, you'll probably be tempted to ask her out for a cup of coffee and a chat. @halseanderson: I've never had the patience to do anything gradually. Or rationally. Life's too damn short for such nonsense.
John Green | @realjohngreen
Green has been tweeting less since his wife had a baby a few weeks ago, but still pops in to share everything from his YouTube videos, interesting articles, pop culture, and book updates—all of which are hilarious. @realjohngreen: At the end of each day, I sit down with a good book and a cold drink and ask myself: What did I do today to become more like Jay-Z?
Sylvia Plath | @itssylviaplath
OK, so this isn't actually Sylvia Plath reincarnated with an iPhone in her hand, but it is still pretty great. @itssylviaplath: I admit, I desire, occasionally, some backtalk from the mute sky.