Weekly Style Muse: The Childlike Empress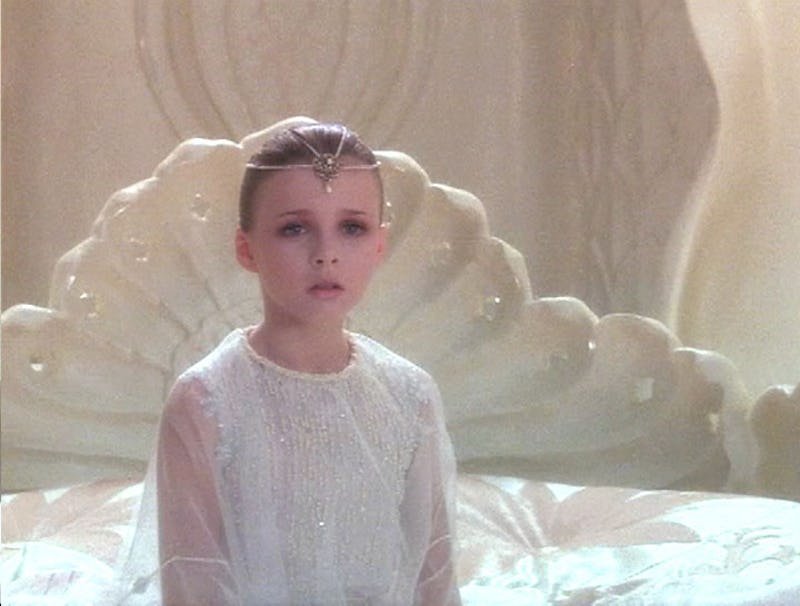 The following gal might seem like an odd choice for my Weekly Style Muse column, but try going with me nonetheless: The Childlike Empress from The NeverEnding Story , circa 1984 (a.k.a. Moon Child). Although Moon Child only appears in one feels-packed scene in the film, she struck a particular chord with me as a child, and still continues to do so to this day — and it's not just because of her spectacularly ethereal wardrobe.I would argue, actually, that The Childlike Empress is kind of a feminist icon. Visually, with her young face and otherworldly princess attire, she appears a delicate flower. Yet she is also immortal, has the wisdom of age, and is a powerful pacifist ruler loved by all in her kingdom. She's pretty much a saccharine, hippyish version of Daenerys Targaryen, really, just with a much soppier dragon. Moon Child shows that femininity and strength are complimentary characteristics — and as a lady who is often belittled for her girlish characteristics — I find her quite inspiring.The Childlike Empress was also pretty ahead of her fashion game, but then again she does know everything. Written to have white granny chic hair in the original novel, but with the face of a 10-year-old, Moon Child is ageless. As Bustle's own Marlen Komar puts it, these days dressing your age is a thing of the past — with older and wiser style icons such as Iris Apfel refusing to go dowdy, and teens like Tavi Gevinson sporting a blue rinse.
Her whimsical demeanor translates to her garb beautifully. Her gossamer white dress drapes across her shell bed throne (I want a bed throne!), strewn with pearlescent sheets, in her ivory tower, her eyes sparkling wearing that pearl headdress. (Who else put their mom's necklaces on their heads whilst watching The NeverEnding Story at age 7?)So what are you waiting for? Embrace your vulnerability with elegance and strength in these Moon Child inspired pieces:
The Fairy Gown
"He tried to remember Moon Child's eyes, but was no longer able to. He was sure of only one thing: That her glance had passed through his eyes and down into his heart. He could still feel the burning trail it had left behind. That glance, he felt, was embedded in his heart, and there is glittered like a mysterious jewel. And in a strange and wonderful way it hurt."
Limited Edition Romance Dress, $804,
Love Story Two Piece by Velvet Johnstone,
1970s Embellished Cocktail Dress, $208, Combine sheer fabrics, subtle shimmering embellishments and shades of white to channel The Childlike Empress's fey style in one of these delicate dresses. Lounge around in your floating space castle and protect your fantasy world from being taken over by The Nothing.
The Beaded Tank
"In the beginning it is always dark."
Cream Sequin Tank, $101,
Cream Embellished Vest, $52, missselfridge.comThese lovely embroidered tanks are perfect for layering with sheer pieces to create Moon Child's iridescent splendour. Just wear over or under a see through dress, or pair with a floaty skirt.
The Sheer Layering Dress
"You keep looking at it like your story is over. Like there will be no more chapters. But another chapter will come, and this is just one chapter. If you look forward to the next, you won't want to die, and remember, there will be another chapter. The story goes on, the setting changes... You know! Things will change! Stories are journeys. Yours is just a rough one, but your readers — your friends, your family, care. And doesn't that make your journey worthwhile?"
Embroidered Long Sleeve Smock Dress by Molly Goddard, $77, From my very favorite new designer of the moment, Molly Goddard, comes this exquisitely playful collection of oversized boxy smock dresses. Childlike shapes and Alice in Wonderland-like proportions make this off white piece Childlike Empress perfect. Team with your glittered tank and a skirt.
The Subtly Shimmering Skirt
"You've been shamed for your imagination too much. The Nothing does that. But you can't lose yours. That's why you'll always be different, and always safe."
Mira Embellished Maxi Skirt, $26,
Silver Overlay Pleated Column Skirt, $22, Flimsy, shimmery skirts are perfect to float around in this spring, and have a distinctly Childlike Empress appeal. Look out for sequined and lamé skirts as well as sheer and chiffon styles.
The Fragrance
"Why don't you do what you dream?"
Teint de Neige Perfume, $173, Meaning "Color of Snow," this delicate scent is dreamlike and feminine. A girlish sweet fragrance with a powdery makeup quality, it is innocently playful with a womanly, musky undertone. In its minimalist packaging, the notes of vanilla, rose, jasmine, tonka bean, and heliotrope conjure sparkling shades of white.
The Hair And Makeup
To create this innocent, shimmery look, you need to invest in a subtly glittering highlighter. Highlighters brighten the skin and add a touch of otherworldly sparkle.
Glow Highlighter in Polish, $14, topshop.com
Go for a cold-toned highlighter in an iridescent silver or pale gold, like this one by Topshop. Not only does it come in a quaint, illustrated little pot (I love Topshop makeup packaging!), but it is a creamy consistency that I highly recommend. Blend this radiant highlighter at your cheekbones to give your skin a dewy, youthful glow. It can also be used to open up your eyes, when applied to the brow bone and inner tear duct.
Vegan Mineral Eyeshadow in Mink, $3, Mimic The Childlike Empress's subtly shadowed eyes with a slight application of this mineral eyeshadow by ethical brand Etherealle. Apply under the eye and to the lids, blending into the crease. Work the shadow upward and add your highlighter to the brow bone. Careful not to go to heavy, however — this look is light not smokey.
Pearl Drop Headchain, $31, etsy.com
For a more wearable version of Moon Child's iconic headdress, try this ladylike version. It's perfect to add an ethereal touch to any outfit. So crown yourself Empress in your pearl drop headdress, whilst listening to...
The Song
"The emptiness cannot be destroyed; it had to be filled with love."
Sisters Bianca and Sierra Cassidy make up Cocorosie, a playful duo who create whimsical tunes with often darker undertones. Opera-trained Sierra's voice is elegant in contrast to Bianca's childlike tones, as instruments from the sophisticated harp to broken children's electronic toys collide to create an uncanny yet haunting sound. This quaint song, "Noah's Ark," is both intelligent and quirky and captures The Childlike Empress's dreamlike nature to a tea. Be ageless like Moon Child: Embrace your inner child and your feminine strength in equal proportions.
Images: Warner Brothers Productions; Courtesy Brands