What You Only Learn About Car Sex After You Do It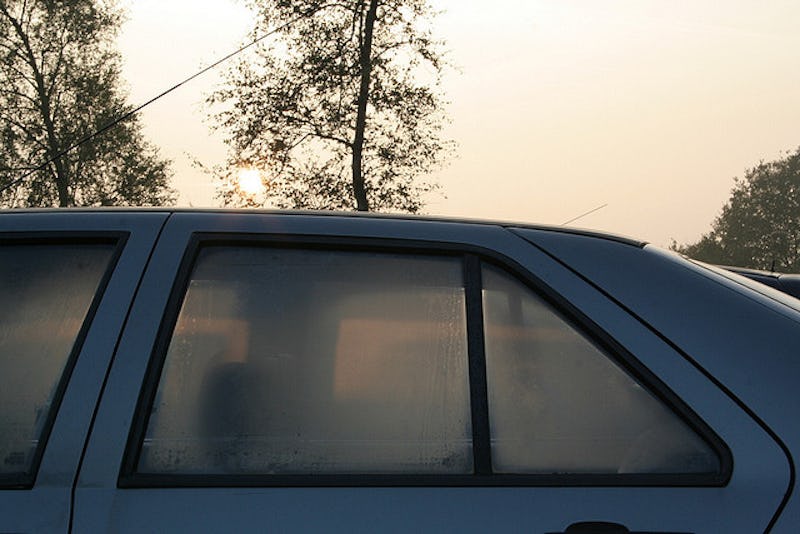 Let's be real: We've all had car sex. And why not? It's fun. There are a few things better than spontaneous naughtiness, especially when it feels forbidden and dangerous. But, that being said, it has its drawbacks. We may not be quite the yogi we'd like to be, and some of that awkward bending can pretty uncomfortable. Once you discover what sex positions are good for the car though, doing it in the backseat is pretty awesome.
When we lived with our parents, sex in the car was pretty much our only option. Sneaking our date into our bedrooms was just asking to get caught. And besides that, it just felt sort of weird to have sex with photos of Grandma inches away. Once we moved out, we may have moved into a dorm or a tiny apartment we shared with a roommate. Privacy was still at a premium, and we had to be creative. Chances are, though, car sex is still happening for many of us, no matter what our current living condition.
If you haven't had car sex, just be ready to do a lot of giggling — it may be hilarious trying to get into the groove, but once you are there, get ready for some serious steamy action.
1. You CAN get kinky in a car
Oh, yes you can! Cars come equipped with their own restraints. Click your partner in their seatbelt, take their top off and cover their eyes with it, and fondle them into ecstasy, says Dr. Laurie Bennett-Cook, Clinical Sexologist.
2. There ARE comfortable sex positions you can get into.
Nonsense! Think outside the box! Backseats are much roomier than you may realize. Sometimes it takes being in a honey state to realize just how much you can do in such a little space, says Bennett-Cook. "Good positions to try are facing each other. One sits on the seat and the other straddles and rides."
Other positions that Bennett-Cook says work in a car? Straddle reverse. Same as above only straddle with your back to your partner. Spoon. If your back seat is roomy enough you can lay in a spooning position curled up with penetration bliss.
3. Height DOESN'T matter
Nope, anyone — including tall people — can have car sex! Tilt the chairs back and angle correctly. Feet in the passenger side and shoulders on the drivers side and you have plenty of room, says Julian Wolf, Wordsmith, Educator, and Performer.
4. It's actually fun
It's TOTALLY fun. "Always remember that you're fooling around in a car, and that's silly and fun. Laughter is an excellent companion to car sex," says Wolf.
Images: Geesje Philippi/Flickr; Giphy