22 Repro Rights Activists On Why They Fight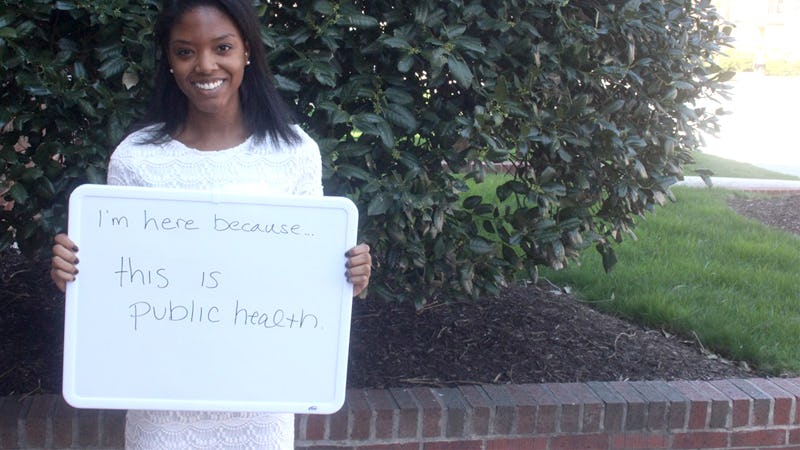 On Friday, April 10, advocates from around the world gathered in Washington, D.C. for Population Connection's Capitol Hill Days, an annual advocacy event that focuses on training reproductive rights activists. An estimated 200 people gathered at the Fairfax Hotel for four days of interactive programming, which ended in a powerful lobbying trip to Capitol Hill on Monday.
Population Connection, a grassroots organization that focuses on population stabilization, brought family planning and reproductive health experts to educate attendees on legislative issues. And in this legislature, there are plenty of harmful bills that need activists' attention: In one session, for example, representatives from NARAL Pro-Choice America and the National Women's Law Center gave participants a crash course on the Hyde Amendment, a provision barring the use of federal funds to fund abortion that effectively derailed a bipartisan human-trafficking bill. The speakers also discussed the 20-week abortion ban that stalled early in the session, but remains in the GOP's sights and the effect of last year's Hobby Lobby decision on contraception access.
And that was just one session.
Reproductive health advocates, unfortunately, will always have plenty to keep them busy at the federal and state level. But if the turnout at Capitol Hill Days was any indication, there are plenty of men and women ready to fight. We wanted to know what brought participants to D.C., so we asked them to tell us in their own words.
What brought you to Capitol Hill Days?
Erica Davis, 20
Wilson Mugabo, 22
I want to be part of the advocacy for human rights especially women and children.
Laura Sooy, 21 and Daniel Saldivar, 22
Jenn Chow, 23 (she's moving to India this year!)
Andrew Huang, 23
Shelina Noorali, 21
Timothy Irvine, 25
Abel Befirdu, 20
Sean Wirks, 21
Bailey Wendelberger, 20
Rickey Leachman, 25
Stephanie Kuhn, 22
Kelly Martin, 21
Nancy Machera, 21
I am part of the world's population. I want to contribute to the necessary implementations concerning the population.
Samantha Downing, 22
Alyson Gray, 22
Lydia Seraichick, 22
Niko Naleid, 22
Lena Khawatmi, 22
Mohammed Naiyer, 18
Annie Guare, 20
Images: Blake Maples (20)