Make Healthier Fries At Home — With Avocado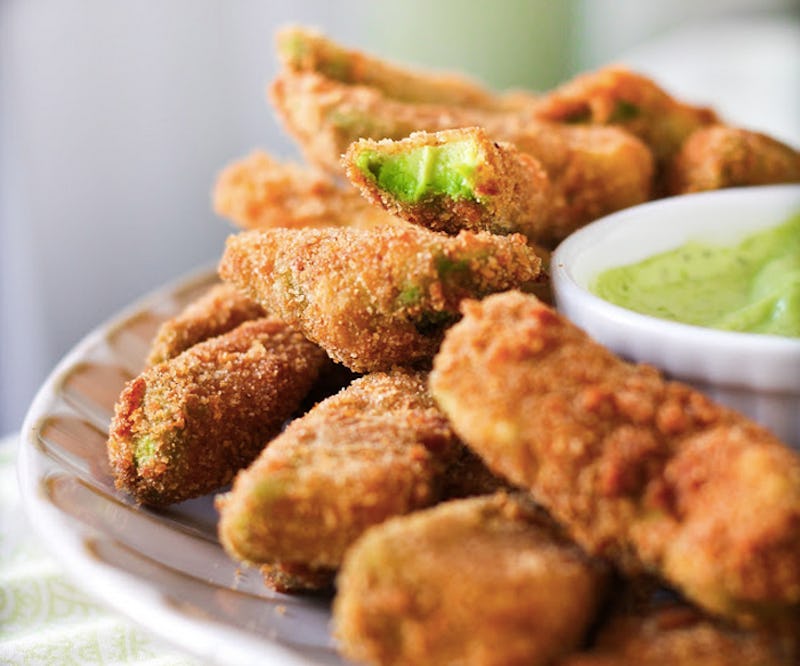 There are two things we take pretty seriously, here at Bustle: avocados, and, uh, pretty much anything that's fried. That's precisely why this recipe for avocado fries just seems to be calling to us. Avocado slices (a.k.a. the world's most perfect food) get an incredible makeover after spending just a few minutes in the deep fryer, leaving you with a snack that's slightly healthier — and arguably way more delicious — than your normal, starchy French fry. Check out Food52's super easy video tutorial below, and get ready to have your mind. blown.
By Ali Slagle
Inspired by conversations on the Food52 Hotline, we're sharing tips and tricks that make navigating all of our kitchens easier and more fun.
Today: KatieQ shows us how to turn avocado slices into crispy on the outside, creamy on the inside fries.
Once you've put it in smoothies, vinaigrette, and guacamole — and atop toast every which way — you might be looking for the next way to eat avocado as much as possible (besides going at it with a spoon, that is). Allow KatieQ to show you your new favorite way to eat avocado: fried. Dredge slices of avocado in a couple ingredients, allow the pieces to hang out in oil for a bit, and the result is a crunchy on the outside, creamy in the inside fry. All that's needed is some spicy mayo (or just Sriracha) for dipping.
More From Food52:
Creative Ways to Cook With Avocado
The Most Amazing Avocado Toast Recipes
How to Make The Best Oven-Baked French Fries
13 Sweet Potato Recipes to Eat All Day Long
Image: Adventures in Cooking