Jodi Arias Will Spend Her Life In Prison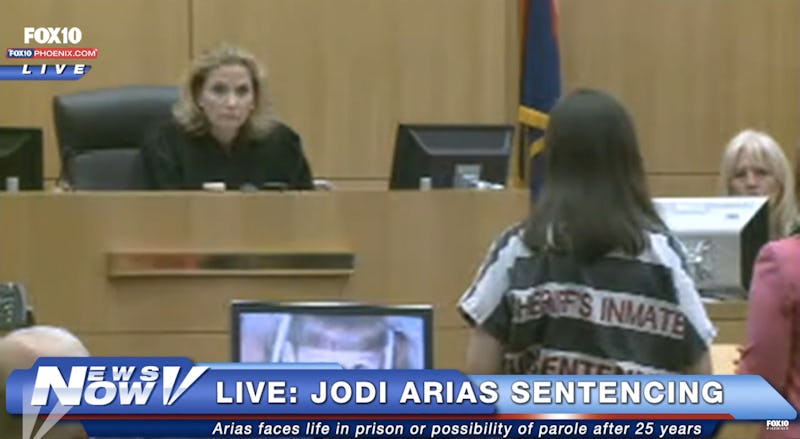 After escaping the death penalty for the second time, Jodi Arias finally received her sentencing on Monday for the murder of her ex-boyfriend, Travis Alexander. Judge Sherry Stephens of the Maricopa County Court sentenced Arias to life in prison without any possibility of parole. Following her second sentencing phase, where the jury was hung on the death penalty, Arias faced either life in prison or the possibility of parole after 25 years.
Arias was convicted of first-degree murder in May 2013, but two separate juries could not unanimously decide on the death penalty, causing Stephens to declare two mistrials. In May 2013, the first jury voted 8-4 for the death penalty. During the second penalty phase, which began in late February, the jurors were deadlocked. The second jury deliberated for nearly 27 hours, tallying a final vote of 11-1.
Before her sentence was handed down on Monday, Arias addressed the judge, saying, "If I died today, I would be at peace." She added that she "did not drag Travis through the mud," as his family members had alleged.
Arias also addressed the murder, pausing for a moment as she talked about stabbing her ex-boyfriend in the neck in what she alleged was self-defense. "It was I who was trying to get away," she said. "Not Travis."
Stephens allowed family members of Travis Alexander to read letters to the court. It was an emotional scene, with Alexander's sisters sobbing as they read their memories of Alexander and discussed the gruesome details of his murder. Alexander was just 29 years old when he was found in the shower of his apartment with multiple stab wounds, a slit throat, and a gunshot wound in his head.
"He was there for five days," Samantha Alexander, Travis' sister, told the court on Monday. "Five days, his body decomposing in the shower. I'm sure his soul was screaming for someone to find him."
As members of the Alexander family took their turns reading statements to the court, Stephens listened intently, nodding her head every so often. "In closing, I wanted to express appreciation for you," Samantha Alexander told Stephens directly. "I know this trial has impacted your life. There is only person to blame for that, and that is Jodi."
Sandy Arias, Jodi's mother, was the only person from her immediate family that attended the trial. She also read a statement to the court, saying her daughter was "fighting a battle for her life" and repeatedly calling her "a beautiful soul." Sandy Arias pleaded for Stephens to spare her daughter a harsh sentence.
"I do not condone what Jodi has done. ... She has caused people so much pain, but she has also touched so many lives with her story," Sandy Arias told the judge. "I pray the Alexander family has peace, and I pray for you, Judge Stephens."
Reporters in the courtroom on Monday said Arias looked away as the statements were read. Arias' cool demeanor has gripped the media for the last two years, and her seemingly lack of emotion has added to the mystery of the case and why it garnered national attention. It was also greatly criticized by the Alexander family, who reminded Stephens on Monday that they believe Arias has shown no remorse over the course of her trials and sentencing phases.
However, Arias showed some reflection on Monday, telling Stephens: "I'm truly disgusted and repulsed with myself. I wish I could take it back."
Before Stephens delivered the sentence, she recessed the court for 10 minutes, taking some time to read over the letters from the Alexander family, as well as emails reportedly sent in support of Arias.
Image: screenshot/Fox 12 News