Barbie Gave A Whole New Meaning To Coachella Style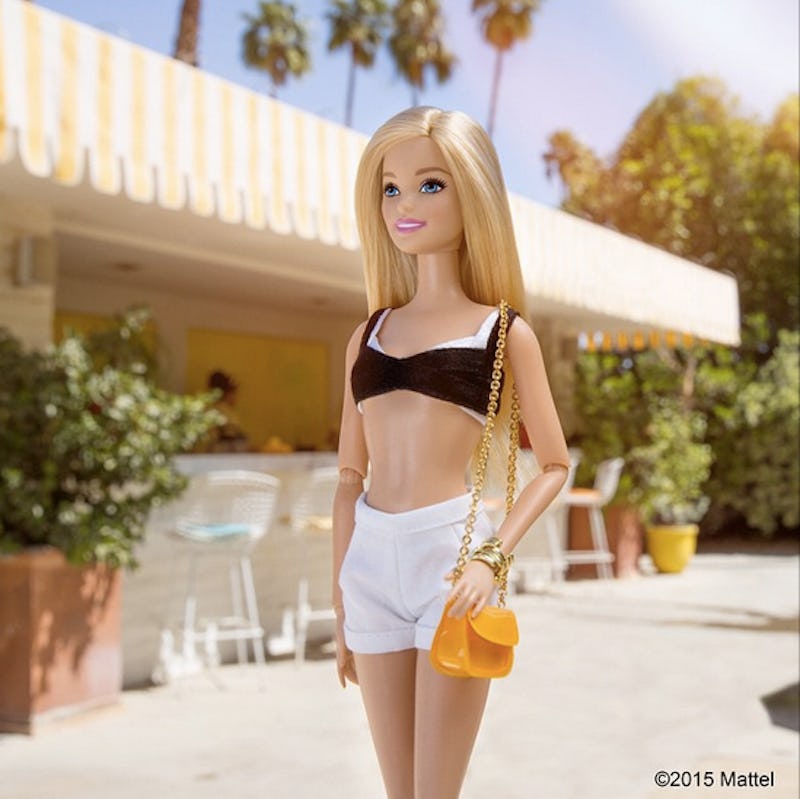 If you're not following Barbie's Instagram account, you're seriously missing out. Barbie is like the fashion blogger of the toy world, sharing photos of everything, from her trips to fashion week to her avocado toast. Like all other fashion bloggers, Barbie was at Coachella this weekend and her outfits were on point.
Just like Gigi Hadid and Kylie Jenner, Barbie took over Coachella. She hit up parties at the glamorous Parker Hotel, lounged poolside in designer duds (Moschino, anyone?) and soaked up those desert rays while enjoying the festival's many concerts. Barbie even managed to make her Coachella wristband look cool by stacking it with an armful of bracelets.
Naturally, Barbie brought a friend to Coachella with her (because celebrities cannot go to Coachella alone) and she looked just as fabulous, wearing an array of peasant tops, knitted halters, and mini dresses. Barbie sported quite the array of Coachella fashion including pink tinted sunglasses, a Moschino one-piece bathing suit, and an enviable utilitarian dress with a laced-up neckline. And, in case you were wondering, Barbie definitely rocked a flower crown at Coachella.
Here are the 10 times Barbie won Coachella:
1. Arriving at Coachella in a striped top and high-waisted jeans
2. Checking into her hotel in a brightly-colored frock
3. Lounging by the pool in Moschino
4. In the desert with a dope pair of gladiator sandals
5. Looking at the lineup in a graphic dress and holding a bright yellow bag
6. Killing it in these pink-tinted sunglasses
7. Rocking a sexy, utilitarian mini-dress and floral bandana
8. Visiting the Parker's lemonade stand in white shorts and a black top
9. Picnic-ing at Coachella in a white off-the-shoulder top and denim shorts
10. Wearing a flower crown, because, Coachella
Images: Barbie Style/Instagram (11)