What To Do In Miami This Summer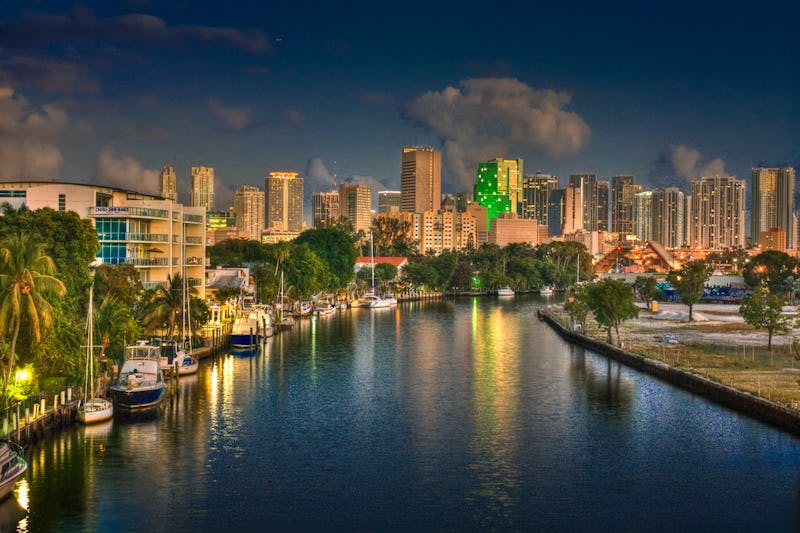 Miami is a city that is practically synonymous with summer. The tropical city boasts year-round warm weather -- yes, even in winter, when it rarely dips below 50 degrees Fahrenheit. (We'll pause as you gather all of your belongings and hop on a plane immediately.) In other words, this is a city that is meant to be explored outdoors -- and there are so many al fresco performances, markets, and festivals to help you have a great time while doing so.
With a rich and diverse local flavor inspired by its large Latin American and Caribbean population, Miami is a great place to absorb distinct cultures and some much-needed sunlight. With unique cuisine, music scenes, and arts communities, you'll have plenty to do whether you're a resident or just visiting. And with its tropical location and year-round warm climate, it's the perfect city to visit for some summer fun.
With so much to choose from, it's hard not to rely on typical hot spots like South Beach, Bayside Market, and downtown. That's why we've partnered with Crocs: to create your go-to summer guide to the real Miami while keeping you cool and comfortable in the city's summer heat.
Best Outdoor Dining
SUGARCANE
Crocs style pictured above: Crocs Rio Flat in tropical teal/cerulean blue, $49.99
Located in the heart of the Midtown district, SUGARCANE Raw Bar Grill is known for its eclectic small plates and picturesque outdoor terrace (which is surrounded by palm trees). The menu boasts a unique combination of South American flavors in every bite. And with more than 4,000 square feet of seating space, it's never too difficult to get a table.
The Rusty Pelican
Although the Rusty Pelican can tend to be a bit pricey, the food, city view, and drink specials undeniably make up for it. This stylish landmark is located in Key Biscayne, serves breakfast, lunch and dinner and has a small-plates menu that is perfect for sharing. While the food is always delicious at any meal, I highly recommend this spot for weekend brunch.
Klipsch Amphitheater At Bayfront Park
This outdoor amphitheater is home to the highest profile concerts, festivals, and events in Miami. Located on Biscayne Boulevard, south of the American Airlines Arena and Bayside, Bayfront Park is a 32-acre venue that's close to many downtown shops and restaurants. Not only will you be able to catch the usual music performances, you can also take part in the daily outdoor (and free!) yoga classes.
Best Place To Have Fun By Foot
Lincoln Road
Since it's a fairly flat city, Miami isn't exactly known for its hiking. However, there are still great places to take a walk and take in the sights. Lincoln Road is one such example. Running alongside South Beach, this stylish, energetic promenade boats a wide range of chic retail shops, sidewalk cafes, bars, and art galleries.
Best Outdoor Nightlife
Blackbird Ordinary
With ladies' night every Tuesday, live music, and charming bartenders, you can't go wrong when going to Blackbird Ordinary. The outdoor area located in the back of the bar is as modish as any bar can get in Brickell, the city's financial district which is often called the "Manhattan of Miami."
Lagniappe House
For all you wine lovers out there, Lagniappe House is the place for you. With live music every night, the New Orleans-style wine house is located in the heart of Miami's design district and has an enchanting outdoor patio area.
Best Outdoor Festivals
America's Birthday Bash at Bayfront Park
Each year, Bayfront Park in downtown Miami hosts an all-day Independence Day celebration. Beginning at 2pm, the park is filled with multicultural musicians and food trucks boasting a variety of cuisines, from Cuban to Dominican. The fireworks begin at 9pm and are the standout of the night.
Best Place To Cool Off
Mondrian Hotel South Beach
The Mondrian Hotel South Beach pool area is a great spot to cool off after a long, hot day in the Miami sun. In true South Beach fashion everything is by the pool. The outdoor bar, restaurant, hammocks, and cabanas combined with the spectacular sunset view will make you never want to leave. Even better? You don't have to be a hotel guest to have access to this luxurious and relaxing pool area. And if you're not in the mood to relax, just go on a Sunday when the Mondrian features pool parties hosted by local South Beach DJs.
Best View
FIFTY Miami Ultra Lounge at Viceroy
Located just a mile away from the the American Airlines Arena, home of the Miami Heat, the Viceroy is a luxurious hotel with a breathtaking rooftop lounge. Fifty stories up, Club FIFTY reigns as Brickell's most exclusive spot. The rooftop lounge features some of Miami's top DJs, with an attractive ambiance and impeccable view of Miami.
This post is sponsored by Crocs.