Check Out These Cute & Snarky Makeup Bags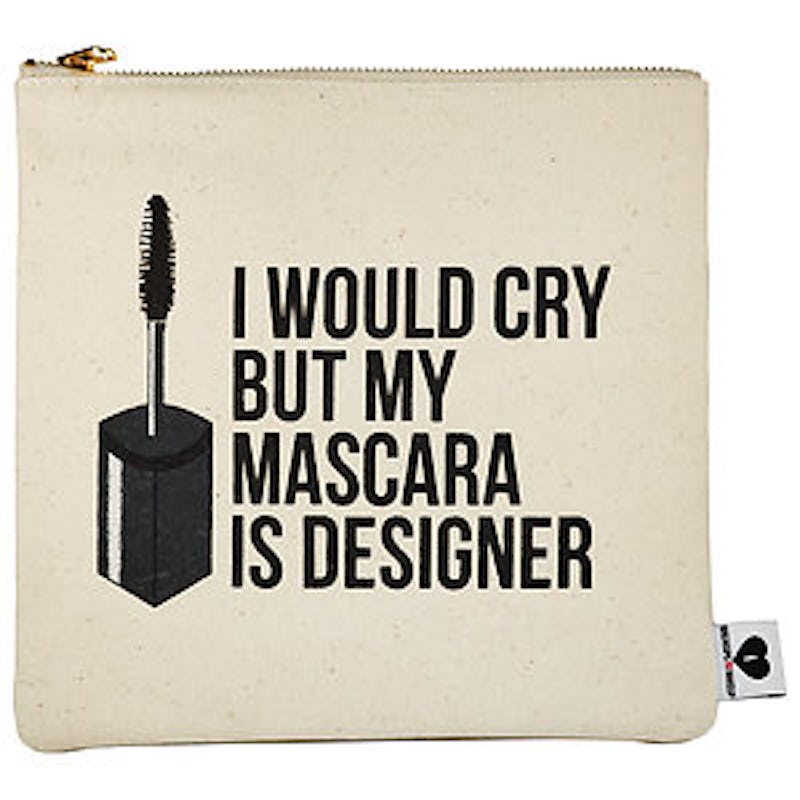 Your makeup bag is one of the things that ends up consistently by your side throughout the majority of your days. That's why you need one that's just as cute as you are, like these new kitschy Breakups To Makeup bags sold at Sephora. Because your makeup bag should be just as pretty (and witty) as you are. My old metallic gold Clinique makeup bag has gotten me through countless overnighters, airport layovers, and rough nights out, but perhaps it's time for me to make an upgrade.
If that trusty, beauty product-filled baby is going to be making tons of vacation appearances and be eternally displayed on your bathroom counter for all to see, shouldn't it be just as cute as the rest of your stuff?
Breakups To Makeup, the cosmetic accessories line dreamed up by makeup artist Angelique Velez in 2013, is teaming up with Sephora to bring you a blend of functional, smart makeup bags featuring tongue-in-cheek quotes that scream "girl power" loud and proud. Priced from $20 to $50, these babies will tote your makeup from your apartment, to the office, to the bar, and back again, while reminding you that, "Life is short, wear more makeup."
The Breakups To Makeup x Sephora collaboration will hit stores later this month, but if you can't wait, check out these other cute options to carry your favorite products with a dose of snark.
May the Wings of Your Eyeliner Always Be Even
$18, elsieandnell/Etsy
The Miracle Bag
$17, Amazon
I Woke Up Like This
$12, beyondthevase/Etsy
Contents: My Face
$34, Amazon
My Lipstick is Redder Than Your Lipstick
$16, pamelabarskyshop/Etsy
I Love Not Camping
$26, Nordstrom
The Bags Under My Eyes are Chanel
$18, elsieandnell/Etsy
I'd Rather Watch My Nails Dry
$24, nailgalsboutique/Etsy
In Case of Emergency...
$16, pamelabarskyshop/Etsy