This Is Why Strawberries Are Good For Your Skin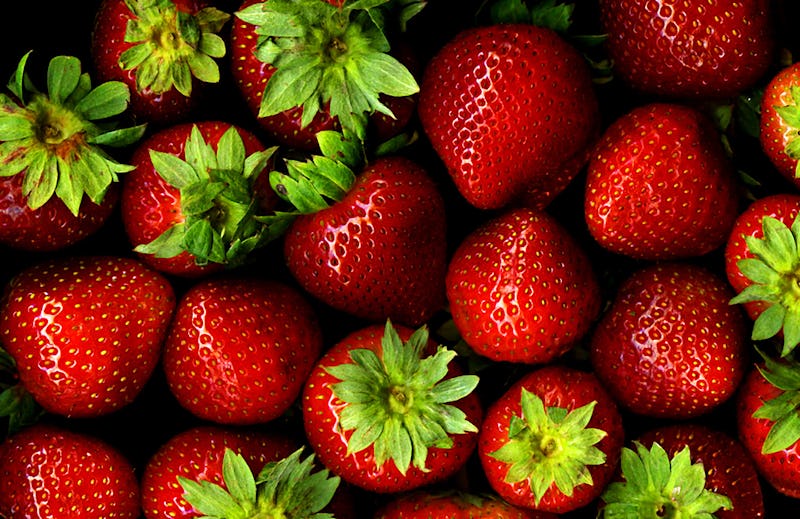 The best part about spring is the blooming of all the fresh, natural ingredients that can be used for DIY skin care remedies. This year, I'm anxiously waiting for local strawberries for brightening up those pesky dark spots and for soothing face and body packs. The fact that strawberries can benefit our skin and hair both naturally and effectively definitely makes my pollen-induced sneezing worth the change in season. Fortunately, berry picking time is just around the corner, so all my natural skincare dreams will soon come true.
To be honest, my affection towards strawberries goes deeper than skincare: Years of playing out dramatic scenarios with my Strawberry Shortcake dolls easily made this berry my favorite fruit. Of course, since I was a nerdy child with allergies, most fruits were off limits — but berries were one of the few things that didn't give me a swollen tongue. Yes, y'all, strawberries and I go way back, so I wasn't surprised at all to find out that these striking berries are truly one of the best fruits to lather up your body with. I mean, if Strawberry Shortcake was able to defend her whole gang from the Peculiar Purple Pie Man, it stands to reason that the same fruit could defend us from acne, aging, and other beauty evils out there. Right?
According to sources at Stylecraze, strawberries have been scientifically proven to have antioxidants, anti-inflammatory, and astringent properties that can prevent and treat acne and even slow down signs of aging. The benefits of strawberries aren't new news to everyone: According to sources at Food Scout, strawberries were used by ancient Egyptians to treat acne and other skin issues. Only two generations ago, my grandmother and her sisters used this fruit to make their lips naturally rosy. Before I was allowed to wear lipstick, I also rubbed strawberries on my lips with my imaginary friends. What can I say? We were rebels.
Strawberries contain enough salicylic acid to be a common ingredient found in natural skincare to fight acne. Plus, they contain omega-3 fatty acids that can help fade dark spots and naturally brighten your complexion. This fruit is serious. When you mix these berries with the right combination of natural, healthy ingredients, skincare dreams really do come true.
With strawberries coming into season, the retail price should be dropping depending on where you live. Unfortunately, you don't want to put just any old strawberry on that pretty face of yours. According to sources at the Environmental Walking Group, strawberries come in at number five out of 43 on the list of fruits and veggies with the highest pesticide residue. I won't even use soap on my face, so rubbing pesticides all up on my body is definitely a no-go in order to keep my natural skincare integrity and avoid any irritation. Look for organic strawberries that guarantee no pesticides, so you don't get a pesky reaction.
As always, check your allergies before try these fun, easy recipes — otherwise, you won't have a berry good time.
1. Honey Berry Skin Brightening Mask
This is one of my new fave recipes for getting rid of sun damage and dark spots. Strawberries provide UV protection and contain alpha-hydroxy acid which is great for shedding dead skin cells. Muddle four strawberries with a teaspoon of lime juice and then add one tablespoon of raw honey. Massage gently throughout your face and neck and leave on for about five minutes. Then rinse with warm water. This mask is gentle enough to use daily, but be sure to use a moisturizer; the lightening effects of lime juice can mean that going out in direct sunlight may cause pigmentation issues.
2. Strawberry Chocolate Body Scrub
To make this decadent body scrub, use two tablespoons of unsweetened cocoa powder, about a half dozen strawberries, half a cup of raw sugar, two tablespoons of apricot seed oil, and eight to ten drops of lavender essential oil. Start by muddling your strawberries into the apricot seed oil, then add your cocoa powder and raw sugar. Add more apricot seed oil to your mixture if it feels too dry after mixing. Lastly, add your essential oil. Store your new body scrub in the fridge after each use.
3. Strawberry Almond Exfoliate
Every month, I have desperately search my neighborhood for a fresh batch of organic strawberries to make one person her favorite exfoliate. With just three ounces of coffee grinds, two tablespoons of almond oil, and about six strawberries, her weekly exfoliate seems to last about month. The secret is putting a teensy bit of tea tree oil or vodka as a natural preservative. For this recipe, muddle your berries in the almond oil, and then work in with the fresh coffee grinds. The trick to coffee masks is to use the grinds after you brew coffee in a French press or coffee maker, so they're wet and not too harsh on the skin. Store your exfoliate in a dark container after each use.
Image: Sharon Mollerus, David Lenker, Denis Dervisevic, James Lee, Matteo Paciotti/Flickr; Giphy