9 Simple Ways To Save Money Planning Your Wedding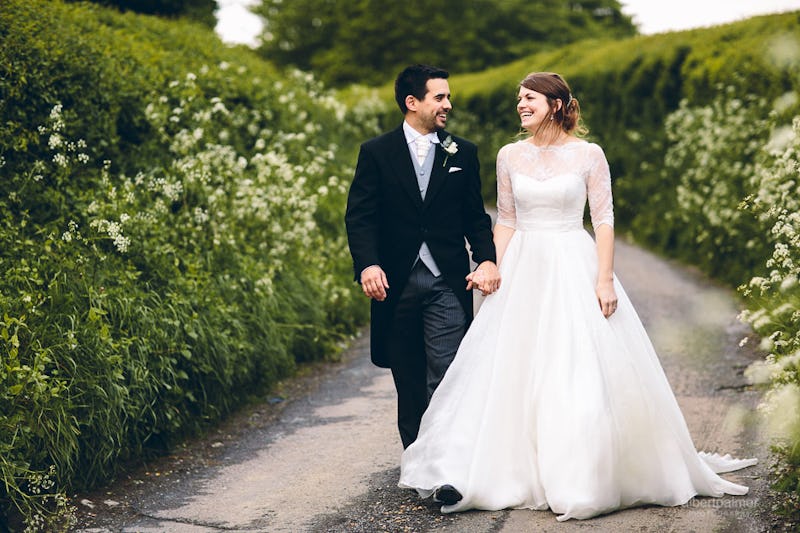 Ah, your wedding day. It's the most important day of your life, right? Real talk: it only is if you want it to be, and you can spend as much or as little as you'd like on it. Your wedding doesn't need to put your finances in the red — in fact, there are plenty of easy ways to save money while planning a wedding. Despite what every bridal magazine and bridezilla reality show makes you believe, tangible items will not be what makes your day so, so special. It's the repeating of vows, the gathering of everyone you care about, and it's the official validation that you've got a stellar partner-in-crime forever and ever.
But if you're planning a celebration beyond just having a drive-thru ceremony in Vegas or a quick exchange of "I do"s at your local city hall, the overall cost of your wedding can easily get out of hand. You can cut major costs for your big day and still have the wedding you've always imagined. Wedding planning is the first major test your marriage will endure, because it will include stressful moments, important decisions, and compromise. All you need is a plan of attack and a firm grasp on where you will draw the line. Here's how to do it realistically.
1. Pick Your Pricey "Musts"
Choose two or three parts of your wedding that are extremely important to you. Splurging on two things and saving money or even skipping others will give your big day a wonderful balance of fancy and frugal.
2. Use The Vendor Rule Of Threes
The thing about planning a wedding is that it takes a lot of time to do. It becomes a second job. So this means that more than ever before, time is money. Because of how valuable your time becomes, you need to make sure you're being efficient. You could meet with 100 cake vendors before finding "the perfect cake," and you'll always wonder if there's a better option out there. But to save time, stick with the rule of threes. Get three quotes from each type of wedding vendor, and pick your favorite. Because with three options, you will definitely have a favorite.
3. Don't Stress About The Cake
I know. I KNOW. Your gut is telling you that the cake will be as much of a focal point as your dress, and if it isn't brilliantly and uniquely decorated while also tasting like heaven, your wedding will be a disaster. That's what I thought, anyway. But I found a small local bakery that didn't make a ton of wedding cakes, and they quoted me for a regular cake, without the 800 percent markup for just the "wedding cake" label. I had it designed like a tree stump, and it was super cool, budget-friendly (at only $200, compared to the standard $600 to $800), and I didn't even notice the cake was on display until we were ushered over to cut it. And also? It's cake. People will like it no matter what.
4. Recruit ALL Of Your Crafty Friends For Help
Anyone who is even moderately decent at arts and crafts will have fun helping you make decorations and wedding favors. My maid of honor is a painter AND a teacher, which means she's basically an artistic black belt. She made signs, table settings, and built lawn games like Jenga and corn hole with my and my husband's silhouettes painted on them (because I wanted a place where people who are allergic to dancing could still have fun). Ask for their help, and thank them one million times for it.
5. Utilize Your Friends' Other Talents
If you have a friend who's a hairdresser, see if she can do your hair on the morning of your wedding. If you have a friend who lives near your venue and has tons of connections in the restaurant world, see if they can help you with a rehearsal dinner hookup. Give the people who love you the chance to lend a hand doing what they do best. Then everyone wins.
6. Rely On Etsy
Etsy is your new BFF. In fact, if you're doing a lot of pinning on your Pinterest wedding board, most of the pins will be items available on Etsy. They're reasonably priced, and most of them are quirky enough to add the right amount of cozy-cool to your wedding without you having to make the crafts yourself.
7. Skip The DJ
I had a friend bring her laptop, connect it to a speaker system, and just play the playlists they had created for the night. It's not ideal and you'll need someone to occasionally check in on them and put on the scheduled dances, but other than that, this is a fantastic money-saver.
8. Consider Unique Venues
Your venue will probably be the most expensive part of the wedding, so maybe consider using a friend's picturesque backyard or a public place that holds sentimental value for you and your future spouse. Like when Ben and Leslie used the parks office to get hitched — how perfect was that?
9. Look For Package Deals
If you do use a typical wedding venue, go for the ones that provide packages for everything. Because while it MIGHT save a couple dollars to rent an empty venue and then purchase or rent every fork, napkin, and chair yourself, it can also very quickly become more expensive. And it will definitely be a way bigger hassle. The key to saving money as well as your sanity during wedding planning is sidestepping hassles.
Image: Albert Palmer/Flickr; Giphy (9)