These Celebs <3 Coconut Oil As Much As You Do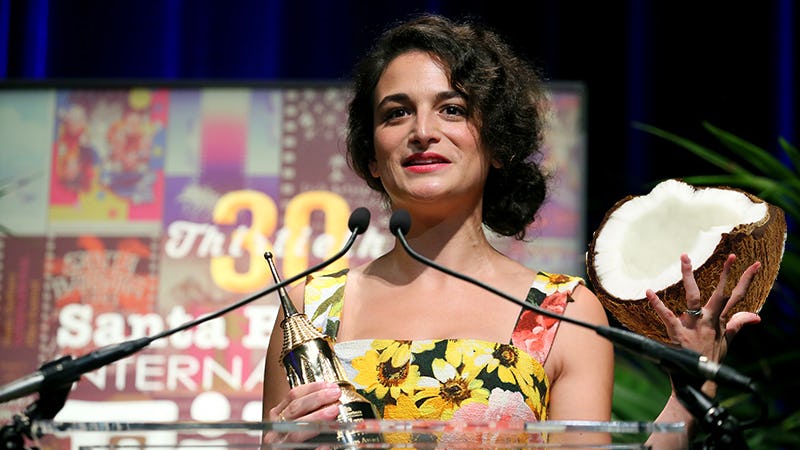 When peering at the ingredient list of your average makeup remover, hair conditioner, or lipstick, the ingredients are often a mysterious amalgamation of frightening-sounding chemicals. Therefore, the amount of celebrities who love coconut oil in its pure, undiluted state is perfectly understandable; after all, who wouldn't hop aboard the organic skincare wagon after years of sporting caked-on cosmetics whose components remain an enigma?
The coconut oil trend is by no means new, but it also shows no signs of departing anytime soon. The multitasking ingredient is a wondrous solution to a number of skin, hair, and health maladies, and costs quite a bit less than the so-called "miracle products" designed to target the same concerns. Some celebrities prefer to use coconut oil as a natural mouthwash, insisting the oil removes stains from their teeth. Others substitute coconut oil for their nightly date with a makeup removing cleansing cloth. And a handful of celebrities even use coconut oil as a form of ultra-natural makeup, praising the oil's ability to restore radiance to a weathered face. Before dismissing the coconut oil fad as yet another overly-hyped trend destined to go the way of belly shirts or velour tracksuits, read on for 13 celebrities who have pledged their allegiance to coconut oil.
1. Suki Waterhouse
Model Suki Waterhouse relies on coconut oil to tame dry skin in emergency situations, according to an interview with Into The Gloss.
2. Emma Stone
Allergy-prone Emma Stone keeps coconut oil on hand as a natural makeup remover, she told Vogue.
3. Miranda Kerr
A naturalist at heart, Miranda Kerr slathers her hair and face with coconut oil, in addition to keeping the product in her cupboard for gently wiping away stubborn makeup, according to Huffington Post.
4. Gwyneth Paltrow
Though Gwyneth Paltrow's coconut oil features prominently in the amateur chef's recipes, the actress also utilizes the ingredient for oil pulling to perfect her signature smile, according to Glamour.
5. Shailene Woodley
Divergent star Shailene Woodley shares Gwyneth Paltrow's affinity for oil pulling with coconut oil, she revealed in an interview with Into The Gloss.
6. Mindy Kaling
Mindy Kaling told People that she credits her mother with her coconut oil obsession; the Mindy Project actress prefers to use the rich oil in a hair mask to give life to her long locks.
7. Mandy Moore
Mandy Moore insisted to Into The Gloss that her glowing complexion is at least partially due to frequent usage of organic coconut oil for increased hydration.
8. Mary-Kate And Ashley Olsen
The design duo behind The Row adore hair guru Marc Townsend's moisturizing potion, Towsend told Vogue, which contains coconut oil, vitamin E, and jojoba oil amongst its soothing ingredients.
9. Kelly Osbourne
So enamored of coconut oil is Kelly Osbourne that the celebrity devoted a post on her blog to the ingredient, dubbing the oil excellent for illuminating the face, restoring hydration to hair, and wiping the face clean of makeup.
10. Jenny Slate
Comedian Jenny Slate is yet another celebrity devotee of coconut oil, preferring to use hers as an all-natural makeup remover, according to Into The Gloss.
11. Khloe Kardashian
Much like sister Kourtney, Khloe Kardashian indulges in periodic use of coconut oil to pry away the remnants of her cosmetics after a day in the spotlight, she told Into The Gloss.
12. Kourtney Kardashian
According to Style Bistro, Kourtney Kardashian maintains her lustrous locks with a mask featuring coconut oil as one of its key ingredients.
13. Lucy Hale
It would seem that Pretty Little Liars actress Lucy Hale is utterly devoted to her trusted coconut oil based upon her taste in t-shirts, one of which reads, "Salty Hair Coconut Oil Big Waves Hot Sun." Hale also told Teen Vogueshe's especially fond of using coconut oil on the ends of her hair to keep them healthy after on-set heat styling.
Images: Getty Images