Does 'Star Wars: Episode VII' Feature Luke's Kids?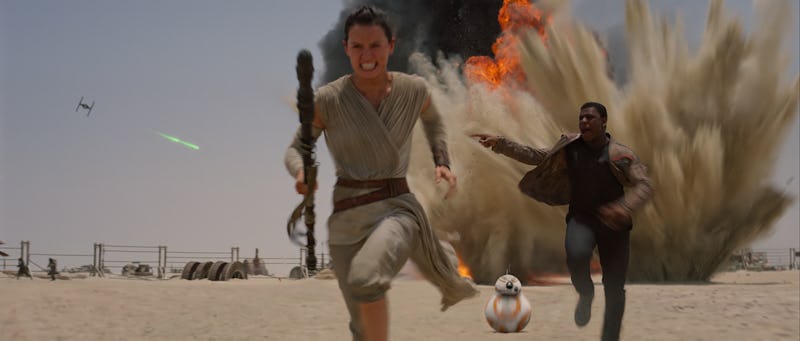 Today was a big day for Star Wars fans. Not only did we finally answer some of our longstanding questions regarding Episode VII, but a brand new Star Wars: Episode VII trailer debuted with loads more footage to overanalyze. With a new trio of core cast members — John Boyega, Daisy Ridley and Oscar Isaac — it looks like the new trilogy is all about passing the Jedi lightsaber down to the next generation. But, who is the next generation?
For as much as we do know about new characters Finn (Boyega), Rey (Ridley) and Poe Dameron (Isaac), there's still a great deal of mystery clouding their future. (Oh, wait! I should have said, "clouded their futures are.") So far we know that Finn is a Stormtrooper on the run from something. He finds himself in the desert of Jakku where he meets up with Rey, a scavenger used to fending for herself. Soon — and by the looks of the trailer, that would be very soon — they're attacked by a TIE fighter and forced to flee from danger. Fortunately, the Millennium Falcon swoops into save the day. As for Dameron, he is sent on a mission that forces him to cross paths with Finn and their lives are both forever altered.
A lot of hype has been built up around these players, but it's time we try and crack the code. Just who are they and how do they relate to the older generation of characters?
Finn
Finn is a bit of an enigma. He's the first person we saw in the first Star Wars: Episode VII trailer, and yet, there's nothing from either the new footage and details or the current string of rumors that suggest he is related to any of the original characters. And he might not be.
Of course, with every rumor comes the grain of salt you're supposed to take with it. Nevertheless, word on the street says Finn is playing an Imperial Stormtrooper who doesn't have familial connections to Luke, Leia, or Han. Instead, he sees the brutality of his position and defects. While on the run, he crashes into Jakku, where he encounters Rey. This seems to jive with what we saw in the trailer, specifically that one scene where Finn takes off his helmet in horror at what he saw transpire. From there, that Chrometrooper we saw for a hot second is said to be Gwendoline Christie's character, a superior officer, who spends the duration of the film trying to track him down.
Rey
My first thought was that Rey might be the daughter of Princess Leia and Han Solo. If you recall back when the principal cast members were formally announced, a black-and-white photo of the cast doing a table read accompanied the news, and Ridley could be seen sitting in between Carrie Fisher and Harrison Ford. Now, this could be nothing, but it seemed like an intentional placement. The other newcomers, including Boyega, Adam Driver, Andy Serkis, Dohmnall Gleeson and Isaac were off on the lefthand side. Coincidence?
Another tidbit I picked up from the new trailer is the beginning sequences. The voice of Luke Skywalker from 1983's Return Of The Jedi chimes in over footage, saying, "The Force is strong in my family. My father has it. I have it. My sister has it. You have that power, too." While he's talking, there's a scene that shows someone passing a lightsaber over to someone younger. Who is this person? Male or female? By the looks of the hands, they seem to belong to either a woman or someone very young. Could it be Rey?
As a scavenger used to living alone and providing for herself, it would make sense if she were to be somehow related to Skywalker or even Solo for that matter. Both are out of the picture, and the rumors suggest that no one knows where Skywalker is. Could that be why Rey was left on her own?
Poe Dameron
Here's what we know of Mr. Poe Dameron: he's the best pilot in the galaxy, he was sent on a mission by "a certain princess," he crosses paths with Finn at some point, and he's a core character. Considering all of that, here's what I suggest: he's the son of Solo and Leia. Think about, he's the best pilot because it's in his blood. He takes a mission from a princess, who is presumably Princess Leia, which would make his enlistment in the Federation's forces a natural step. This is also small, but we do see him in the latest trailer replicating his father's famous "Yee-Haa" scene from the original films.
Elsewhere, rumors have been swirling suggesting exactly what I said. Photos of Isaac and Ford conversing with Abrams popped up from London, and fans started speculating that their characters have some connection. I mean, why would these two gents, and only these two gents need to chat with their director?
We still have a while before Star Wars: Episode VII hits theaters on Dec. 18. But hopefully this dissection will help you wait it out while we drum up some more details.
Images: Star Wars/YouTube (4)