'Homeland' Whisks Carrie Away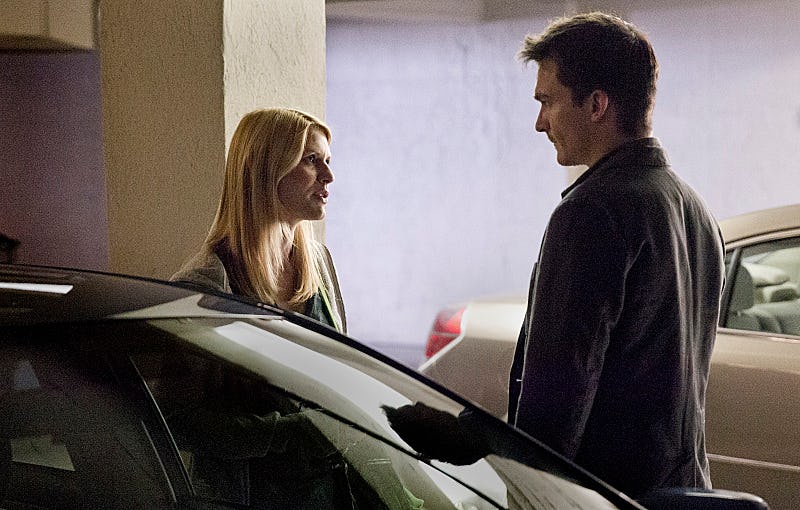 Is Carrie crazy? Is she just the best actress ever? Has she now found the warm, warm arms of Saul's beard? All of the above? As things with the Iranians get more intense, things just get wackier and wackier. Here's the roundup:
The Homeland Melodrama quotient:
"We dangled her to draw the Iranians out," Saul admits. So, burning Carrie in front of the Senate and committing her to a mental institution was all an act. What's next? Brody's not really in Venezuela? It was all a dream! (Carrie: +500; Saul: +500)
Carrie doesn't take her pills and flushes all of them down the toilet for good measure. Girl just never learns. (Carrie: +10)
Drop off in the middle of the road in Vermont, slick move, new baddie on the scene. (Team Iran: +5)
"Despair, starvation, death" elicits lolz. Okay, so that's sort of a funny proposition when you're an upper-middle class kid on the run from your parents who just want you safe in your bed. (Team Teen Trouble: +5)
Jessica Brody visits Carrie Mathison to ask for help with Dana. What is a supposedly disgraced CIA agent going to do about some teenagers? And you think your husband's ex wants to help? (Jessica: +100)
Meeting guys behind a yoga studio is a move that works, even though you walked through the middle of the yoga class…? Yeah, so Carrie does want to help Jessica if only to tell some guy off. (Carrie: +25)
While on their joyride, Dana runs out of the car and causes multiple cars to stop when Leo won't tell her what happened. Well, what else do you do when you're in the car with a possible murderer? (Dana: +25)
Dana goes home and cries. Gifs will be made to commemorate a cry face even uglier than Carrie's. (Dana: +1)
Carrie: "Where are you?" Quinn: "About 100 yards away." Is this how spies flirt-stalk with each other? (Carrie: +5; Quinn: +100)
Senator Lockhart is the new director of the CIA, not Saul. They're going to start relying more on drones! Which are totally effective and don't come with massive collateral damage. Ugh, typical. (America: +1)
Saul comes home to a sexy man with his shirt half-unbuttoned having dinner with his wife. (Saul: +100)
A few men sneak into Carrie's house in the middle of the night, order her to get naked, and attempt to cut off her shirt to make sure she isn't bugged. Where are you now, Quinn?! (Carrie: +200; Quinn: +5)
Saul tells Quinn to keep his distance. No!!! Nobody leaves baby alone in the corner. (Saul: +50)
The men put a mask over Carrie's head and whisk her away. The Iranians do not mess around. (Carrie: +500)
Saul: "We're back in business." Not the proper response, Saul! (Saul: +300; Carrie: +100)
The Iranians know about Carrie's yoga classes… Gotta respect the yoga body. (Team Iran: +100)
And the winner this week is… Carrie! Her drama points outscored all the rest. Thanks for playing. It's really tough to beat the girl who gets kidnapped.