The 'Hateful Eight' Trailer Is Intriguing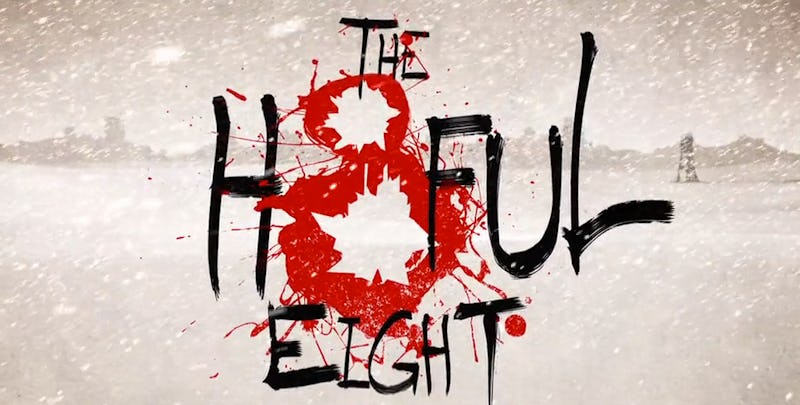 It's been a big day for trailers. First, another trailer for Star Wars: Episode VII — The Force Awakens hits the Internet, and now a first look at Quentin Tarantino's long-awaited new flick is online. The first trailer for The Hateful Eight is out, and in classic Tarantino fashion, it's way more mystery than it is trailer. For one thing, there's no actual footage in this preview, which is unbearable for fans looking forward to the film. That's not to say it's not interesting, however — instead of footage, the entire trailer is just a series of cool images with graphic overlays.
That's not to say that the new Hateful Eight trailer tells us absolutely nothing about the film — it actually informs us of quite a bit. Because the trailer is built of graphics and text, it actually tells us the premise of the film straight out. The story is about a group of eight strangers who get stranded together in a snowstorm, only to realize that they have a "deadly" connection to one another. It then introduces us to all eight characters, along with their oh-so-Tarantino nicknames like "The Hangman" and "The Bounty Hunter."
As for the connection, my money is on it being that each member of the eight has killed someone — they sure seem like a volatile bunch. Check out their intros from the trailer:
#1
Samuel L. Jackson plays Warren, but unfortunately will not be rocking the '70s hair from Pulp Fiction in this Tarantino flick. He'll be a bounty hunter, though!
#2
Kurt Russell's character is the first that makes me question whether this whole "we all killed people!" thing is the connection between the eight. Hangmen — aka, executioners — have many deaths on their hands, even if they're just doing their job.
#3
Jennifer Jason Leigh's character has to be in prison for something — could it be a horrific murder? Of course it could... it's a Tarantino movie.
#4
Walton Goggins is The Sheriff, who probably isn't too keen on being stuck with the likes of a prisoner during this blizzard.
#5
Demián Bichir is The Mexican... which is unfortunately all we know about his character. Lame. He's more than just his ethnicity!
#6
Reservoir Dogs and Pulp Fiction alum Tim Roth will play The Little Man, and considering Tim Roth is a pretty average height (5"7') I'm assuming that it's not a literal name.
#7
Michael Madsen is "The Cow Puncher." But before you think this guy is going around punching cows, I'm assuming that this title refers to this dictionary definition of "a hired hand who tends cattle." Then again — it's Tarantino. Shit gets weird sometimes.
#8
Nebraska actor Bruce Dern is "The Confederate," which might be a problem, considering that the film was set "sometime after the Civil War." So, unless this movie is another revisionist history piece a la Inglorious Basterds, this one is just confusing.
Check out the full trailer below: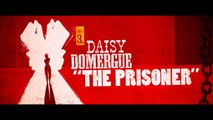 Images: The Weinstein Company (9)