10 Thanksgiving Decor Ideas to Make You Seem Like Martha's Young, Hot Niece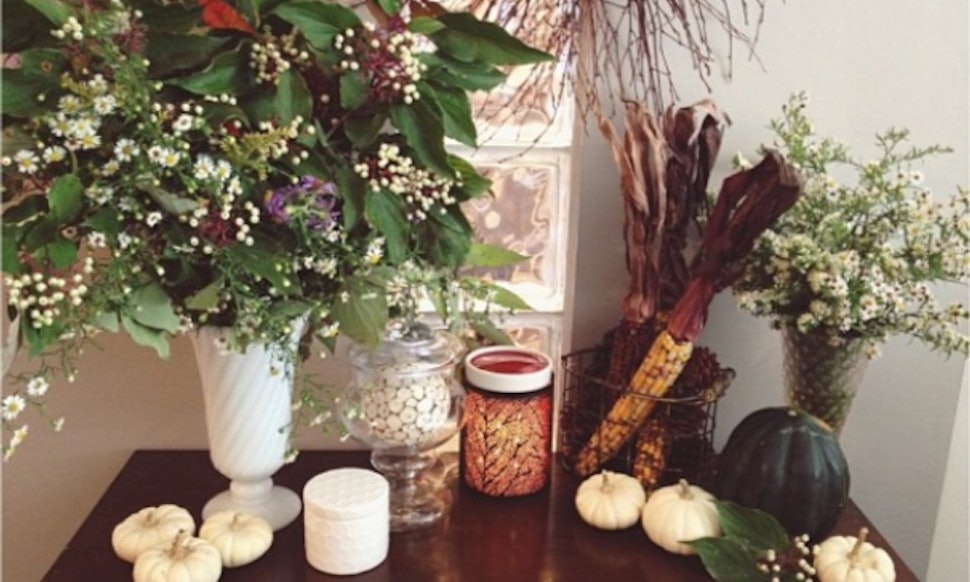 Don't get me wrong—I worship on the perfect, meticulously decorated altar of Martha Stewart. Proof: my favorite Thanksgiving recipe of all time EVER belongs to Martha, she happens to be one of the world's top Halloween icons (along with Heidi Klum, duh), and she was gracefully all Orange Is the New Black before it was hip. She's on match.com. She DGAFs what haters think. She rules.
BUT (and I can say this because I know she would shake her head and say "whatever" before returning to her rose garden), when you think of Martha you probably don't think of words like "hip" and "modern." That's where Martha's fictional young, hot niece comes in. You know the type: she lives in Brooklyn, has a roof garden, makes her own jam, and knits sweaters that look like they're Rodarte. She knows how to throw a killer, perfectly-organized-but-never-stuffy party, and she can definitely help you add some casual cool vibes to your place before hosting a Thanksgiving gathering (also, she probably looks a lot like young, hot Martha).
Read on for 10 simple decor and craft ideas for a chic, low-key Thanksgiving, from making your own apple candles to arranging your herb place settings just so (and don't worry—the crafts aren't too crafty).
Image: alina955 via Instagram
Modern Wreath
Greet your guests at the door with a sleek, understated wreath, like this one from West Elm.
Image via West Elm
White Pumpkins
Orange pumpkins are so every-year-before-this-one. Opt for the sun-bleached, organic-chic look of albino pumpkins instead.
Image: novembergrey via Instagram
Pinecone Garlands
For an easy bit of earthy-meets-glitzy fall pizazz, string together a few pine cones, some bare, some spray-painted silver and gold.
Image: RosyBluHandmade via Etsy
Pumpkin Vases
Apple Candles
Similarly, apples make cheap rustic candle holders. Just remove the core and drop in a tea light. (Turnips or gourds will also work.)
Image: littleirishlady28 via Instagram
Dessert Stand
Chalkboard Table Runner
If you invited vegan, vegetarian, or gluten-free guests, grab a chalkboard table runner to mark which dishes suit which needs.
Image via Anthropologie
Wine Bottle Candle Holders
Transform your empty wine bottles into an elegant centerpiece. And by all means use this idea as an excuse to "empty some bottles" as you're prepping.
Image via Style Me Pretty
Herb Place Settings
Fresh herbs provide a sweet smell and add a pop of foliage to your place settings. Plus, diners can take them home to garnish leftovers.
Image: hellolaurajane via Instagram
Leaf Seating Cards
Leaves are free! Go outside, grab a few, wash 'em off, and sprinkle them over the table. Or, if you're real fancy, spray paint some (maybe while you're making your pine cone garland) and scrawl your guests' names.
Image: bestdayevervan via Instagram