11 Books To Give Your Future Daughter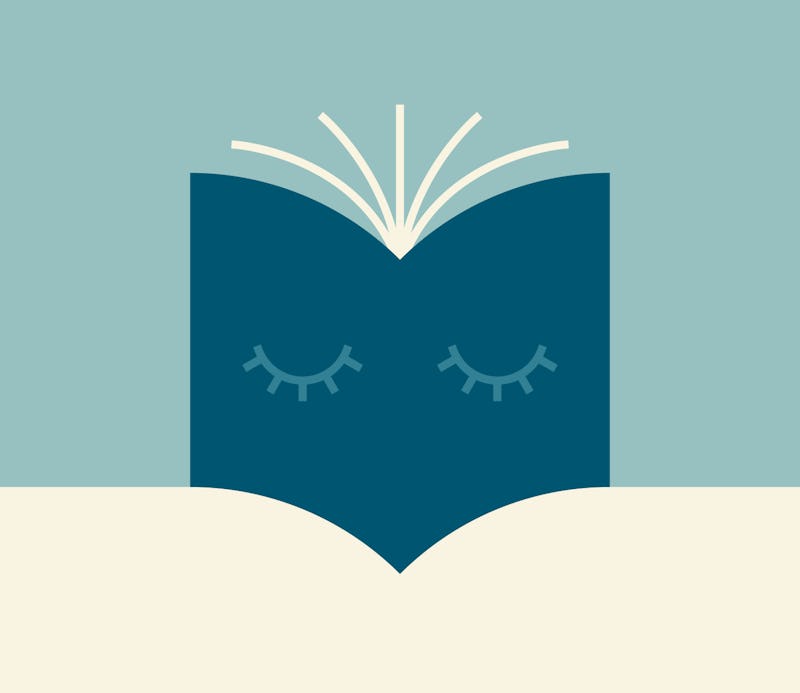 I've reached the age where half of my friends are having babies and the other half of us... well, the closest we have ever come to bearing children is the food baby we carry home from brunch on the weekends. To be honest, I'm still trying to wrap my head around the idea that I can grow an actual human being inside of my stomach. I've even asked my mom if the early stages of pregnancy make you feel like you've swallowed a goldfish, because that's how I imagine it to feel when my unborn child is swimming laps around my organs for nine months.
I imagine there will come a day, though, when I'll experience pregnancy first hand, possibly more than once. I'm confident that my karma for the way I treated my mother as a teenager will be to give birth to at least one little girl who will, at some point, hate my guts for no reason at all. And when that time comes, I will keep these 11 books handy in hopes that they will be able to guide my unborn daughter once she's decided I, as her mother, couldn't possibly understand how it feels to experience life as a growing girl.
Age I'd give her the book: 10 years old
Because at 10 years old her attention span will be short and her imagination will be running wild, these (mostly) one-page poems about life, love, travel, family and a few other quirky topics will introduce her to experiences outside of the suburbia I will likely have her living in. At the very least, she'll see that poetry exists outside of Dr. Seuss books, and that writing poetry can be an outlet for all of the things she's not comfortable talking to mom about. Sarah Kay is relatable in this collection, reminding women of all ages that they're not alone.
Age I'd give her the book: 12 years old
If my daughter is anything like me at 12 years old, she won't have any interest in reading. Instead she'll be dreaming of bigger and better things: 12 going on 25. Amy Krouse Rothenthal's unique autobiography is an easy read guaranteed to keep my daughter engaged but is also, as Rothental describes it, an extraordinary book about an ordinary life. I hope my daughter acknowledges from a young age just how extraordinary her own (likely ordinary) life can be. I never want her to take for granted the small but daily blessings, like the smell of coffee in the morning, or a beautiful sunset.
Age I'd give her the book: 14 years old
The poem titled "Daughter" is everything. It is even some of the inspiration for this article. Blood Sugar as a collection is a little dark at times, but I'm sure no darker than my future teenage daughter. I'd be lying if I said this collection of poems by Nicole Blackman didn't get me through my own bouts of heartache, angst, and depression. Blackman is raw and exposed, not always pretty and easy to swallow, but the vulnerability is real. And if my daughter is anything like me, these poems will resonate in the emptiest parts of her, leaving her just a little less lonely than before she started this collection.
Age I'd give her the book: 16 years old
This book illustrates the change in female culture since the 1970s by diving into the lives of conventional girls and women, each chapter linked to another seamlessly. Elissa Schappell offers a point of a view from a number of generations, making the book universal. No matter what kind of girl my daughter might be as a teenager, what kind of woman she hopes to be in the future, or what kind of mother she may someday be, the stories in this book will connect her with a part of herself she may have lost touch with. Perhaps, it'll help her understand a part of those around her — she might even develop some sympathy for me as her mother!
Age I'd give her the book: 18 years old
She'll be starting college, possibly unsure of where she fits in the world, and maybe even scared for what comes next. And while I'll likely be in tears at the thought of my precious baby growing up, the current twentysomething-year-old me knows that I will want my daughter to reach far and wide and stop at nothing to achieve her dreams, even if that means leaving mommy. Kelly Cutrone says all the things I will want to say to my 18-year-old daughter in her debut book about both her personal and professional experiences. While it was published in 2010, the message will remain the same for generations to come: be yourself, do what you love, and stop hanging around people who tell you you're not extraordinary.
Age I'd give her the book: 19 years old
Laurie Penny starts the introduction of this book with, "This is not a fairy tale." And ain't that the truth? You wouldn't know from the Disney movies most of us grow up longing to mimic, but we learn long before the age of 20 that our stories hardly exist the way they do in movies. I'd give my daughter this book even earlier in life if I didn't think that she will spend the majority of her teenage years being drunk off first love and uninterested in anything that doesn't involve one very lucky pubescent boy. I hope that at 19 my daughter will be able to see through the fog of young love, and not only be ready to be more open-minded, but inspired to be who she is and accept others for who they are. Penny's discussion about feminism that is about freedom for all will be perfectly timed.
Age I'd give her the book: 20 years old
Jo Ann Beard gives us a collection of essays touching on a variety of everyday conflicts we encounter as women. The final essay in the collection, titled The Boys of My Youth, touches on the urgency we feel when we're in love for the first, second, or possibly every time. Reading this last essay, I hope my daughter begins to think about how much time she's spent on boys, men, and relationships both romantic and not. I'd like her to imagine putting all of that time and energy into something else. Not to say it would be better or worse, but definitely different. And I hope my daughter begins to recognize what is and is not worthy of her time.
Age I'd give her the book: 21 years old
Do you know a single woman who doesn't love this book? If you do, it's probably because she hasn't read it yet. I refuse to let my daughter be one of those women living in the dark! Originally an advice column, Dear Sugar offers endless bits of wisdom and inspiration on a number of topics and from varying point of views. These stories are a reminder that things could always be worse, but could certainly be better if we just accept our lives for what they are. Or as Strayed puts it, "Whatever happens to you belongs to you. Make it yours. Feed it to yourself even if it feels impossible to swallow. Let it nurture you, because it will."
And that's just one of the many YES moments I hope my daughter has while devouring this book.
Age I'd give her the book: 23 years old
I can only hope that by the time I have a 23-year-old daughter, marrying young will no longer be a thing. But in the event it is, I hope my daughter finds comfort in this story about family, romance, careers, and all of the in between. Whether she chooses to marry young or to never marry at all, to put her career first or stay at home with children, my hope is that my daughter will find at least one character in this work of fiction that she can relate to, and that it will remind her to follow her heart, regardless of the consequences.
Age I'd give her the book: 24 years old
While this novel is about three adult women, the bond Mike Greenberg illustrates between these three fictional characters should be acknowledged by women of all ages. I want my daughter to understand the importance of friendship, to know that mean girls will always exist, but that there are strong, wise, supportive, and inspiring women worth surrounding herself with. At the very least, she'll have a books worth of laughs and the insight to cherish her youth.
Age I've give her the book: 25 years old
I want every man and woman in the world to read these essays by Rebecca Solnit, especially my daughter. Solnit is honest and factual, which will remind my daughter just how far women have come, and how far women are capable of going. I hope to awaken her inner feminist, to teach her the importance of female empowerment, and to show her, in case she hasn't already noticed, just how badass it is to be a woman. Who run the world? GIRLS.
Image: Helen Tseng/Bustle