7 Prom Hairstyles You Can Actually DIY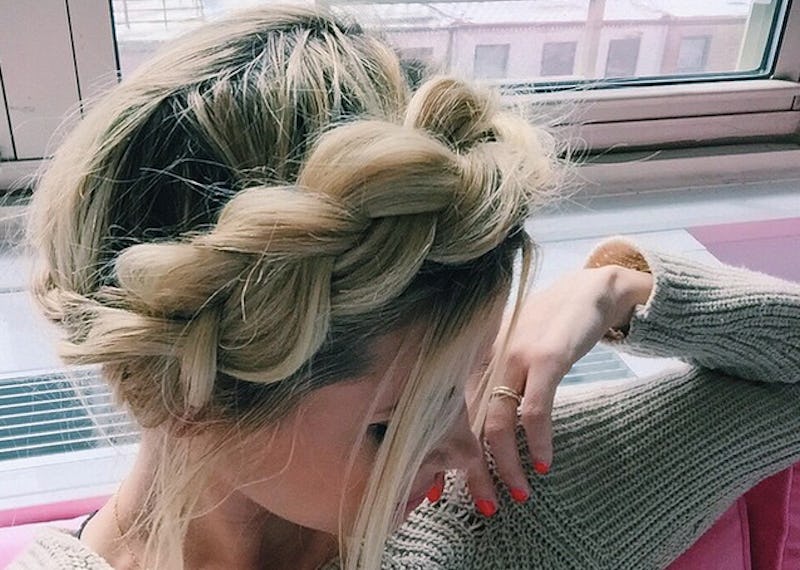 Fretting over your dress and makeup may be integral parts of the prom-going experience, but perhaps the most cosmetically challenging facet of the occasion is selecting — and executing — an easy prom hairstyle that still looks completely elegant. Unless you happen to have a hair and makeup squad on speed dial, you'll likely be indulging in a DIY 'do with the help of a spritz of hairspray and a few strategic bobby pins. However, not everyone is an expert at fashioning intricate updos in a matter of minutes, despite what the red carpet and a host of beauty blogs would lead you to believe. If you haven't been blessed with the innate ability to tame your locks, look to the experts for a bit of guidance in the arena.
From windswept fishtale braids to lightly ruffled top knots, YouTube is the promise land for hairstyling tutorials, many of which cater to those with absolutely no knowledge of the methods for fashioning a milkmaid braid, let alone "effortless" curls. Whether you have five minutes to ready your locks for prom or hours to spare, these seven hairstyles are quick, painless, and produce beautiful results. Don't be surprised if you receive a few covert requests for the name of your stylist.
1. The "Front Row" Braid
Utterly romantic and seemingly elaborate, Amber Fillerup's "front row" braid comes together in a snap and won't budge throughout a night of revelry.
2. The Wavy Half-Up 'Do
Play up your natural waves or utilize your curling iron to achieve this wavy half-up do. As an unexpected bonus, the style becomes more bohemian and enchanting as it loosens over the course of an evening.
3. The Double Braided Bun
Give your staid, simple bun a much-needed modernization with Luxy Hair's simple double braided bun. The style is as bewitching from the front as it is the back, and will withstand a night of carousing with a generous mist of hairspray.
4. The Half-Up Fishtale Braid
If you fancy yourself an alter ego of Frozen 's Elsa or perhaps just adore a fanciful hairstyle, dive into Hair Romance's elementary half-up fishtale braid for a memorable, statement look.
5. The Uber-Quick Messy Bun
The quintessential fashion blogger bun is de-mystified in this five-minute-or-less messy bun tutorial from The Freckled Fox.
6. The Kardashian Kurls
Channel the Kardashian sisters (if you dare) with Hair and Makeup By Steph's simple loose waves hair tutorial.
7. The Modern Cinderella
There is no shame in occasionally wishing your life resembled that of Lily James in Cinderella post royal soiree. If you adore all things regal, try this Lilith Moon curled updo on for size.