11 Literary Podcasts for the Book Lover On the Go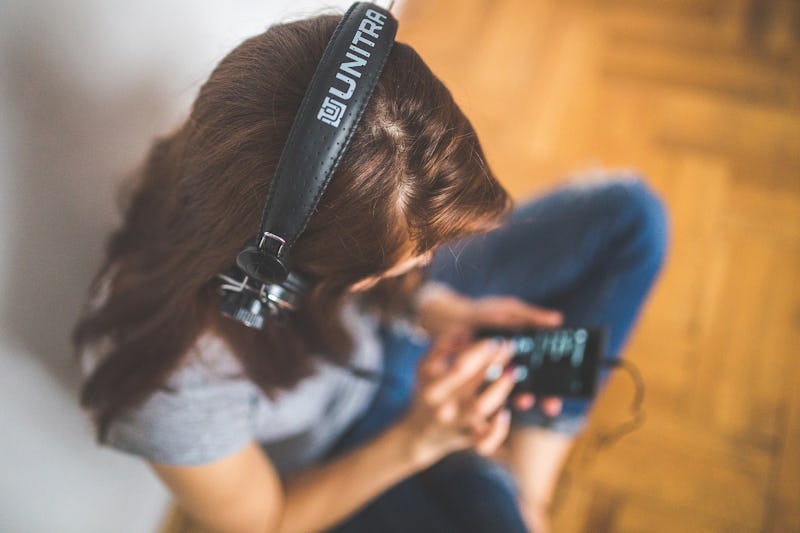 There are many times when a book-lover simply cannot read a book: while driving, doing work, or walking around, for example. Sometimes, staving off boredom in public is just better suited to having earbuds in instead of having your eyes fixed on a page. Or maybe you really wanted to attend an author's Q&A at the local bookstore but missed it, or live too far away to attend, but you still wish you could hear her talk about the writing process and her favorite scene.
Enter literary podcasts. Like most other categories in the medium, literature has seen a recent boom in quantity and quality of its offerings. There are ample opportunities for authors to read from their work or be interviewed, or for hosts to discuss their favorite reads and trends in the lit world. It's fun — and super-inspiring, if you're a writer yourself — to learn about the names on your book covers and realize they are cool, creative people proving that it can be done.
These 11 podcasts are a great excuse to shut out the world for a little bit on your next commute, jog, or errand, and get lost in a community of people who are just as psyched about books as you are. Put those headphones on; all the cool people are doing it.
The Catapult
I stand by the fact that being read to as an adult is one of the most underrated pleasures. It's such a rare and comforting treat, and this podcast hosted by Jaime Green does not disappoint. Each episode, Green brings two writers to read from their work, which ranges from nonfiction to fiction to poetry. It's an excellent place to discover new writers, hear from your favorite authors, or simply feel inspired by a quick hit of words during an otherwise average day.
Two Book Minimum
Hosted by Better Book Titles creator Dan Wilbur, this podcast brings authors together with comedians to discuss the former's book. What results is more fun and expansive than an average book talk, though — host and guests stray from a straight-up plot synopsis and delve into curious and, well, comedic topics along the way. It's a fun and informative listen when you've read the book du jour, and enough reason to go out and pick it up if you haven't.
Lit Up
This new podcast bills itself as a book- and literary-themed show "where no topic is off the table and no conversation is too weird, too personal or too controversial." Uh, sign me up. Hosts Emily Gould and Angela Ledgerwood sit down and have a chat with contemporary lit stars, and the result is like listening in on a group of cool, smart ladies you'd like to befriend. I predict good things for this one: they've already hosted Catherine Lacey and Hanya Yanagihara, and they've got writers like Meghan Daum, Nell Zink, and Jon Ronson on deck.
Otherppl with Brad Listi
Brad Listi is no newcomer to the podcast game. He's just put up the 354th episode — yeah, 345th — and shows no signs of slowing down. The writers and book-relevant folks (including editors and publishers) he's chosen to feature range from the up-and-coming to well-established. Indie presses and their authors are abundant, so it's a great spot to hear about off-the-radar talent. I feel like I've gone into some of the episodes barely knowing a name, and I come out with a better understanding of the creative life and, usually, a new book on my to-read list.
The Narrative Social Club
This is another newer podcast where I eagerly await the next episode: writer and cofounder of LitWrap Kate Pigott talks with authors about the writing life. Each episode thus far has a thread emerge from it: the question of unlikable characters, for example, or writing as a parent. If you're looking for more talk about the writing life, this is a club that's easy to join.
Dear Book Nerd
Combining the classic write-in advice column with a decidedly bookish slant, this podcast is a beacon of wisdom in a question-filled literary landscape. What's especially great is their back catalog is pretty evergreen, meaning you can go back now in order to get answers on whether spoilers matter, how to diversify your reading list, and how to get published. The topics here run the gamut, and the changing guest hosts ensure the format never feels stale.
Books on the Nightstand
The cohosts of this podcast, Michael and Ann, are friends and colleagues in the publishing industry, meaning their book recs and industry know-how are no joke. They've also been in the podcast game awhile — they've just posted episode number 327, featuring poet and former Antarctic artist in residence Jynne Martin. Aside from hosting prominent writers, they've also done episodes answering listener questions and commenting on the oft-discussed Tournament of Books.
Late Night Debut
One of three bookish podcasts from Late Night Library, Late Night Debut features exclusively first-time authors. Each episode is split between a discussion of the title at hand, an interview with its author, and commentary on lit culture in general. This is an excellent place to go if you're looking for a new read or want to be on the edge of who's up and coming in the book world.
Slate's Audio Book Club
Real-life book clubs are sometimes hard to finagle between finding a place, finding friends who want to read the same thing you do, and finding time to actually read a book in time for the discussion. Slate's book club podcast allows you to read selected works on your own pace, then get the satisfaction of hearing the plot and characters picked apart by some of the site's foremost critics. Recent books they've covered include the No. 1-bestselling Girl on the Train and the National Book Award-winning Redeployment.
The Allusionist
While this podcast isn't strictly about books, it's one I'd heartily recommend to any word-nerds who love stories behind certain turns of phrase. Host Helen Zaltzman brings the magnifying glass to such topics as the humble crossword puzzle, dictionaries, and puns. It's just the right way to collect some weird facts to impress the next bespectacled cutie you see in a bookstore.
Dear Mr. Potter
Canthe world, like, get over Harry Potter already? Nay, I say, and the folks at StoryWonk thankfully agree. They've recently launched this podcast, an extremely close read of J. K. Rowling's series, starting with book number one. Host Alistair invites comments and thoughts from readers as he dissects each chapter, (there are live YouTube and Twitter chats before the audio is archived for the podcast) and is able to do some bang-up accents of beloved characters like Professor McGonagall and Hagrid.
Image: Pixabay