7 Reasons To Be Excited That Flares Are Back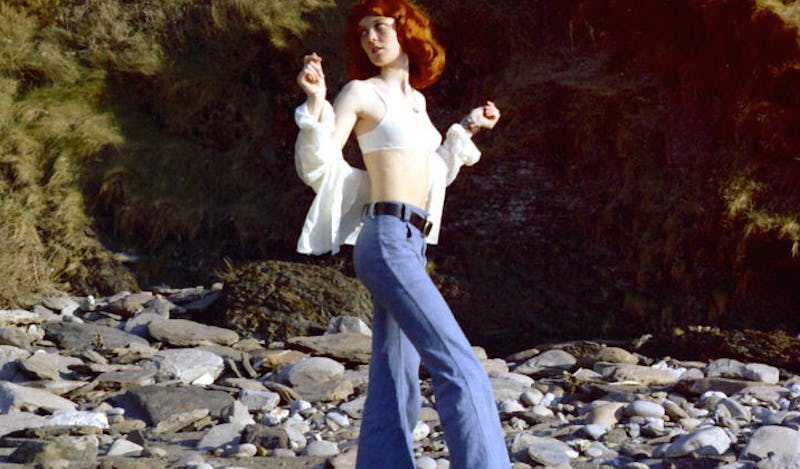 That's right, sometime between late 2014 and spring of 2015, the flared pants trend made its comeback. And while these billowy bottomed pants have pranced their way on and off of fashion's in-style radar a few times since their huge popularity in the '60s and '70s, I still liken them to the unicorns of pants — rare, beautiful creatures, heralding magical moments of fun. I recognize that some of you may be rolling your eyes and cringing at the return of the hyper-stylized pants that remind you of hippies and disco, but please, don't write them off quite yet. Flared pants have some excellent benefits.
There's a reason this classic look keeps resurfacing, and it has everything to do with clean, well defined lines, and a visually appealing shape. We humans love balance, and although our bodies are actually a bit asymmetrical naturally (while standing, most of our visual weight is in the upper half of our bodies — no matter what our body type), flares lend us a more symmetrical shape, adding visual weight to our feet to balance out the width of our shoulders. In terms of artistic principals, flares make perfect sense, even if the use of all that extra fabric might not.
But the appeal of flared pants goes beyond logic to a more emotional appeal. Flares evoke a sense of playful nostalgia, and from playing dress up in our parent's clothes, to actually remembering the various moments in history when flares have been popular, the resurgence of these magical pant-beasts have some of us more than a little giddy with excitement. Here are just a few reasons why it's worthwhile to embrace fashion's flashback to flares.
1. Flares Hug The Hips
And by that, I mean they're universally gorgeous on everyone. When my closest friends and I recently discussed the triumphant return of flares, we let out a collective cheer, and despite what you might assume, not because we had grown up loving flares together. My gals and I became close during and after college, so our nostalgia stems from personal experiences — all of which include testament to the fact that flares look cool on all humans. From curvy and petite to long and lanky, apple, pear, or rectangle, flares hug the hips whilst giving us an extra, well, flare.
2. Ahhh, Patterns
From peek-a-boo floral panels in denim flared jeans to the colorful paisleys and psychedelic prints of the '60s, patterns and flares walk hand in hand. And any excuse to splice a little pattern play into your wardrobe is a good one, as long as it's well paired. That being said, with the current style trends, you'll find more subdued geometric patterns and floral motifs that lend themselves well to chic, feminine looks.
3. Style Variety
If you're anything like me, your daily style has a lot to do with your mood. And flares, in their glorious versatility, come in enough varieties to keep up. From wide leg cuts that have little to no taper at the knees, to bell bottoms that hug your knees and hips and drastically swoop out to create a classic bell shape, the size and shape of each flare varies greatly to suit your personal preference. I'm a huge fan of the hip-hugging bell bottom, personally, and still haven't embraced the full high-wasted look. But that's what makes flares so fun — to each their own.
4. Fabric For Days
Arguably one of the least practical aspects of flares is also one their more fun/comfy upsides. Let's face it, a huge perk to wearing pants with extra fabric or maxi skirts and dresses is the blanket effect. On days when you don't want to leave your bed, having the comfort of extra fabric draped around you while you sit at your desk is especially convenient. C'mon, admit it, a few extra inches of comfy cotton to snuggle with sounds cozy, doesn't it?
5. Your Flares, Your Fabric Preference
While I've spent the majority of my life as a self-proclaimed "jeans-girl," I can duly appreciate the comfort and classic appeal of more versatile and flowing fabrics. And, as mentioned above, sometimes a comfy cotton is clearly the way to go. This is where flares shine as a style. The classic cut has strong lines that are appealing in structured fabrics such as denims, leathers, and pleathers, as well as more free flowing cottons, polys/nylons, and silks.
6. Simplicity Rocks
When you're wearing pants that make a statement on their own (and flares most definitely do), finding the right top to pair them with becomes a bit less complicated. Suddenly, your favorite fitted t-shirt or simple blouse doesn't seem quite as plain. So thank you, flares, for making our outfits just a little bit easier to put together in the morning.
7. Daily Dose Of Role-playing
What woman doesn't love to play dress-up? And who doesn't have a soft spot for Halloween? The joy of flares, emotionally and psychologically speaking, is that they give us the opportunity to experiment with different style roles. From hippie, to disco-chic, or even sailor (if you want to play back on the flares' real origins), each iconic style associated with flares comes with a colorful history and a variety of implied value systems. Consciously or not, when we try on these different style roles, we give ourselves permission and the freedom to play with new perspectives, challenging in small doses what we perceive to be normal, which is always a good thing. So, embrace your inner-flower-child, and step out in a pair of flares!
Images: lemoncat/Flickr; emporiasubiaco, leatherandlattes/Instagram; harpersbazaarus, voguemagazine, marieclaireuk/Twitter; lovemaegan, 29069717@N02/Flickr