What The 2015 Boston Marathon Really Looked Like — PHOTOS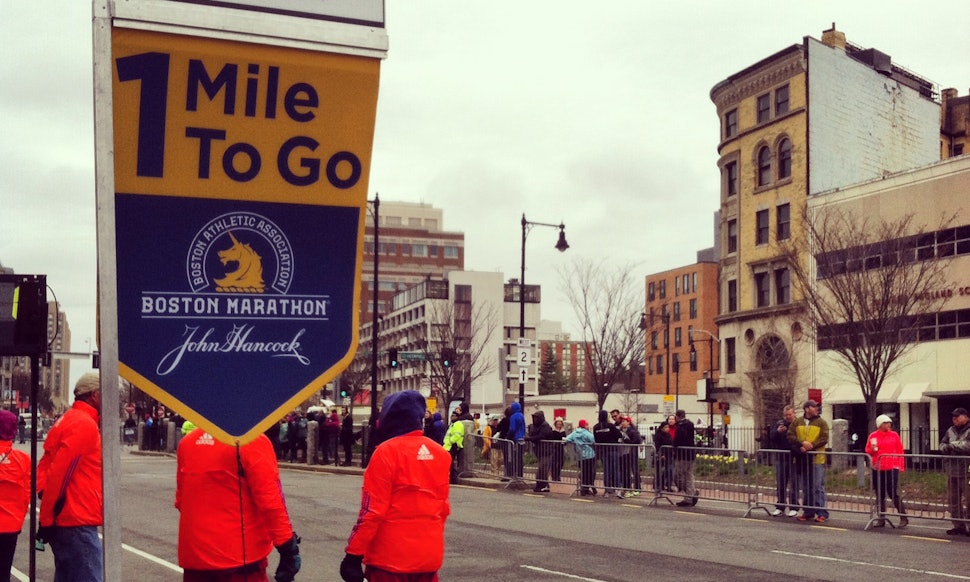 Hundreds of thousands of Bay Staters and visitors alike poured onto the sidewalks along the 26.2-mile path between Hopkinton, Massachusetts, and Boston's Copley Square on Monday for the 2015 Boston Marathon — the world's oldest and arguably most prestigious long-distance race. It was wet. It was freezing, even for Massachusetts' standards. But it was hardly dismal, despite the gray skies and the sentencing trial of convicted bomber Dzhokhar Tsarnaev looming overhead.
"This is the marathon," Boston resident Lori Rivas, who was cheering on runners racing through Cleveland Circle, told Bustle. After years of watching the marathon on TV, this was her first time experiencing it in-person. "We're out here because of the camaraderie," Rivas said.
Others certainly shared Rivas' view, as many spectators hung over the bright orange railings fist-pumping runners and doling out yells of encouragement: "Stay strong!" and "Way to go!" Of course, there were also the rhythmic "USA! USA!" chants from the young men huddled with beer cans near Boston College.
And perhaps the best pump-up speech came from this woman coaching runners between miles 22 and 23, just past the notorious "Heartbreak Hill" section that often makes or breaks runners. "You made a weird decision but you rolled with it," she yelled. "You got this."
Images: Lauren Barbato/Bustle
Kenmore Square
At just one mile from the finish line, Kenmore Square was packed with not only spectators Monday morning, but baseball fans heading to the Red Sox game. (The game was called after seven endings due to the rain — and the Sox won, naturally.)
The First Ones Out
Athletes with disabilities were the first racers to leave Hopkinton, Massachusetts, on Monday. When they entered Boston on Beacon Street, just under two miles from the finish line, they received the biggest cheers and salutes from spectators.
Handcycles & Push Rims
There were more than 20 athletes using handcycles on Monday. Many athletes with disabilities also competed in a push rim wheelchair competition.
Powering Through
Most of the athletes racing with handcycles finished in less than two hours.
"Bring It Home!"
One mile from the finish line, spectators cheered on weary runners at Kenmore Square, yelling, "Bring it home!" and "You can do this!"
Elite Men's Race
An elite runner heads down Beacon Street toward Kenmore Square — the last leg of the 26.2-mile race. Lelisa Desisa of Ethiopia won the elite men's race, while Caroline Rotich of Kenya clinched the elite women's title.
Mile 25
An elite runner on Beacon Street in Boston just before noon on Monday.
Drumline On Beacon Street
Four women brought their drums to pump up the runners as they raced toward Coolidge Corner in Brookline.
Boston Strong
There weren't too many remembrances of the 2013 Boston Marathon bombings and its frightening aftermath on Monday, but hand-painted "Boston Strong" posters could be seen dotting the sidelines. Several runners racing for charity also donned "Boston Strong" ponchos and blankets.
"You R Fit And Attractive"
Two women hope to bring some smiles to the runners on Beacon Street in Brookline. Other tongue-in-cheek signs included "Run Like Hillary," "You're 92 Percent There," and "What's For Dinner?"
"Execute With Your Heart, Not Your Legs"
A spectator on Beacon Street holds an inspiring sign written in French.
A Helping Hand
A runner pushes an athlete with a disability along Beacon Street in Boston, near Boston University.
Marie Davenport
Irish Olympian Marie Davenport competes for the first time in the Boston Marathon's elite division.
A BU Welcoming
As runners entered Boston, they were greeted with cheers and chants from Boston University students, who crowded the sidewalks and apartment balconies Monday afternoon. Some students were decked out in vibrant costumes — rainbow tutus, capes, and even ladybug ears — but most were just enjoying their break from school (college students in Boston received the day off).
Mile 23
Brookline between Cleveland Circle and Coolidge Corner drew some of the largest crowds on Monday despite the freezing rain. However, many runners could be seen shivering, wrapping themselves in Mylar sheets as they entered Brookline for the last few miles of the race.
Policing The Sidelines
There were dozens of police officers stationed in the major viewing stations along Beacon Street in Brookline. Later in the day, they partook in the celebration, reminding the runners, You're almost home!"
All Marathoned Out
Bored, or just mimicking what the runners must feel like post-race?