Calypso St. Barth's Bridal Collection Is So Dreamy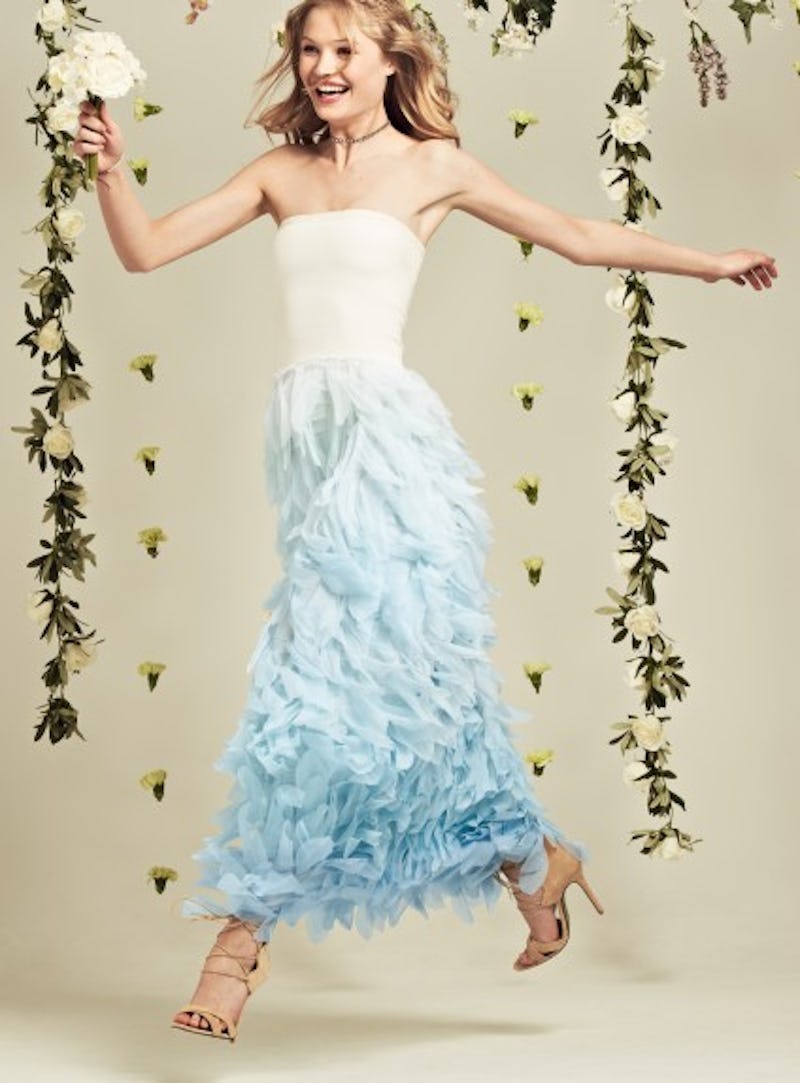 Just because Coachella is over doesn't mean you have to put away all your bohemian festival apparel. In fact, this just marks the beginning of being able to wear your favorite fringe and lacy pieces, which is why you need to know about Calypso St. Barth's bridal collection. Even if you aren't getting married anytime soon, this dreamy collection has got you covered from your crown headbands to your gladiator lace-ups.
All of the pieces in this collection look straight out of an idealistic, fantasy boho beach wedding. From lavender embroidered, linen pants to long, strappy maxi dresses, this bridal collection is filled with lace, chiffon and a lot of gorgeous neutral shades. The jewelry is absolutely stunning, too, with definite Greek influences. There are glove chains, dainty leaf combs and, my favorite, embellished crystal barefoot sandals — it's like a hand chain, but for your feet (aka the perfect shoes for a barefoot, boho bride). The collection has even got to covered for your undergarments. I mean, what's a boho princess without laced undies and sleepwear?
Even if you don't have a beach wedding on your radar, these pieces are perfect for any spring or summer occasion. Here are some of my favorite pieces from the collection, but be sure to check out the rest of the collection here.
1. Crochet Dress
I love the crochet lining around the torso that gives this already feminine dress a hippie edge. (Sasina Cotton Crochet Dress, $595, calypsostbarth.com)
2. Ombré Petal Dress
This strapless dress will make the ocean waves jealous at any boho beach wedding. (Janli Strapless Petal Dress, $695, calypsostbarth.com)
3. Barefoot Sandal
Who needs heels when you can wear barefoot sandals as pretty as these? (Barefoot Crystal Embellished Sandal, $200, calypsostbarth.com)
4. Lace Linen Pants
Don't want to wear a traditional wedding dress? These pants are seriously perf. (Pemada Eyelet Embroidered Linen Pant, $395, calypsostbarth.com)
5. Silk Chiffon Maxi Skirt
Pair this beautiful chiffon maxi skirt with the Ruffled Tulle top for a great bridal look. (Bao Ruffled Tulle Maxi Skirt, $495, calypsostbarth.com)
Images: Courtesy of Calypso St. Barth's