11 Justice Clothing Items I'd Totally Buy As A Grown Up (So What If It's A Tween Store?)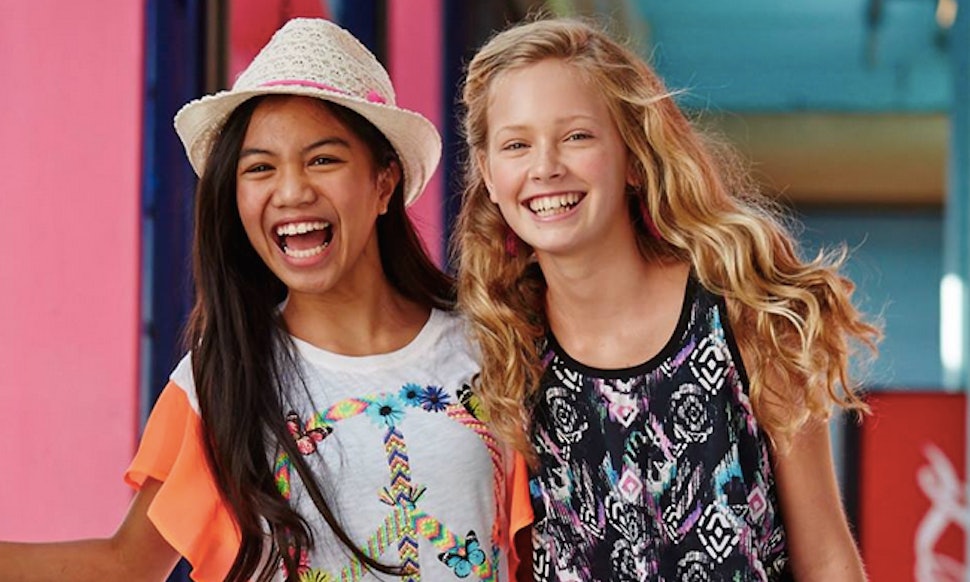 The American Eagle for young girls is undoubtedly Justice Clothing. It's a go-to mall store for much of the under-14 crowd! Remember Limited Too when we were young? Yep, the same parent company has turned Limited Too into Justice, Inc.
Having worked in a Justice store, I've seen the countless little girls whose eyes dazzle at the bright colors and glitter. But I've also found that Justice isn't completely devoid of style that you might see adults wearing. There are currently several items I'd totally buy there as adult — including clothing (their sizes go up to a kid's 20, approximately a women's size 12). So here are my top picks for this season!
Image: Justice
Cute Patterned Shorts
Although possibly a little too colorful for some women, I think these shorts are great! The pale green makes them a little more trendy instead of a bright pink or purple. And the tribal patterns probably aren't going anywhere for a while yet — we're obsessed!
Aztec Print Denim Shorts, $37, shopjustice.comImage: Author's Own
Triangle Earrings
Yep, in keeping with the hipster look, the triangles are still just as cool. The colors are muted enough to not be as juvenile as well.
Triangle Stud Earrings, $13, shopjustice.comImage: Author's Own
One Piece Jumpsuit
Soft and flowing, this boho piece is as trendy as the jumpsuits you'd find in Macy's. It might be hard to find a size that will fit a fuller figure, but it's nonetheless fashionable for any age.
Printed Jumpsuit, $50, shopjustice.comImage: Author's Own
Sandals
Justice shoes actually run from children's sizes to a 9 in women's. Most of their sandals are pretty blingy with sparkles, but these pretty tame ones come in this nice turquoise and a pink.
Sandals, $37, in-store onlyImage: Author's Own
Scarf Vest
I absolutely love this idea, which I haven't seen anywhere else. There are several styles and colors, and even though the concept is probably to help the little girl from her scarf coming off all the time during play, it's not a bad idea for us women either!
Black Slub Fringe Scarf Vest, $27, shopjustice.comImage: Author's Own
Kitty Tank
Okay, so maybe my sense of style is a little childlike, but I can't get over how cute this top is. I mean, kittens are fun for everyone, even if only to wear around the house. And I'm totally down for "staying cool."
Kitty Graphic Tank, $19, shopjustice.comImage: Author's Own
Jogger Pants
Similar to the jumpsuit, these pants are super comfy, and sure, there are hearts in the pattern, but who doesn't love a little sweetness in their wardrobe? Justice has totally got the boho chic thing going for the youngsters.
Jogger Pants, $41, in-store onlyImage: Author's Own
Flower Crown
I don't care how old you are, generally speaking, lots of women love flowers in their hair. As if there weren't enough floating around at Coachella. And hey, it's spring — it kinda comes with the territory.
Flower Headwrap, $11, in-store only Image: Author's Own
Flower Earrings
These also come in a mint green with mini polka dots. They're dainty, but just as feminine and sweet as something you'd find in the jewelry section at Charlotte Russe or Forever 21.
Justice Chiffon Flower Earrings, $7, shopjustice.comImage: Author's Own
Exercise Pants
Because who doesn't need more pants to exercise in, or you know, lay around watching Netflix in?
Justice Yoga Pants, $37, in-store onlyImage: Author's Own
Long Tee Nightgown
This is definitely more cutesy than elegant (even for sleepwear), but c'mon: Who really sleeps in a satin gown regularly? Plus, when you're wearing something as darling as this, sweet dreams will inevitably follow you to bed.
Justice Nightgown, $30, in-store onlyImage: Author's Own