Learn To Love Your Job Like These 5 Bad Ass Women With Envy-Inducing Careers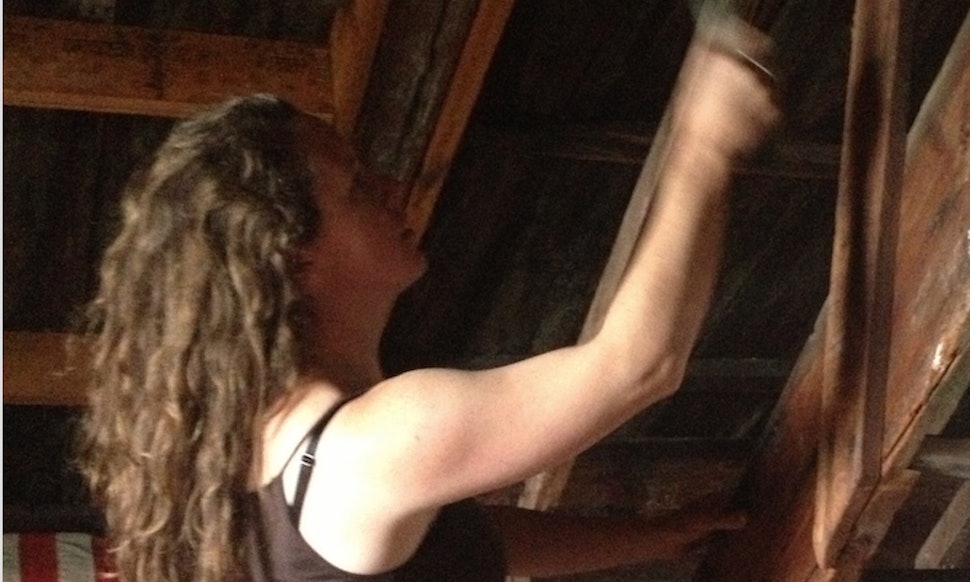 Whether you work at a desk from 9 a.m. to 5 p.m. or have a career that requires non-traditional hours and nary a cubicle, you've probably heard "advice" that tells you to maintain a perfect coif for the sake of looking professional. Women's magazines perpetuate these messages constantly, whether they're featuring sculpted interview up-dos that will help you "snag that job," draconian instructions about "getting the corner office" via makeup tips, and total nonsense about how your hair type dictates your success.
It's difficult to cancel out all of the noise and pressure to look #flawless. Why can't we just focus on being awesome at our jobs?
In the spirit of casting aside these "rules" about your appearance, Bustle has partnered with OGX to find five inspiring women whose hair is perfectly bad ass -- just as it is. Because when you're doing the work you love, there are no bad hair days. Click ahead to view candid shots from their workdays, learn why they love their careers, and uncover when they feel they look their best.
This post is sponsored by OGX Beauty.
Adrianna Aguilar, Dancer, Artistic Director at TREES
On why she loves her job: "My job is awesome because I have the chance to connect extremely talented musicians and dancers with one another to create original, collaborative works. I love sharing my joy of movement and bringing artists together to make beautiful things."
How she got into her field: "I got into dance at the age of 3 in classes at the local YMCA, and then I started training more seriously at age 8. Once I graduated from college and was auditioning for a lot of different companies, I had the urge to start my own company and make my own work."
How she makes work enjoyable: "I normally like to put on a really upbeat and pumped up playlist that could include some cheesy classics like 'Perfect Day' by Hoku or some chill Red Hot Chili Peppers track. Also, I've found that just drinking lots of water really helps me. It's so simple; it's crazy!"
When she feels and looks her best: "I really try to look my best when I have an audition. You only have that one short moment in front of a director or choreographer to make a lasting impression with your appearance – and also with the way you move."
Adrianna, 24, co-directs at TREES, a music and dance collaborative company that performs in innovative spaces throughout New York.
Nina MacLaughlin, Carpenter and Author
Why she loves her job: "There's little I've done to rival the feeling of satisfaction that results from building something with your hands. To start with a pile of wood, use muscles and brains and tools to work, and end with deck or a bookcase, something that will be used for years, is a pretty excellent way to spend the days."
How she got into her field: "I worked as a journalist for most of my twenties. Closing in on 30 and sick of scrolling and clicking, I quit my job wanting to do something that had less to do with a screen. With no experience, I ended up getting a job as an assistant to a carpenter named Mary. Six years later, my 'field' is writing and carpentry, and I feel so lucky to have the two in combination."
How she makes work enjoyable: "The most important thing is the people you work with. Anything, almost anything, is bearable if you've got the right people nearby. Doing challenging, satisfying work is good, but if you're surrounded by boring idiots, it'll get old much faster."
When she feels and looks her best: "After a day of work, then a run, then a shower, with fresh jeans and a tight shirt and the Frye boots I've been wearing for about a decade, plus a little bit of eyeliner. It's the combination of physically strong plus a little bit girly that I like the best."
Nina MacLaughlin is a self-trained carpenter and recently release her first book, a memoir titled Hammer Head: The Making of a Carpenter.
Timsie Malaney, Physician, Stony Brook University Medical Center
Why she loves her job: "On a day-to-day basis, I get the privilege of improving people's lives, from helping them heal or quit smoking to taking care of them in the ICU. It's an amazing feeling!"
How she got into her field: "I've wanted to be a doctor since I was 8 years old. Everything I've done since then – my major in college, volunteering in hospitals, working in an emergency room – was to reach this goal I set for myself."
How she makes work enjoyable: "I always make time for food and coffee, even if it"s quick. Its important to take care of yourself, even with a busy and stressful job."
When she feels and looks her best: "Amid the glow after a great run or workout."
Timsie Malaney is a resident physician at Stony Brook University Medical Center.
Lindsey Howie, Line Cook, Maialino Restaurant
Why she loves her job: "I get to cook all day! It can get stressful at times, but it's all totally worth it at the end of the night when you know you put out some pretty killer food. Plus, the chefs I work with are pretty amazing."
How she got into her field: "I had quite a few jobs before I went into the kitchen, but I wasn't truly satisfied. I always found myself cooking when I was bored, so I decided to go to culinary school in NYC. A classmate met with the executive chef at Maialino and was bummed she couldn't extern there but suggested I check it out. I did, and it was the best decision I ever made! I couldn't have asked for a better kitchen to start my culinary career."
How she makes work enjoyable: "The only way to enjoy your day is to keep smiling. Take everything with a grain of salt. Learn from your mistakes and do better every chance you get. Listen to those around you, whether they're your superiors or not."
When she looks and feels her best: "When I'm confident in the dishes I'm whipping up. And after a good night of sleep!"
Lindsey Howie is a graduate of the Institute of Culinary Education and a line cook at Maialino in New York, NY.
Ashley Gwen Patrick, Assistant Director, Secret Project
Why she loves her job: "Every day is creative and new. Working in this industry offers a lifestyle that is full of adventure."
How she got into her field: "I knew, even as a 9-year-old, that I wanted to be a part of storytelling. Then, I worked hard and made the connections that brought me here."
How she makes work enjoyable: "With a smile on your face and a song in your heart. (Although, you don't have to disclose what kind of song is playing.)"
When she feels and looks her best: "Early in the morning, after a hot shower and cup of coffee, I look my best and feel great about whatever the day may bring."
Ashley Gwen Patrick has worked on many feature films and original programs, most recently having worked as an assistant director on House of Cards.