9 Styling Hacks For Layering In The Summertime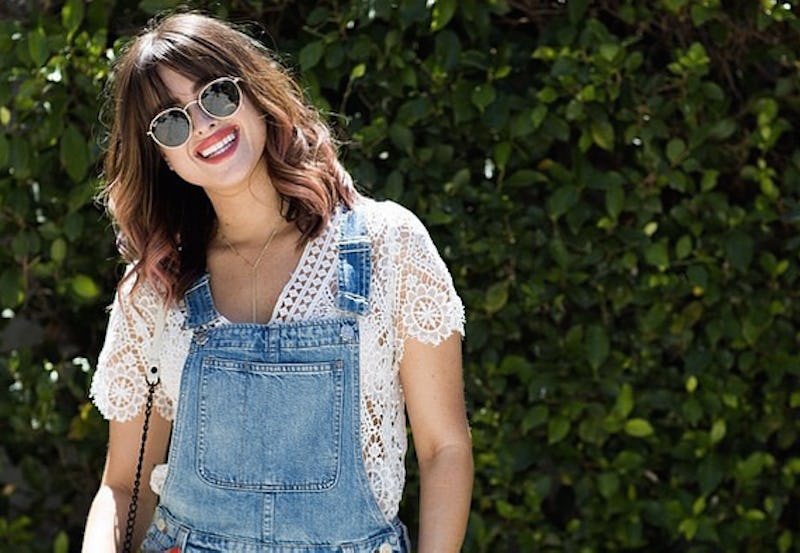 Summertime is drawing nearer and while some cities still refuse to let go of their dying relationship with winter (here's looking at you, Chicago), some of us are already playing in strappy dresses and slip-on sandals. While we're still holding on to our spring style guides, some of us are moving on towards more exciting territory, like figuring out how to layer in the summer.
Socks are nowhere to be found, and a parka is nothing but a distant, terrible memory. But like with all things, each season brings on a little bit of styling baggage. The grass is always greener, right? While we're thankful to get to sit underneath umbrellas at patio restaurants, we are going to miss our interesting winter layers. There were turtlenecks to be played with, dresses to be doubled-up, vests to be worn, and textures to be introduced. Suedes and leathers kept things interesting as we piled on the dark mulberry and mustard colors, and the never-ending amount of sweaters kept our outfits looking interesting.
But during the approaching summer? No one wants to feel the sweat rolling down their backs for the name of fashion. Which means that we can begin to feel a little stuck in a parade of dresses and short shorts. Sometimes it's fun to roll up your sleeves and get creative with your outfits, rather than just zip up the zipper and call it a day. So what's a girl to do? Simple: Learn to play with lighter layers! Below are nine summer styling hacks that will introduce layers into your wardrobe, but won't give you heat stroke:
1. Invest In A Long Cardi
While your knits and wools have been banished down into the basement, cardigans can still be fair game during summer — especially if they're the super thin kind. But while a cardigan can be a sweet touch to pop over a dress or jeans, a long cardigan makes more of a statement. It adds interesting proportions to a mini dress or jean shorts, and gives a solid pop of color when paired with maxis and prints.
2. Add Sleeves To Rompers And Pinafores
A surefire way to add a little interest to a strapless dress or romper is to add a sleeve to it. Layer a tee or blouse underneath, either focusing on adding color or pattern to the look with the addition. If you're going with a simple tee, try cuffing the sleeves to give it a more tailored feel.
3. Use Lace
While we no longer can rely on suede or leather to give our look a boost in texture, we can replace it with lace and crochet for that same feel. Layer lace shirts underneath your overalls or sleeveless dresses for a feminine and quietly bohemian vibe.
4. Invest In Suspenders
Sometimes it's too hot to add even one extra layer, and on days like those all ideas of style get thrown out the window. But if you're feeling ambitious or just want to look extra cute while hiding under shade in the park, go an unexpected route and try on suspenders. Pop them onto your skirt or shorts, and let them add a little summin summin extra to your look without adding heat.
5. Add A Tee Under Your Strapless Dress
A t-shirt is a summer staple, so why not take it to the next level and pop a strapless dress on top? It'll give your fancier pieces some more air-time by giving them a casual feel, and the mix is unusual and fun. Bonus points if you use a baseball tee, mixing traditionally feminine and tomboy touches!
6. Utilize Your Blazers
A blazer doesn't just have to be for the office — it looks especially fun paired with more casual pieces. Contrasts always create interesting looks, so pairing your blazer with slightly torn jean shorts or casual t-shirts makes for a fun mix. Feel free to add in heels to polish up the look, or a pair of keds to keep things easy. Just remember to roll the sleeves up to your elbows to give yourself more cohesive proportions and keep the look summery!
7. Add A Summer Scarf
Sometimes you don't need an extra shirt or blouse to spice up an outfit. Sometimes all it takes is a fun summer scarf. And with all the tips on how to style summer scarves, you're heavy with options. Choose one for its color or pattern, and loosely wind it around the collar of your dress. If it's a lower scooped neckline, wrap the scarf looser so it rests just at the edge of the cut. That small detail will go a long way to add a little more interest to a dress-and-sandal combo.
8. Wrap It Around Your Waist
Just because it's too hot to wear your cardigans or light jackets doesn't mean they need to be retired till fall! Instead, wrap them around your waist á la the grunge years, letting them add an extra pop of color to your look. Go with a chambray shirt if you want a neutral streak of color, or opt for a striped or printed cardigan if you want an unexpected dash of pattern.
9. Layer Your Crop Tops
A crop top is every woman's summer staple, but after a while they can get a little boring. You've paired it with your jeans, your skirts, layered them on top of maxis. They're starting to lose their charm. Go a different route and add some proportions to your crops to make them interesting again. Pop a button-down underneath and let the hem and color add a statement to the little top!
Images: Instagram: keikolynn (3), calivintage, thenycstreets, clothesandquotesblog (2), girlandcloset, alteratnsneeded