How To Make Your Own Perfect Hair Serum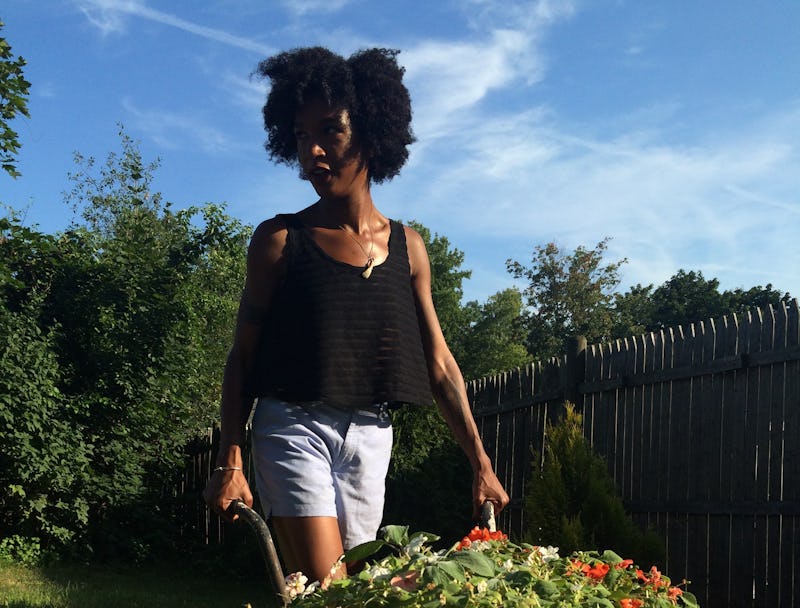 Spring has sprung and the frizz is real for most of us. Whether it's due to rain fall, winds, or premature humid days surprising us, hair strands are getting a mind of their own and I, for one, will not stand for it. This is where a completely natural homemade hair serum comes in. I've started devising a plan to fight dry locks and frizz in one bottle. I spend way too much time getting all this hair in a braid or up-do to have spring temperatures ruin my look in a matter of minutes. Haven't we all suffered enough through winter?
Over the counter hair serums are used for a variety of reasons. For one, they can implant some much needed moisture in your locks all the while keeping your 'do under control. They are also a wonderful way to give your hair a little shine and smoothness. For most of my life, hair serums were THE finishing product for all my hair styles. I have tried every type available to buy, from drugstore brands to natural products to high-end serums that my stylist friends generously gifted me. Regardless of the price, they all had a couple of annoying traits in common: They were all filled with silicones, mineral oil, and/or other less-than-desirable ingredients for my hair. The second was when my hair was straight and relaxed, it made my hair look greasy, unwashed, and downright dirty.
I find no benefit to having frizz free hair if it isn't going to be soft and shiny! Furthermore, I'm not trying to look like I just greased up my hair before leaving the house, and I'm sure I'm not alone here. After cruising the aisles at beauty supply stores and coming up short on a serum that was both affordable and effective, I decided it was long overdue for me and everyone I know to make their own frizz treatments in the comfort of their own home.
Since you know your hair best, feel free to substitute any oils for ingredients you've found to be more effective. Have fun with the DIYs!
Anti-Frizz Hair Serum (Dry, Coarse Hair)
Here's what you'll need to make this first hair serum for coarse locks:
1/2 oz of castor oil (your emollient)
1 oz of avocado oil (your detangler and nutrients)
3 oz of almond oil or apricot seed oil (your anti-frizz moisturizing dream)
10 drops of clary sage essential oil
8 drops of cedarwood essential oil
First mix your oils together and then add your essential oils. Store in a tinted vial and apply on damp hair before styling. If you're coming out of a protective style, I advise spritzing your hair with water before you take your hair out and then using your hair serum.
Anti-Frizz Hair Serum (Fine, Oily Hair)
This serum is great for all hair types really, but it's an especially awesome option for those that have oily hair. This is my version of a pretty great hair serum recipe from One Good Thing by Jillee.
1 oz of raspberry seed oil
1 oz of jojoba oil
3 oz of camellia oil
12 drops of grapefruit essential oil
8 drops of bergamot essential oil
First mix your oils together and then add your essential oils. Store in a tinted vial and apply on wet to damp hair before styling. Get ready for people to ooh and ahh over your shiny strands.
Image: Ray Barnett Jr. /Flickr; Kristin Collins Jackson; Giphy