Why Your Nails Need a Polish Vacation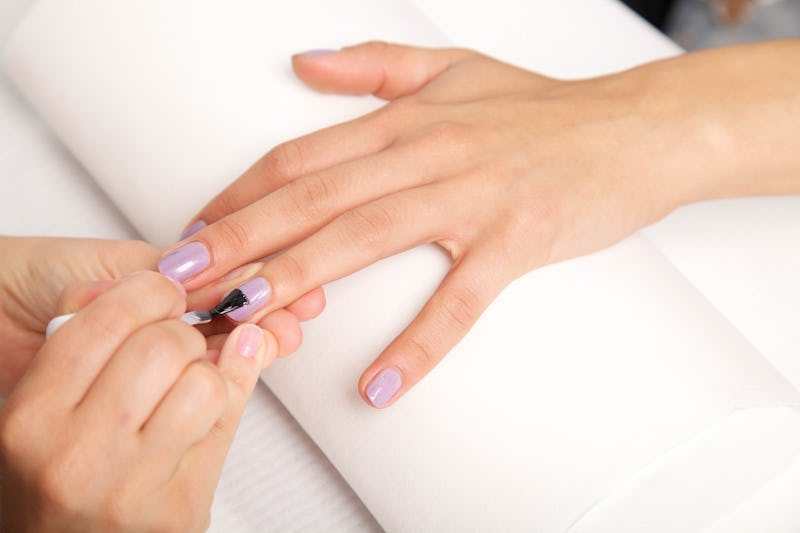 You probably don't want to hear this, but most likely, your nails need a break from polish. I know, I know. Bare nails can make you feel naked and exposed, but hey, the best way to have healthy-looking nails is to, well, actually have healthy nails.
No one likes dry, peeling nails, but covering it up with that va-va-voom red hue is probably making matters worse. Although the Huffington Post cleared up the myth that nails need to "breathe," that's not why you should make sure the top on your favorite Essie bottle is screwed on tight for a few weeks.
"When nail polish is left on for a prolonged period, something called a keratin granulation can develop. These are white, rough patches on the nail that form when the polish is removed along with the superficial layers of nails cells," said dermatologist Dr. Dana Stern.
Taking a break from manis/pedis, DIY or salon-grade, is the best way to reverse the damage — Stern suggests at least three weeks.
Another product wreaking havoc? Acetone. According to Stern, the chemicals can dry out your nails and cause breakage. Ironic that the product that removes nail polish can actually make matters worse. Beauty can be cruel sometimes, huh?
If you're used to having done-up fingers, taking a break from your shades of choice can be tough, but it's time to make peace with the nude for a while. Your nails will thank you.
Images: Giphy