On The Tonight Show Starring Jimmy Fallon, New Jersey Gov. Chris Christie laughed off jokes about his weight as he set the timeline for what could be an announcement of his presidential candidacy. During Wednesday's episode, Christie and Jimmy Fallon talked about running for president over a pint of the limited edition Ben & Jerry's flavor "The Tonight Dough" — a caramel and chocolate ice cream mix filled with cookie and peanut butter dough. FYI, you can pick it up in grocery stores now. Who knew!
Christie has long been a polarizing figure within the Republican Party, the "Anne Hathaway of politics" as The Washington Post once so perfectly put it. Christie, once a bright GOP prospect for the 2016 seat, hasn't been pegged as a major player as of late. His admirable response to Hurricane Sandy was eclipsed by Bridgegate, a controversy that reeked of revenge politics as leaked emails suggested his staffers created a traffic jam on the George Washington Bridge in 2013 to allegedly punish Fort Lee, New Jersey, Mayor Mark Sokolich for not endorsing Christie for reelection.
An investigation found no evidence that Christie was involved, but public opinion had already shifted against the outspoken governor. Christie has since been quietly tooting his own horn from the Garden State. But with Sens. Rand Paul, Ted Cruz, and Marco Rubio out and about campaigning for the White House, it seems Christie is finally ready to... start getting ready for his announcement.
Well, you know, I've got a day job, which keeps me busy. That's the governor of a small state of 9 million people across the river. But soon, you know — I would say May or June we'll be letting everybody know what we decide.
When asked about his thoughts on other White House contenders such as Paul and Hillary Clinton, Christie quipped, "All fine Americans, Jimmy," finishing off his joke with an eye roll. Fallon continued to prod the Republican and repeatedly egged Christie to "Hulk out," you know, become the Christie who has no problem publicly telling a heckler to "sit down and shut up." That's when Christie teased:
Listen, if I run, oh, you'll find out exactly what I think of them.
There's been a lot of talk about the crowded field of Republicans vying to be the next president. Christie is a larger-than-life kind of politician, one whose mouth has both helped and hurt his image. During the short segment with Fallon, Christie came off as fun, relatable, and, perhaps most importantly, different. There are a lot of Republicans eyeing a party nomination, and Christie's favorability numbers are still recovering from Bridgegate. But should he run, one thing's for sure: Christie will be heard loud and clear.
I hate politics where people are like programmed robots. They all sound like Charlie Brown's teacher, waa waa waa, they all sound the same. I'll tell you, they say a lot of stuff about me, but they won't say I sound like everybody else.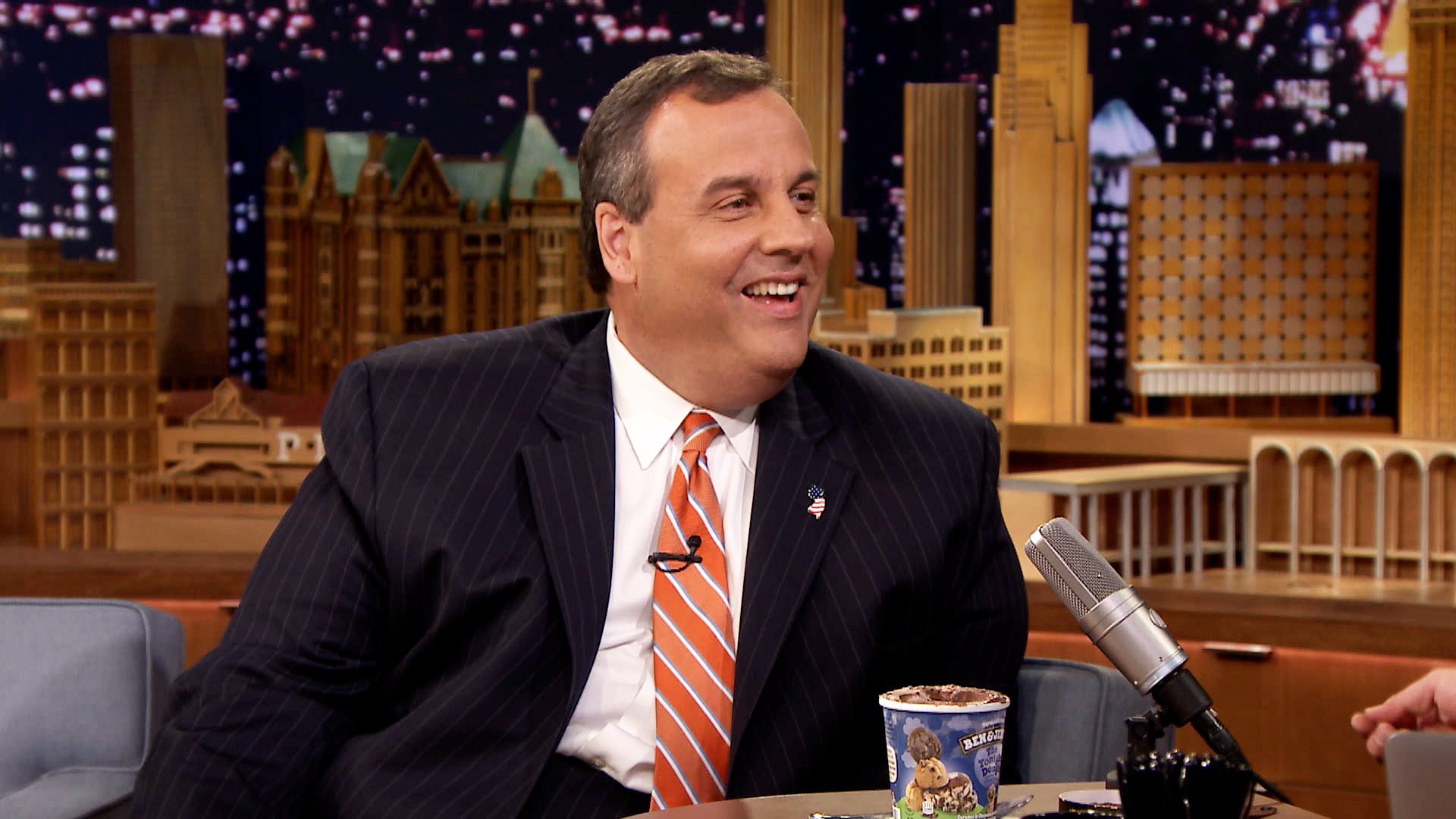 Images: NBCUniversal (3)