An Illustrated History Of Rosie The Riveter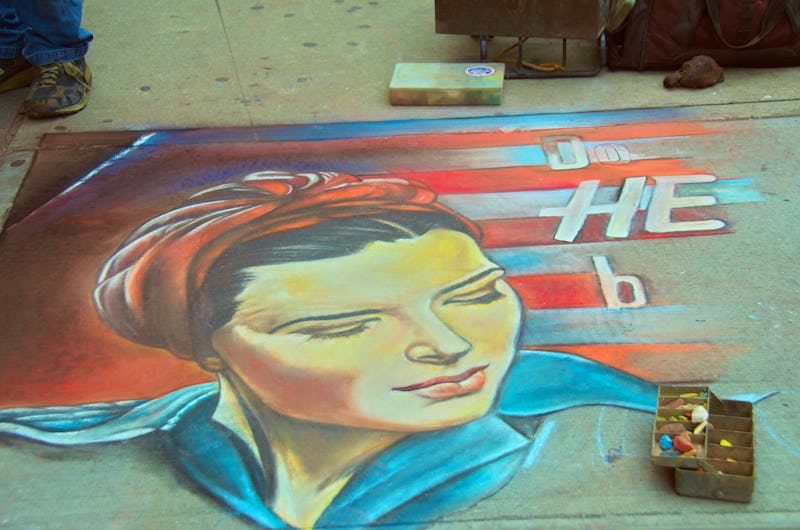 The model for Norman Rockwell's iconic "Rosie the Riveter" painting has died, 72 years after her likeness became a symbol of the women's war effort. Mary Doyle Keefe was 92 when she passed away at her home in Simsbury, Connecticut, on Wednesday — meaning she was a mere 19 years old when her image was transformed into Rosie, dressed in denim overalls and munching on a sandwich, and was plastered on the cover of The Saturday Evening Post. In the last 72 years, that image has had an impact that Rockwell and Keefe (neighbors in Arlington, Vermont at the time of its creation) could scarcely have imagined.
The character of Rosie the Riveter was a composite myth: an idealized, robust workingwoman. The young Keefe was a telephone operator, not a riveter, and she was far more slender than the broad-shouldered Rosie. Rockwell, determined to present a woman of apparent strength, based her proportions on Michelangelo's Sistine Chapel Isaiah. Her feet rest on Hitler's manifesto Mein Kampf; in her lap she holds a rivet gun. According to The Guardian, Rockwell later apologized to his model for Rosie's brawny appearance. "I did have to make you into a sort of a giant," he wrote, in a letter to Keefe.
The painting went on to accrue a significance of corresponding bulk, although the character "Rosie the Riveter" had actually been coined earlier, in a song by Redd Evans and John Jacob Loeb. The lyrics ("Rosie the Riveter. / Keeps a sharp lookout for sabotage, / Sitting up there on the fuselage. / That little girl will do more than a male will do") championed the women's war effort, and Rockwell linked his heroine with the woman in the song by inscribing the name "Rosie" on the lunchbox in the painting.
Rosie's initial circulation, on the cover of the Post, was extensive. At that time, the publication reached around four million homes generally — and Rockwell's prestige meant even more copies of that issue were produced than usual. The Norman Rockwell museum describes the painting as "a symbol for millions of American women who went to work during World War II." Later in the conflict, the painting was donated to the War Loan Drive of the U.S. Treasury Department, and was taken on a tour for public display in various cities, in a nationwide effort to sell war bonds.
Keefe, speaking in 2012, expressed pride at the use of her image in such a fashion. "I didn't think much about it, and I didn't really see myself as some epitome of the modern woman," she said, continuing:
There was a war on, and you did what you could. And in a small town like Arlington, it was simply a matter of we knew he was a painter and asked a lot of people to come down to pose for his pictures. I didn't really make anything of it and didn't really see it or realize what would happen to that picture until it came out.
Although Rosie's bulk did nothing to prevent the painting's enduring fame, it's interesting that J. Howard Miller's 1942 "We Can Do It!" poster (which has now largely been incorporated into the Rosie pantheon, despite predating both the song and the Rockwell image) is much more widely known. Partly, perhaps, because of less pedantic copyright restrictions, but maybe partly because Miller's Rosie is a more traditionally feminine figure, with her long hair gathered up into a dainty polka-dotted red handkerchief.
Regardless, the Rosie the Riveter character was always much bigger than a single representation (just as Rockwell's Rosie was much bigger than Keefe), and the name came to signify any woman involved in the war effort. Rosie was an archetype, her name a badge worn by many. This is attested by "The Many Faces of Rosie The Riveter, 1941-1945," a selection of photographs culled from Life magazine archives.
Indeed, Rockwell produced a second Rosie painting — this one entitled "Rosie To The Rescue" — commissioned by The Saturday Evening Post. This slender Rosie marches forward wearing patriotic clothing and carrying accoutrements for any number of jobs. In 1944, Republic studios produced a movie called Rosie the Riveter.
This push to get women to work, spearheaded by Rosie — the woman who was as good as, or better than, a man (according to the song) — was effective. By 1944, some 6.5 million women had entered the U.S. workforce. And with war's end, the struggle for female emancipation didn't end. Rosie the Riveter was just repurposed to become an image of the women's rights movement, metastasizing across coffee-cups and fridge magnets. From the 1970s to the '90s, the archetypal Rosie the Riveter, female worker figure, appeared in films like The Life and Times of Rosie the Riveter by Connie Field and Goldie Hawn's Swing Shift.
There's now a Rosie the Riveter High School in California, to train young women to enter male-dominated trades, and a "Rosie's Girls" welding camp in Vermont. Sarah Palin supporters appropriated Rosie's image in 2008, while Pink's "Raise Your Glass" music video also references the character. Beyoncé, icon of modern glitzy feminism, recently posed as Miller's Rosie in an Instagram photo that nearly broke the internet.
Yet, throughout this period, the Keefe/Rockwell Rosie is largely absent, its reproduction stymied by stringent copyright laws. Reputedly sold during a raffle in the 1940s, the painting re-surfaced in 2002 when it was sold for $4.9 million at a public auction. It is currently at the Crystal Bridges Museum of American Art in Bentonville, Arkansas.
Despite her general acceptance as a symbol of women's rights, Rosie's reputation and legacy is open for interpretation and it has not gone unchallenged. Jessica Valenti, writing in The Guardian on the occasion of the death of Miller's Rosie model, Geraldine Doyle, celebrated the character as "an image of strength that has passed the test of time." Other articles in that publication's pages have denounced Rosie as an "emblem of capitalism" (Swiffer, the mop-manufacturer, recently used the character in an advertisement, but Rosie was of course introduced to stimulate production).
In another piece, Rebecca Winson argues that Rosie's "feminist credentials wear thin when you look into the history of her creation." To Winson, Rosie is an "airbrushed fib," a propaganda tool used to convince women to take up extra work (in addition to their grueling household chores), only to be paid half of a male salary and be sacked at war's end. "Isn't it time we found a new Rosie, a realistic representation of what it's like to be a woman and work today?" Winson asks.
Maybe, but Rosie — the many Rosies in existence — aren't going away any time soon. Mary Doyle Keefe, in unusually robust form and with nonchalant bulky grace, lives on.
Images: MyEyeSees / Flickr; PinkVEVO / YouTube, Ed Yourdon/Flicrk