You Won't Want To Miss The Billboard Awards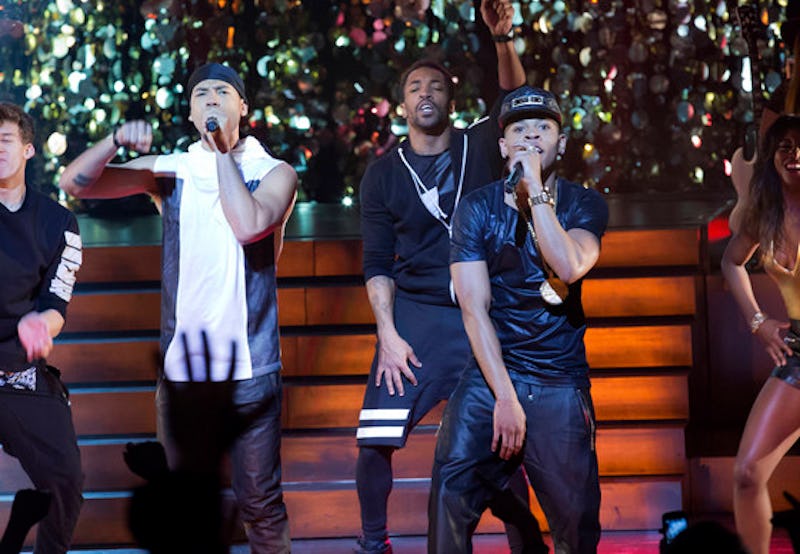 The folks over at Fox have apparently taken pity on those of us who are going through major Empire withdrawal. E! has just announced that Jussie Smollett and Bryshere 'Yazz' Gray — aka Jamal Lyon and Hakeem Lyon of Empire — will perform at the 2015 Billboard Music Awards. Apparently, the duo will be singing a number of hits from the mega-popular show including "You're So Beautiful" and "Conqueror."
Smollett said in a statement to Billboard,
"There's no way I could possibly love music more than I already do. The Billboard Music Awards have been the epitome of celebrating some of the best of the best in music, to be included as a performer on this year's celebration is a huge honor."
Admittedly when the show first premiered, I was hesitant about how the music would be incorporated in the episodes, and even when Jamal and Hakeem Lyon were introduced on the show in a wave of musical fan-fare, I remained a bit uneasy. And yet, I soon realized I had been mistaken. The music in the show is integrated in a way that elevates the story lines and further engages its audience.
Obviously I'm not the only one who feels this way. Empire 's soundtrack debuted at number one on Billboard's 200 chart, beating out Madonna for the top spot. The only issue now is trying to determine what other songs Smollet and Gray will be performing in addition to musical numbers already mentioned. Empire: Original Soundtrack From Season 1 is full of gems, but here are seven additional songs that they should really consider performing.
1. "Live In The Moment"
Smollett and Gray should begin their set with "Live In The Moment," a song from Empire's pilot episode. After all, it's how their characters were introduced on the show.
2. "I Wanna Love You"
Written and performed by Jussie Smollett, "I Wanna Love You" is the perfect summer jam. First heard during episode six, "Out, Damned Spot," this stunning tune would play beautifully on the Billboard stage.
3. "Drip Drop"
I realize that the title of the song and much of the chorus is a bit absurd... however, its such a catchy number and a crowd favorite. I've had the song stuck in my head since Empire's fifth episode "Dangerous Bonds." The stars would really be doing themselves a disservice if they chose not to perform it.
4. "Keep Your Money"
Also from "Dangerous Bonds," Jussie Smollet's "Keep Your Money," solidifies a moment in which Jamal realizes that he's just as talented as his brother Hakeem. He also comes to the realization that he must get out from under Lucious' stifling grasp in order to prosper.
5. "No Apologies"
In the second episode of the series "Outspoken King," Hakeem and Jamal team up for their first official performance together at club Leviticus. "No Apologies" boasts a perfect mash-up of hip-hop and R&B.
6. "Can't Truss' 'Em'
Yazz was finally able to display his rapping skills in "Out, Damned Spot," the sixth episode of the series. Prior to this performance, the audience had only seen small snippets of Hakeem's talent. This number really gives him the opportunity to shine and express his anger stemming from his tumultuous relationships with his mother Cookie, and his then-girlfriend, Tiana.
7. Keep It Movin'
So far we know that British artist Estelle (who guest-starred on Empire), will be joining Jussie Smollet and Yazz onstage at the Billboard Awards. However, if they do choose to bring out any more guests, I hope it's Serayah McNeil who plays Tiana on the show. Hakeem and Tiana's number "Keep It Movin'" from episode four, "False Imposition," would be an amazing way to close out the cast performance at the Billboard Awards.
The 2015 Billboard Music Awards will air live on ABC Sunday, May 17.Image: Chuck Hodes/FOX