Itty Bitty Behind the Ear Tattoos You Need To See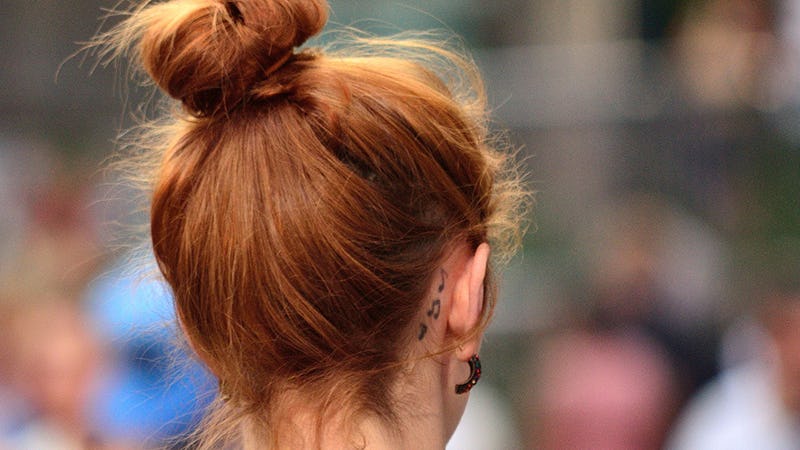 Itty bitty tattoos have become a mainstay among millennials and commitment-phobes who still want to get inked, because of their simplicity, femininity, and easy peasy hide-ability. And one of the most tired and true favorite places to put your lovely, little ink? Right behind your ear. Behind the ear tattoos have become one of the most popular place to get inked among females and the younger generation.
According to NPR, one in five adults have a tattoo, and the PEW Research Center says it goes up to four in ten when you're talking about people ages 18 through 29. Since the latter group are all just entering the World Of Working, it's no surprise that all those ink-happy guys and gals are looking for a spot that allows them to cover up their tattoo for work (and around grandma...), but still lets them show off the ink that they're so proud of. Those little suckers hurt, after all!
And — according to everyone from Demi Lovato, to Rihanna, to your best friend from high school — what place could be better than tucked in behind your ear? You can hide your little secret behind long locks or tie up your hair for a sexy reveal of your adorable, little tatt. Don't believe me yet? Just take a look at these dainty, itty bitty, behind the ear tattoos below.
1. A Rose
2. A Cat
3. An Abstract Flower
4. The Om Symbol
5. Stars
6. Mandala
7. The Little Mermaid
8. There's Waldo
9. Music Note
10. A Hamsa
11. Tinkerbell
12. Phonograph
13. Love
14. Moon
15. Coffee Cup
Images: Stephen Pisano, Gordon, Merlijn Hoek/Flickr