Demetrios Will Self-Pub 'Something Real' Sequel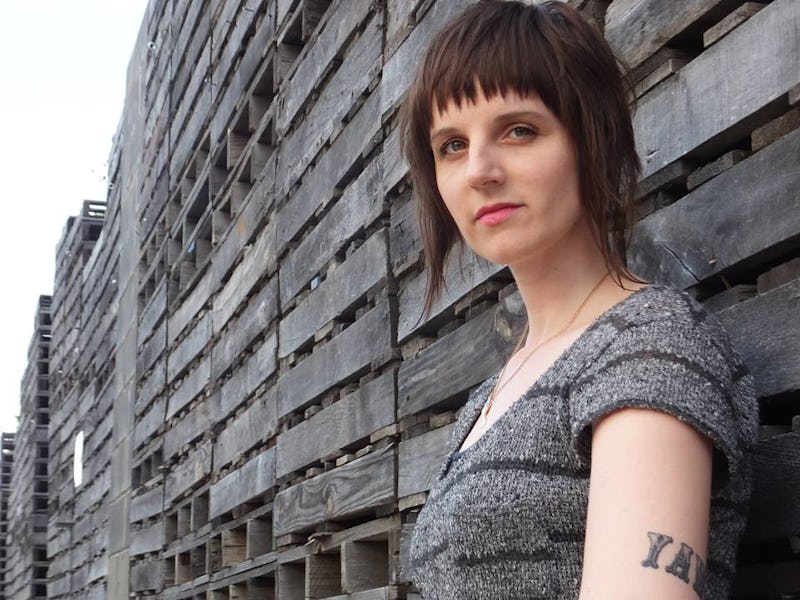 Heather Demetrios is taking a creative approach to writing her Something Real sequel The Lexie Project. Leaving traditional print behind, the sequel to Demetrios' hit debut YA novel will be told as a multi-platform, interactive experience, spanning Wattpad, where the story will primarily be told, to Twitter, Pinterest, and Tumblr, using prose, videos, and social media posts. And, falling in line with loads of other contemporary writers, comedians, and musicians, Demetrios has taken full control of the project, offering all of this to readers for free.
Something Real is a satirical approach to reality television, following 17-year-old Bonnie Baker and her 12 siblings as her mother decides to put the whole family back on the TV show that made them famous when they were younger, Bakers Dozen. The Lexie Project, this time, shadows Bonnie's sister Lexie, who has taken a hiatus from Baker's Dozen: Fresh Batch to pursue an acting career in LA, only to find herself back on reality TV. This time, a young producer sees potential to launch The Lexie Project, chronicling her journey trying to make it as an actress in Los Angeles. (And don't worry, it features two other cast favorites from Something Real: Chloe and Patrick.)
Things get complicated, as they do, when Lexie's brother Benny lands himself on the front page of the tabloids for drinking. Lex sparks up a relationship with film student Liam, but it just leads to a deep questioning: Is this really what she wants for her life?
I talked with Demetrios about what she calls her "very Marxist, take control of the means of production" approach to releasing The Lexie Project:
Publishing and the way we read is changing, and I knew Lexie's story was a perfect vehicle to embrace social media platforms as a way to actually tell a story, not just talk about it. ... The YA fandom is amazing and I want to give them a chance to be part of the storytelling process. ... Now, I have so many more tools at my disposal. Yes, I'm writing a serialized book on Wattpad. But I'm also posting YouTube videos, sharing images, having my character respond to real-world events in real-time through blog posts and tweets and images. The story is only loosely plotted — Lexie's at the helm and the readers will help her steer.
Demetrios adds that this muti-platform vessel is how readers are telling their own life stories, through pictures and videos, social media posts and blogs. It fits for Lex to be doing it the same way.
I feel that the way I'm telling the story is also a reflection of the themes of the work itself — it's a meta angle, bridging the gap between fiction and reality. Lexie is a reality TV star. Her roommate is a YouTube star. They don't want to wait two years for their book to come out and for no one to read it because no one knows it exists. They want instant gratification. They want you to get their story in real time. They want your likes and comments and love now.
We also talked about Demetrios' decision to write Lex's story as a Something Real sequel in the first place, and it's been clear that it's something that's been building up inside her for a long time, since she wrote the first draft for her debut novel.
I've always wanted to tell Lexie's story and to spend more time with Benny and Matt. Since Lexie is all about being a celebrity — or, at least, that's what she thinks — I knew the best time to shadow her would be when she goes to LA to try to make it as an actress. Now she's away from her family, off the leash, so to speak. Writing Lexie in LA is So. Much. Fun. Throw Benny and Matt in there, surprises from Chloe and Patrick, MetaReel, and a certain cute grad student named Liam, and you've got what I hope is a romantic, pop-culture satire — fingers crossed.
Demetrios is taking this approach and making it as "real" as possible, casting a Lex lookalike and putting out a casting call for her roommate Noelle Non Merci, a bonafide YouTube star. Noelle's videos will be linked to the serialized chapters on Wattpad of The Lexie Project. Here's Demetrios with "Lexie":
Lexie is even listed as a co-author on Wattpad: "She has a Yorkie named Fred Astaire, her favorite color is Juicy Couture pink, and she thinks you have dreamy eyes."
But Demetrios will be the first one to stand up for Lexie, despite her ditzy, fame-seeking exterior:
There is so much more to Lexie under the mask she presents to the world. She's someone I never thought I could have connected to, but the more I see past the veneer, the more I can't stop looking. At first glance, you might thinks she's a ditzy, shallow, pop-culture maniac. Look closer. There's a smart, savvy, compassionate girl hiding under all that makeup.
Starting June 8, readers will be able to check out weekly installments of The Lexie Project, but to get your fix waiting for the next piece of writing, Demetrios will be updating Lex's social media accounts daily — and they're already up and running in full force — and readers can interact with "Lexie" and even influence the course of the story in progress.
Images: Courtesy of Heather Demetrios