What Happened When I Washed My Hair With Beer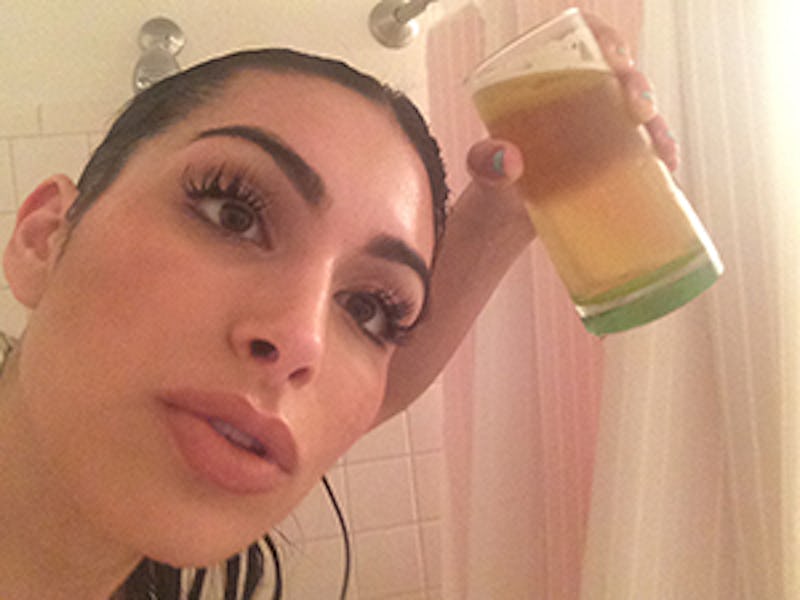 Suki Waterhouse had girls all over the country rinsing their hair with Coca-Cola. Now, I find out timeless beauty Catherine Zeta Jones has been washing her hair with beer for years. She swears beer makes for shiny, fuller, softer locks. Who knew Bud Light had vitamins and proteins that are good for your hair?!
I recently chopped four inches of my hair off after my stylist convinced me how hot the "lob" (long-bob) is. Ever since, my hair has felt so much healthier — but I'm always looking for ways to get my thin hair to be more voluminous. I figured I'd give beer washing a whirl and went to my fridge to grab my last bottle of Rolling Rock, hoping my favorite cheap, pale lager would do the trick.
I feel like I lose less hair in the shower (a whole different experiment!) and end up with healthier hair when I wash my hair only twice a week. Thank you dry shampoo! (That actually is a whole different Bustle experiment!) Some reports caution that beer can strip hair of its good, natural oils and leave hair too dry. So it's good thing I am here with four-days greasy hair hoping this bottle of beer has some mean cleansing properties.
When I Googled directions on the proper beer washing technique, I got a variety of results. Some recommend to boil the water first and then let it cool to rid the beer of its drying properties. Others suggest to lightly spritz it in your hair and use it as a leave-in conditioner. After reading up on different, but similar methods, I compiled the most common procedures and developed my own approach. Who knew hair washing could get so scientific?!
First, I poured the beer into a glass and let it sit for 45 minutes. Apparently, the beer must be flat in order to work its hair wonders. At that point, I hopped in the shower and washed my hair with the same products I normally use. (Remember those experimental "constants" from high school? Same thing applies here.) I lathered up with Head and Shoulders Dry Scalp Care with almond oil. I followed that up with OGX's Moisture Surge Deep Treatment conditioner and let it sit for a few minutes.
Following the instructions I gathered from the Internet, I rinsed out my conditioner and grabbed the glass of flat beer on my bathroom counter, I added about two tablespoons of warm water to the glass. After this, I tipped the glass and a waterfall of cold beer was poured down my head and back. I had two thoughts. 1) Holy crap! This is colder than I expected! 2) Why does the scent of beer smell so familiar in a bathroom setting? Oh, right, keg parties in college. I immediately worried if I'd smell like a frat house the next morning on my morning flight to L.A.
I let the beer sit on my hair for three minutes as recommended and then fully rinsed it out. Following my shower, I sprayed my favorite Pantene Pro-V detangler as usual and went to bed to sleep on my wet hair.
The next day, as I twirled my hair on a way-too-early flight, I didn't feel much of a difference in my hair's thickness or shine, but it was softer than ever! And no worries, there was no beer stank.
Honestly, I don't know if beer rinsing is something that will become a regular part of my beauty routine. It certainly didn't hurt my hair, but I'm not sure that the subtle results were totally worth wasting a bottle of beer over. For an extra boost of volume, I much prefer using a volumizing product, like L'Oreal's Advanced Haircare Volume Filler Fiber Amplifying Concentrate. The effects are more instant — and it doesn't remind me of Thirsty Thursdays.
Images: Ashley Iaconetti