5 Reasons Why We Need To Read Survivor Stories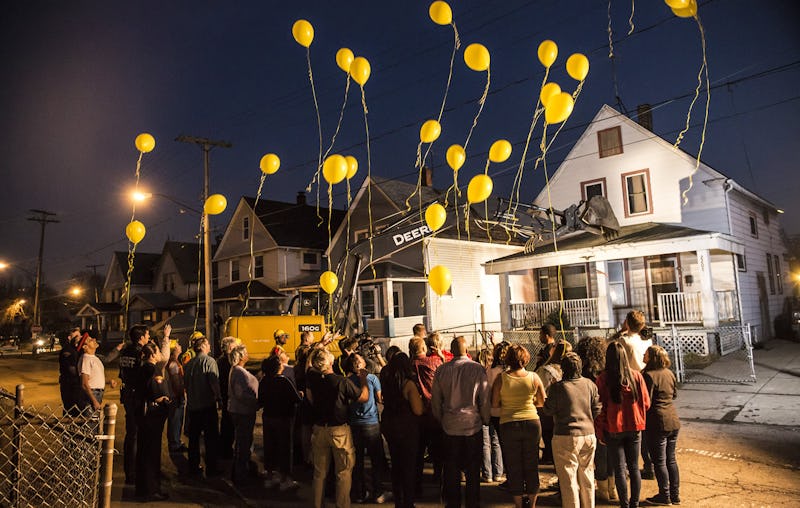 On Sunday, Lifetime will air Cleveland Abduction, a made-for-television movie based on the real-life kidnapping of Amanda Berry, Gina DeJesus, and Michelle Knight. But how much of the real story do people know? Last year, one of the victims, Knight, released her own memoir, Finding Me, that detailed her years in torment. And now, to add to Knight's account, DeJesus and Berry have released Hope: A Memoir of Survival in Cleveland.
Drawing from their own memories and a secret diary Berry kept, their memoir tells the story of both women's abductions, and doesn't shy away from the hard-to-swallow details of their years held captive by Ariel Castro. With the help of reporters Mary Jordan and Kevin Sullivan, Hope paints a picture of life inside the "house of horrors," as well as what was happening in the headlines and in the police investigation throughout the 10 years the girls were imprisoned. It details the physical, emotional, and sexual abuse the women endured — including Jocelyn Berry, the daughter of Amanda Berry and her tormentor Castro — as well as the women's improbable escape and rescue, and the aftermath that followed.
Right now, you might be asking yourself, Why would I read about that? Even if you think you know everything, or are skeptical of the motivations as to why the book is being written, I urge you to set aside your hesitations and pick up a copy of Hope instead. There are plenty of reasons why you should read this true account of horror and survival — and the stories of all survivors of tragedy. Here's why:
We Need to Hear the Victims' Story From the Victims Themselves
You may have heard everything there is to hear about the tragedy in Ohio, but who have you been hearing it from? The media, police, lawyers, and family members have been sharing DeJesus and Berry's story even since their abduction, but it was important to both survivors to share what happened to them in their own way.
"I felt like there were so many people telling our story, what they thought was our story, and I just felt like maybe our voices weren't heard," Berry explained in an interview with USA TODAY.
Survival Is Possible Against Great Odds
It's nearly impossible to imagine how anyone, let alone a few terrified teenagers, could survive such seemingly insurmountable physical, sexual, and emotional abuse — but they did. Their story, and more importantly their survival, stands as a true testament to human strength and resilience.
In a perfect world, nothing like this would ever happen again, but considering that our world is anything but perfect, we can safely assume this won't be the last tragedy. But this memoir and others like it give readers much-needed proof that evil does not always win out, and even against all odds, survival is possible.
Tragedy Doesn't Just Happen In the Movies
We're used to seeing sad stories in the papers — but just because we see them doesn't mean that we process them as real. As it turns out, between mainstream media and social media, you're constantly being bombarded by — and desensitized to — bad news and sob stories. So, if you feel like you're unaffected by bad news, or sometimes it goes over your head, you're not alone.
Subsequently, that makes it difficult to really put yourself in someone else's shoes when it comes to understanding pain, loss, and tragedy. And although it's easier to process something terrifying if it is put in the context of a two-hour, made-for-TV movie, it's also crucial to recognize that some tragedies are not fiction. What happened to the women in Ohio is, as disturbing as it can be to understand, a true story, and one that happens more than we'd like to imagine.
Which brings me to my next point...
Awareness Is the First Step to Prevention
As children, we learned the basic rules of Stranger Danger. Don't talk to people you don't know, don't get into a mysterious car alone — the list goes on. But the reality is that protecting yourself from harm isn't as simple as abiding by a checklist your parents and teachers had you recite in the 1st grade. Both DeJesus and Berry knew their abductor before being tricked and kidnapped, and there is no hard and fast rule for situations like that.
In the book, the girls retell their abduction, including the moment they realized they had made a mistake and were in trouble, in such stark detail that it has the power to teach readers a new lesson in awareness. As DeJesus explained to USA TODAY, "I also wanted to talk to people to ... tell them to watch out and be aware."
"Hope" Is More Than a Word
It can be a life force. When DeJesus and Berry were being held captive, they were comforted by the news, which let them know that people were still looking for them. They were given hope, and that hope may well have been what kept them going for so long. DeJesus and Berry want others that have survived tragedies to know there is hope for them, too; that they can live the lives they've always wanted. (I mean, come on, it's the title of the book).
"Stay strong and stay positive, and never give up hope," Berry told USA TODAY in hopes other victims could hear her words. The book echoes that sentiment for victims of all kinds of tragedies.
Images: Bob Mahoney/Lifetime (3); Brandon Blackwell/Twitter