Anti-Gay Bakery's Crowdfunding Page Shut Down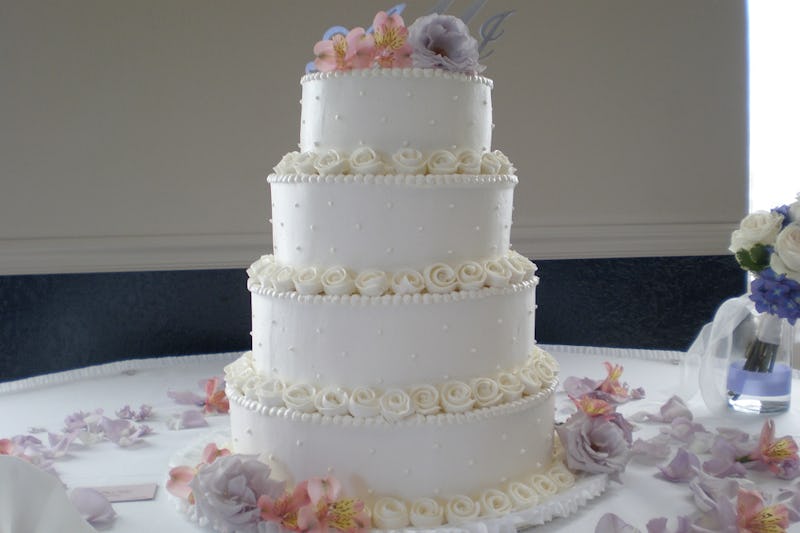 And today in anti-LGBT local business news, we have this: Oregon bakery Sweet Cakes by Melissa's GoFundMe campaign was recently shut down because it violated the crowdfunding site's terms and conditions. If the name "Sweet Cakes by Melissa" sounds familiar to you, that's because back in 2013, they were accused of discriminating against a same-sex couple — an accusation which held up during an investigation, resulting in the bakery being ordered on April 24 to pay $135,000 in damages. As much as I wish the story ended there, with justice being served and all… it keeps going.
Here's the deal:
In January of 2013, Sweet Cakes by Melissa came under fire for refusing to bake a wedding cake for a same-sex couple. In August of that year, the Oregon Bureau of Labor and Industries launched an investigation in response to a complaint filed by the couple, Rachel and Laurel Bowman-Cryer; the question was about whether the bakery's refusing them service violated the Oregon Equality Act of 2007, an anti-discrimination act which protects the rights of gay, lesbian, bisexual, and transgender Oregonians with regards to employment, housing, and public places. According to the law, it is illegal for private business owners to discriminate or refuse service based on sexual orientation.
Aaron Klein, who co-owned the bakery with his wife Melissa, told KATU News in September 2013, "Discrimination is really the wrong terminology for what took place. I didn't want to be a part of her marriage, which I think is wrong" (which, I would argue, is the very definition of discrimination when applied to a business transaction). The Kleins were indeed found in violation of the Oregon Equality Act of 2007 in February 2015; then, on April 24, an administrative law judge for the Oregon Bureau of Labor and Industries recommended that the bakery owners should pay $135,000 in damages to the Bowman-Cryers.
When the investigation had just launched in 2013, The Kleins stated to KATU News that their business had taken "more than a 50 percent hit since January"; they ended up closing their storefront around that time and began taking orders online and operating out of their home kitchen. When the recommendation came down from the judge on April 24, the bakery wrote the following on their Facebook page:
That's when they started up their GoFundMe page — to fund the damages they will be required to pay. And therein lies the problem: Starting a crowdfunding campaign to pay off damages you've been ordered to pony up as a result of any sort of formal charges is against GoFundMe's terms and conditions.
Bustle reached out to GoFundMe and received the following statement via email:
The campaign entitled "Sweet Cakes by Melissa" involves formal charges. As such, our team has determined that it was in violation of GoFundMe's Terms and Conditions. In the case of "Memories Pizza," no formal charges were involved, thus the campaign was not removed.
Memories Pizza, of course, is yet another local business — this time in Indiana — who also recently stated that they would not cater to gay or lesbian customers. The pizzeria raised $800,000 via a GoFundMe campaign after shuttering temporarily due to the backlash they received — but since their campaign was run to fund their business, rather than to pay out damages related to a formal charge, their campaign was allowed to remain. GoFundMe elaborated on what the difference was for Sweet Cakes by Melissa, stating that the bakery's page violated the policy against raising funds "in defense of formal charges of heinous crimes, including violent, hateful, or sexual acts."
I'll be honest: I have no sympathy for Sweet Cakes by Melissa. First off, I seriously can't believe that we still have to point out that it's not OK to discriminate against someone someone for their sexual orientation (or their age, or gender, or race, or any of the other things that might fall under this sort of umbrella). It's mind-blowing to me. And second off? It was determined that you broke the law. That means you have to suffer the consequences, which in this case means paying up. Quit bellyaching about it and blaming other people, and take responsibility for your actions.
According to Grub Street, GoFundMe will allow the Kleins to collect the $109,000 the campaign raised before it was shut down. I kind of understand why that's the case… but it still rankles a little bit. Furthermore, the Kleins have begun a campaign on Samaritan's Purse, a site which "helps persecuted Christians in the U.S." (hi there, privilege!).
But as is the case with all of these sorts of stories, at least we're talking about it. Although I don't like that, as a society, we're still at a point where we need to draw attention to the problems here — acknowledging that there are problems in the first place are the first step towards fixing them. Discrimination may still be alive and well right now... but I have hope that its days are numbered.
Images: Brian Giese/Flickr; Giphy