Why You Can't Miss 'Mad Max: Fury Road'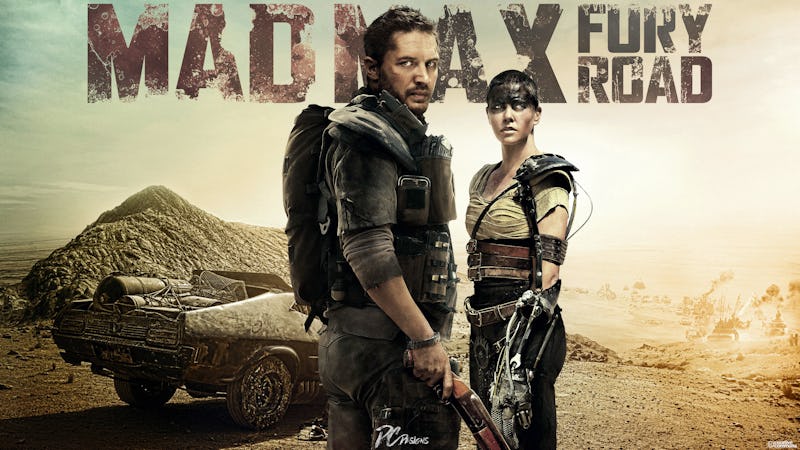 Everything we've seen so far from the new Mad Max: Fury Road movie, coming out this summer, proves you can't afford to miss this film, and the latest Mad Max: Fury Road trailer drives this message home. Featuring a bionic-armed Charlize Theron and Tom Hardy in the title role made famous by Mel Gibson all those years ago, the new footage is chock full of apocalyptic desert warfare.
Director George Miller has been wanting to made another Mad Max movie for quite some time. He directed Gibson in the original films, beginning with the original 1979 installment that introduced the Braveheart-ed actor as a cop looking to avenge the death of his family amid a wasteland backdrop. Now, 36 years after the first film hit theaters, Miller has return to continue the story of Mad Max, but with Hardy leading the charge.
When we meet Max in Fury Road, he's wandering alone in the desert, haunted by his past. This whole "savior tempted in the desert" thing can't last, though, and he's soon swept up in the affairs of the bionic woman, Furiosa (Theron). Along with a group of deserters, she's racing across the wasteland to escape from a tyrannical leader known as Immortan Joe (played by Hugh Keays-Byrne). As the Mad Max: Fury Road trailer depicts, it's one helluva journey.
Warner Bros. has been tickling us with heart-pounding footage like this layered with some of the best soundtrack choices to get us revved up for the return of Max. The film will hit theaters starting on May 15, and to get you even more excited, here's a breakdown of all the moments you can't afford to miss on the big screen.
1. Charlize Theron Is My New Favorite Action Star
Theron is no stranger to completely changing her look for a film. It's worked out for her in the past with Monster, which won her an Oscar. Here, she shaved her head (that's no bald cap, folks) and embraced a bionic and face paint to become one of the most badass fighters the apocalypse has ever seen.
2. My New Halloween Costume Is This
No wonder Furiosa and the rest of her troupe are racing away from this guy. He has a face that you leave in the desert for the vultures, only for him to be raised by the vultures and grow up to become a sadistic baddie who puts history's tyrants to shame. I'm eager to see this guy in action, and hopefully he's as psychotic as his mask makes him out to be.
3. Nicholas Hoult Looks Positively Cracked Out
Can someone get this guy a glass of water, or, possibly, more crack? Seriously, is he driving away from Immortan Joe or rehab? Hoult seems to be embracing the visually jarring nature of his role, though he could use some a dab of chapstick. I get that's hard to come by in a desert wasteland, but still.
4. A Storm Is Coming
Literally, a storm is brewing. Part of what has made the Mad Max: Fury Road trailers so spectacular are the visual effects, which includes a massive sandstorm that could potentially sweep all these folks out of the desert.
5. Tom Hardy Has A New Accent To Love
Even when Hardy was flaunting his Bane voice, putting bullets in his enemies and threatening an entire city with annihilation, I was able to see underneath his mask. He's still the chiseled hunk we fell in love with in movies like Inception, Warrior and Bronson. With Mad Max, there's another side and another sexy accent to love.
6. Fast & Furious Has Nothing On These Car Chases
Furious 7 quickly became the highest-grossing movie of the franchise and the year, having crossed the coveted $1 billion finish line at the box office. But even with all its insane stunts and sequences, Mad Max is looking to give this one a run for its box office dolla' bills.
7. Can I Pre-Order The Soundtrack, Please?
Whoever is cutting together these trailers is doing an exceptional job. From the theme to Verdi's "Requiem" from previous versions, to the quieter but still intense music box from this latest look, each new preview has me watching with bated breath for the next action sequence. And that's largely in part because of the musical stylings.
Images: Nick Romano/Bustle