The Unlikely Stars of LV's New Ad Campaign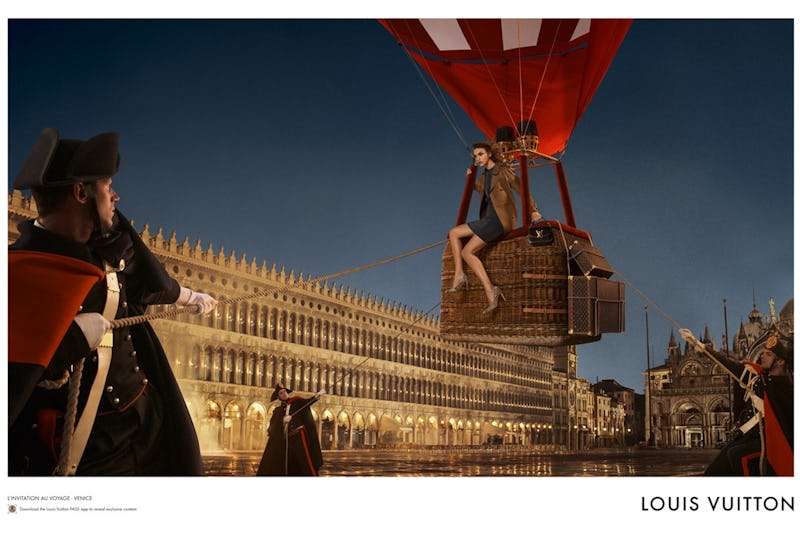 It's Halloween, so let's talk about escapism. More specifically, the haunting escapism dreamed up by Louis Vuitton for their end-of-year ad campaign, which stars two of our very favorite people ever: Arizona Muse, of the tousled bob and the brows, and David Bowie, of — um — space.
This campaign is the second part of L'invitation Au Voyage, an ad campaign shot by Inez and Vinoodh that features both images and tiny narrative films. The first installment, which debuted last November, shows Arizona Muse walking through the Louvre, finding a secret envelope, running from a strange man, and jumping into an air balloon. The whole thing is sexy, mysterious, and a little bit DaVinci Code. Muse appears to be in some sort of danger.
In these latest images — which are designed to feature Vuitton's new Vivienne bag and Tambour watch, but are also probably evidence of a worldwide plot that may or may not involve the Illuminati — the hot air balloon is back, and Bowie's here to save the day. He'll also be singing a new version of "I'd Rather Be High." Swoon! It's hard to tell exactly what happens yet, as the second installment of the film won't be released until November 7, but there will be a masked ball, some frantic running down dark alleyways, and a man playing the piano who we can only assume is the Thin White Duke himself.
According to WWD, the latest video ends with Muse escaping onto an ancient Chinese boat, which makes us think that the saga isn't over yet...
Watch the transportive teaser video below, and look for the full version November 7, on YouTube and Louis Vuitton's website.