5 Unfortunate Celebrity Bridesmaid Dresses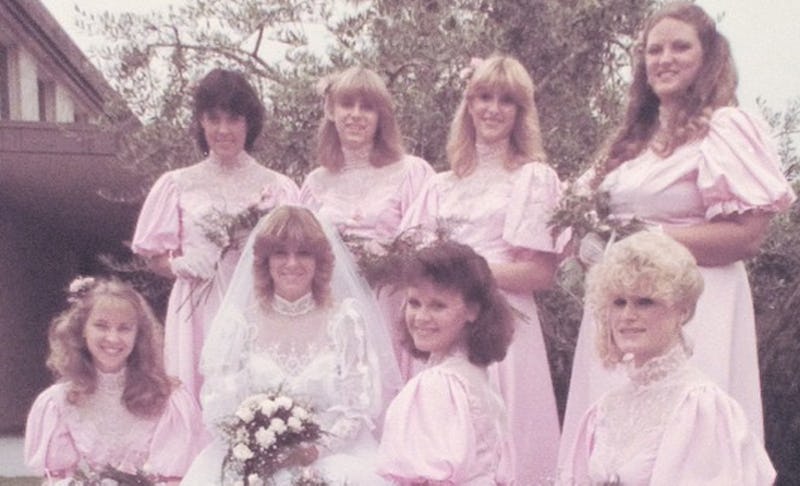 Our favorite stars are normally always impeccably dressed, but when they forgo their stylists' help in order to wear a bridesmaid dress chosen by their friends or family members, even the most beautiful celebs can look — well, normal. Without the help of haute couture designers, the world's best tailors and a glam squad team to pull it all together, celebrities wearing bridesmaid dresses look slightly less than their best. Hey, it just goes to show that no one is immune to the less-than-sound decisions made by a bride-to-be.
From drab, draped frocks that hide every curve to awful colors that totally wash out that St. Tropez tan, celebrities have worn some truly unfortunate bridesmaid dresses. Hey, when you're working with a group of girls with different personalities (not to mention different budgets), it can be hard to choose a dress that makes them all look great. In most cases, however, these supportive celebs grin and bear it in order to let their friends have the spotlight for once.
Most women have been the victim of an unflattering bridesmaid dress at one time or another, so if you've ever been there, you'll appreciate knowing that even A-list fashionistas can't escape the dreaded ugly bridesmaid dress.
1. Lena Dunham
Lena served as a bridesmaid in her friend's beautiful outdoor wedding, and while the rustic-chic wedding was beautiful, the bridesmaids' dresses weren't exactly flattering. Lena's dress was about six inches too long, the cap sleeves created a strange shoulder situation and the light grey color made just about everyone look pretty washed out. Despite the unfortunate dresses, however, the GIRLS creator and her friends looked smiley and happy, which is a success when it comes to the stress of a wedding day.
2. Lady Gaga
Lady Gaga shed her usual wild style in favor of something more modest when she was a bridesmaid in her best friend's wedding. She tweeted this photo of herself and her friends donning matching mauve bridesmaids' dresses, but the dusty pink color and drab fabric made her look pretty dull when compared to her usual larger-than-life self.
3. Jessica Biel
It's almost impossible for Jessica Biel to look anything less than perfect, but her former 7th Heaven co-star Beverly Mitchell tried her damnedest to make it happen. This bridesmaid dress — which can really only be described as "regular brown," though it was probably marketed as "chocolate" or "nutmeg" —looked loose and sack-like on Biel. The outdated shawl didn't do much to make it any more stylish. I guess the sisterly rivalry never really ended between Mary and Lucy, huh?
4. Jessica Simpson
I imagine that when you're this pregnant, the last thing that you want to do is walk down the aisle as a bridesmaid, but Jessica Simpson also had to do it in a strange, clubby black body con dress. This dress even looked uncomfortable, so I imagine that Jessica dreamed about her pregnancy sweats throughout the entire ceremony.
5. Lauren Conrad…'s Mom
Lauren Conrad played a silly (and slightly terrifying) joke on her bridesmaids when she posted this photo of her mother's bridal party on Instagram. Knowing how chic LC's wedding actually was, they probably realized that she would never make them wear these lacy pink '80s frocks.