Abu Bakr al-Baghdadi May Never Lead ISIS Again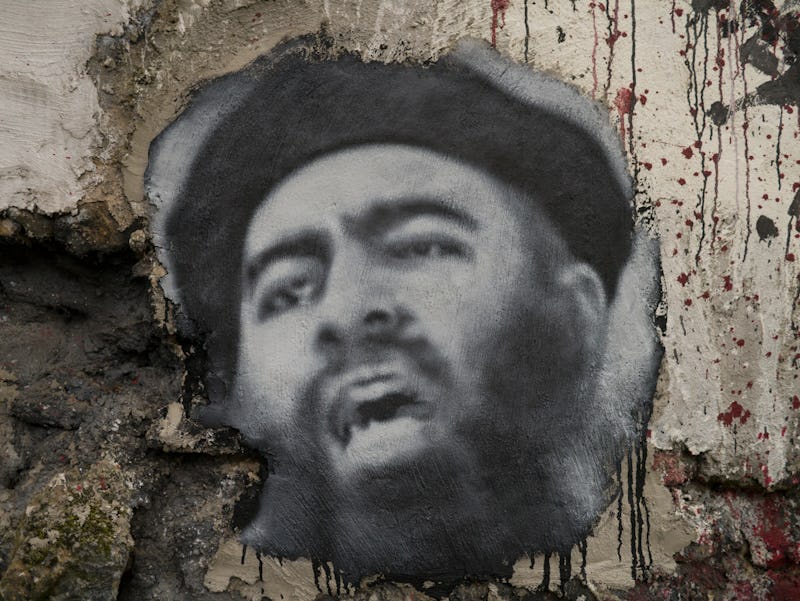 Injuries sustained during an air strike have rendered Abu Bakr al-Baghdadi, leader of ISIS, out of action, according to an exclusive Guardian report. Baghdadi, the world's most wanted man thanks to his leadership of a group that has terrorized swathes of Syria and Iraq, was initially injured in a U.S. air strike in March. Sources close to ISIS have confirmed that the spinal damage Baghdadi sustained in the attack could mean he will never again lead the group, The Guardian reported Friday. In his absence, ISIS is being run by long-term senior official Abu Alaa al-Afri.
On March 18, a U.S. airstrike hit the al-Baaj district of Nineveh, in the northwest of Iraq. The strike reportedly killed the three men that Baghdadi was travelling with, and left the self-anointed caliph with serious injuries. Friday's exclusive report suggests that those injuries may incapacitate Baghdadi long-term, and that he is being treated by two doctors loyal to the terror group's cause, in a hideout outside of Mosul (the group's Iraq base).
Since June 2014, ISIS (or Islamic State), commanded by Baghdadi, has led military campaigns across Syria and Iraq, in the hopes of establishing an Islamic caliphate ruled by Sharia law (a legal code based on interpretations of the Quran). Their vision of a state unified under Islam transcends national boundaries, and the group have seemingly made inroads as far as Libya, Yemen and Afghanistan. Baghdadi, known as Caliph Ibrahim by his followers, claims descent from Prophet Muhammad's Quraysh tribe (a pre-condition for becoming a caliph). He first predicted the victory of ISIS in July 2012, BBC reports.
The Pentagon, according to The Guardian, has acknowledged that they carried out the March 18 strike, but denied that they knew Baghdadi was one of its casualties. "We have nothing to confirm this report," a Pentagon spokesman said on Tuesday. A U.S. airstrike campaign in Iraq began in August 2014, with the objective of halting the militants' advance on Iraqi Kurdistan. The strikes have continued into 2015, taking a toll on the group's numbers and morale, but failing to completely stop the spread of ISIS. The militants have continued to push on various fronts, recently launching offensives in western Iraq.
Despite rumors of Baghdadi's death, the Pentagon denied he had been killed — which The Guardian's report reaffirms. Instead, Baghdadi is reportedly being treated by a female radiologist and a male surgeon, both of whom fervently support ISIS. One Mosul resident told The Guardian:
The women's sons work in the [Mosul] hospital… They dress like Kandaharis and even carry guns inside. Both are on the regional health board… The man is not a renowned surgeon, but he is absolutely with them [ISIS]. His daughter married a Salafist and said she was going to have as many children as she could to fight the enemies of Islam.
Despite the fact that Baghdadi, 44, began leading an early iteration of ISIS in 2010 (and was responsible for Sharia law within al Qaeda since 2007), he consistently operated as a shadowy figure. His first public appearance was in July 2014, when he gave a sermon in Mosul and proclaimed himself caliph. With Baghdadi at the helm, ISIS has become globally feared. In 2014, BBC called him "the new star of the ascendant 'Caliphate Project.'" Now, the group's day-to-day operations are out of Baghdadi's hands, although his legacy lives on. Former physics professor and ISIS stalwart Abu Alaa al-Afri has big boots to fill.
Afri, according to Iraqi government advisor Dr Hisham al-Hashimi, has been leading the group for the last two months, and is ready to assume permanent control should Baghdadi die, or not fully recover. "They have a lot of confidence in al-Afri," Hashimi told The Guardian. "He is smart, and a good leader and administrator. If Baghdadi ends up dying, he will lead them." One ISIS insider told the publication that ongoing airstrikes had effectively kicked the hornets' nest. "They are planning to fight back against Europe," he said. "They want to take revenge for Baghdadi."
Images: thierry ehrmann / Flickr; Getty Images (2)