19 Wins and Losses for Celeb Women in 2013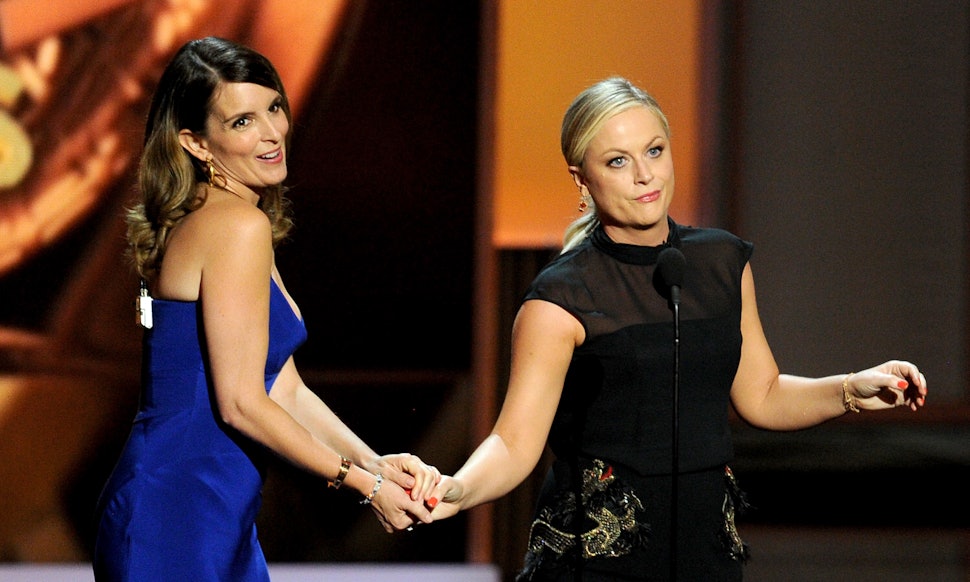 Kevin Winter/Getty Images Entertainment/Getty Images
Say what you will about entertainment in 2013, but women were certainly in the foreground. On the plus side, Girls grew its pop cultural clout, Tina Fey and Amy Poehler earned the most Golden Globe Awards viewers in recent years and landed a contract to host for another two years, Sandra Bullock consistently attracted moviegoers, and productions like Orange Is the New Black and Blue Is the Warmest Color brought LBGTQ issues to the center of feminist discussion.
At the same time, women also suffered major losses with Saturday Night Live once again opting for white women cast members over ones of color, comedienne Lindy West receiving countless rape threats after speaking out against rape culture, Robin Thicke's "Blurred Lines" creating ambiguities around consent and female agency, and the media preying on Amanda Bynes as she spiraled into an increasingly troubling tunnel of instability. So, what does this say about our culture? For starters, that women are no longer ignored in entertainment, whether they are racking up achievements or turning against one another. Is this what gender equality looks like? Maybe not quite, but we are definitely making strides. With that said, here is the year in entertainment as told by wins and losses for women.
The Biggest Wins: J. Law's Oscar
After delivering an impressive performance in Silver Linings Playbook, Jennifer Lawrence picked up a Best Actress Oscar, but not before lovably tripping on her dress. Her win, just like her rise to stardom, has been nothing but good for women since the self-professed clumsy nerd is both humble and proud of her accomplishments, comfortable with her body size, and honest about her love of pantslessness and junk food.
'Zero Dark Thirty' and 'Homeland' Proved Women Can Get the Job Done
Usually the feds in suits protecting the nation against terrorism have a Y-chromosome, but this year, Maya and Carrie Mathison challenged the trend. That's right world, girls aren't just teachers, nurses, and stay-at-home moms, they're high-ranking government officials, too. Even though Zero Dark Thirty came out in December 2012, it counts.
Tina Fey's and Amy Poehler's Massive Golden Globes Ratings
Tina Fey and Amy Poehler hosted the Golden Globes, and the world loved the funny ladies. Ratings topped 19 million, a huge increase from the year before, which earned the best friends a contract to return for the next two years.
Peggy Took Over
Don fell apart this season on Mad Men, and while it wasn't exactly a good year for Peggy personally, professionally, things couldn't have ended better. Now that Don is taking a leave from the advertising business, Peggy has claimed his chair — and his creative director position — for herself. Well-earned, Peggy.Image: AMC
'Orange Is the New Black' Casts Real Women
Real women of all shapes, sizes, colors, and backgrounds came together to film the best new show of the year, Orange Is the New Black. OITNB addressed issues of transexuality, female friendships, sexual orientation, socioeconomic disadvantage, and empathy with sensitive, raw story lines that reflect how real women cope with their problems.Image: Instagram
'The Heat' Reimagined Buddy Cop Comedies
So what if Paul Feig, Sandra Bullock, and Melissa McCarthy didn't invent the wheel with The Heat, they still made the first bona fide female buddy cop comedy. And guess what? We bought it. We didn't question that women could be good cops, and we certainly didn't expect them to look like Megan Fox while doing it.Image: The Heat
Anna Gunn Spoke Out
The Skylar White hate hit all-time highs as Breaking Bad approached its series finale, and in the midst of bad-mouthing, the actress behind her did not back down. She called out those who personally threatened her, and then she turned the problem around on society, aptly arguing "most people's hatred of Skyler had little to do with me and a lot to do with their own perception of women and wives."
Lorde Hit Number One on the Alternative Charts
In 17 years, not one woman has topped the Alternative Charts. That is until Lorde came out with the smash hit "Royals," which has gone on to make it to number one on the Billboard Hot 100, as well. Did we mention she's a 16 year-old concerned with the nuanced tensions between accepting and rejecting a consumer capitalist lifestyle? Because yeah, she is.
Karen Russell, Alice Munro, and Jhumpa Lahiri Won Big
Our favorite women writers were paid their dues this year, with Karen Russell picking up a MacArthur Foundation "Genius Grant," Alice Munro finally earning the Nobel Prize for Literature, and Jhumpa Lahiri garnering the distinguished honor of National Book Award Finalist.
Female Comedians Dominated Television and Film
If it wasn't enough that New Girl, 30 Rock, The Mindy Project, Parks and Recreation, The Heat, and Identity Thief commanded major attention this year, female comedians landed deals left and right. Rashida Jones, Tina Fey, Casey Wilson, June Diane Raphael, Issa Rae, Rebel Wilson, Amy Schumer, Natasha Leggero, and Garfunkle and Oates, to name a few, all landed development deals in television and film this year.
The Biggest Losses: Mindy McCready and Chrissy Amphlett Passed Away
2013 was a devastating year for women in music, with country artist Mindy McCready and Chrissy Amphlett, the lead singer of Australian rock band The Divinyls, passing away.
Multiple Questionable Moments on 'Girls'
What was up with Girls this year? Adam crossed some major sexual boundary lines with his new main squeeze before running off to sweep Hannah off her feet, a lá Prince Charming, and Marnie had a momentary moment of personal growth before going back to Charlie and promising to have his "brown babies." All this makes us wonder if it should have been Enlightened to get cut from the HBO lineup. Here's hoping Season 3 will return to its sex positive, girl positive vision that made the show so relatable. Image: Instagram
Chris Brown Stayed Relevant and Continued Wreaking Havoc on the World
Ugh, this was a big loss for the world, not just women. After battering Rhianna in 2009, he continued to complain about the backlash four years later. If that wasn't enough, he feuded with literally everyone alive, spat hateful homophobic slurs, and then assaulted a fan. Oh, and that assault charge got reduced to a misdemeanor. Legal system, stop protecting this man. Society doesn't need this man, and it certainly doesn't want him.
Lindy West Received Rape Threats
After Lindy West went on FX's Totally Biased with W. Kamau Bell and tried to explain rape culture and its relationship with comedy in a debate with comedian Jim Norton, she was met with a barrage of rape threats. So basically, not only does that prove rape culture is alive and well, but also that the Internet is not a place for women.
Paula Deen
Oh how the mighty do fall. Paula Deen went from queen of The Food Network to social pariah in about a millisecond after her extremely racist comments and practices against her restaurant employees were revealed. While losing her contracts with sponsors like Walmart and QVC was a big win for the world, her blatant racial discrimination was a big loss for the feminist movement. We can't expect to earn equal rights if we don't treat one another with respect, and by spewing racial epithets at Lisa Jackson, Deen thoroughly undermined that goal.
Amanda Bynes Broke Down and the Media Loved It
Amanda Bynes was a mess, and instead of letting her be or trying to help her, the media preyed upon her. Did so much press scrutinizing her help push her over the edge? We think so. We need to learn that preying upon emotionally or psychologically unstable women is not worth it, no matter how many readers it gains us.
The Miley Cyrus, Sinead O'Connor, Amanda Palmer Triangle
Open letters on top of open letters. Sinead O'Connor meant well when she wrote to Miley Cyrus about not letting herself be exploited by the industry, but it wasn't her place. Miley retorted, then Amanda Palmer intervened inexplicably, and the result was a lot of arguing and hurtful comments about female sexuality, mental illness, and female agency. Shame on everyone.
'SNL' Snubbed Women of Color
SNL brought five new members onto the cast, and not a single was a woman of color. The series hasn't featured a woman of color comedian since Maya Rudolph left in 2007, and it won't for at least another year.
Michael Douglas Implied Lady Parts Could Give You Cancer
Michael Douglas mentioned that performing cunnilingus could cause throat cancer. The 69-year-old actor battled the disease, which was caused by HPV, which could have come from performing oral sex on a woman. He contributed to the already existing fear of the female anatomy, and it wasn't appreciated. Oy vey.