All The Best Prom Dresses From Every Movie Ever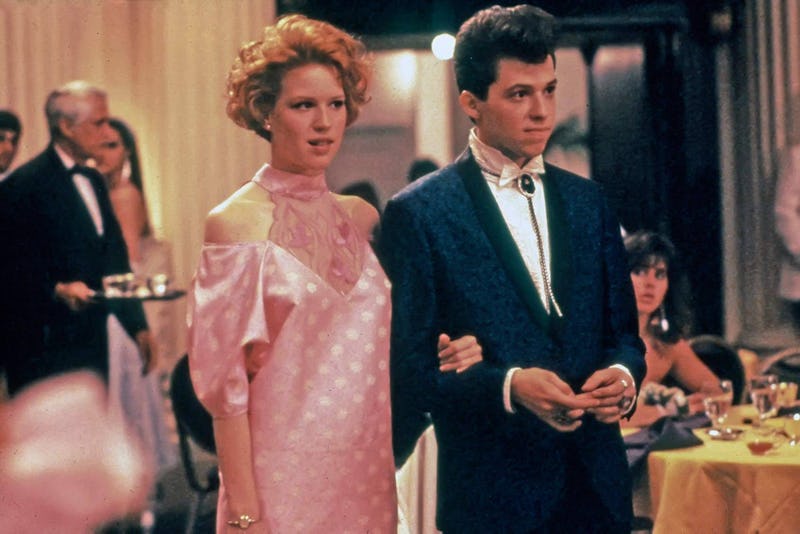 A staple of any great high school movie or television show is the classic prom scene. From afar, crushes are realized. Secrets about the bad boy/nice jock getting paid to bring the artsy girl to prom are brought to light. But most importantly: The high school movie heroine fashions a bespoke prom dress that emphasizes she's WAY too cool for everyone at her school. To remind you of all of this, the folks over at Worn Fashion Journal have compiled a prom style supercut of pop culture's most memorable high school dance frocks. It's basically required reading (erm, watching) for any American teenager... or overgrown teenager.
From Andi Walsh's DIY polka dot dropwaist frock, to Cady Heron's mathlete jacket, "Corsages & Cumberbunds: A Worn Style Supercut For Secondhand Prom" is a comprehensive montage of decades of what our heroes/heroines/villains/class clowns wore in various prom scenes. The dresses include, but are not limited to: Kat Stratford's maxi-dress/shawl combo from 10 Things I Hate About You, Josie Gellar's metallic '80s prom dress from Never Been Kissed, Rizzo's delightfully slutty red body con dress from Grease, Tracy Turnblad's floral crop top/pencil skirt combo from Hairspray, and SO MANY tuxedos. Be forewarned. Viewing the following content will likely give you the urge to go and watch ALL the movies with prom scened you can get your corsage-baring mits on.
So many dresses, face rhinestones, and up-dos that made your tween self unreasonably excited for your own prom. Life was so simple back then, when all you had to worry about was who would be in your limo. Le sigh.
Image: Paramount Pictures