'Penny Dreadful' Made Us Love Josh Hartnett Again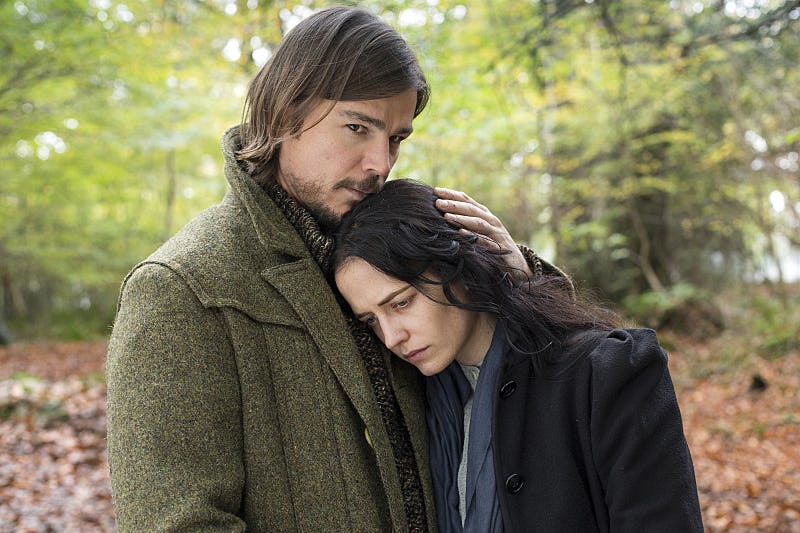 In the '00s, Josh Hartnett was the guy everyone plastered posters of across their walls and hoped they would end up married to when they played M.A.S.H. during study hall. Thanks to 2001's Pearl Harbor where he played doomed World War II pilot Danny, Hartnett became the Hollywood heartthrob of the early '00s. Then after a string of crowd-pleasing movies, Hartnett left mainstream Hollywood behind, and the generation that was obsessed with him grew up and took down their posters. It seemed like his moment was over, until Josh Hartnett resurfaced in Showtime's macabre masterpiece Penny Dreadful last year. The minute Hartnett's devilishly handsome American cowboy Ethan Chandler stepped onscreen, it was love at first sight all over again.
In Season 1, Penny Dreadful gave us a more mature Hartnett. Where he was once an actor trapped in roles aimed at mass audiences, Hartnett was no longer aiming to please everyone and his performance was all the better for it. Mysterious, roguish, tortured, honorable, and yes, sexy, Ethan was the Hartnett character we never knew we needed. Now as we await the premiere of Penny Dreadful Season 2 tonight, May 2 at 9 ET/PT on Showtime, let's take a look at the Ethan moments from Season 1 that made us fall back in love with Hartnett.
1. When He Taught Victor How to Shoot
All of the characters on Penny Dreadful are lost souls, but perhaps none are quite as untethered as Victor Frankenstein, who has lost so much he tries to make friends by reanimating the dead. For this reason, Ethan endeared himself to us forever when he took time out in a very exhausting and intense Vanessa episode to teach Ethan how to shoot a gun. It was a sweet, brotherly moment that proved Ethan looks out for the underdogs of the world.
2. The First Time He Trusted Vanessa
Ethan forged a connection with Vanessa (Eva Green) early on in the series and it was basically the most beautiful thing to ever happen on our television screens. It is Vanessa who recruited Ethan to join the merry band of Gothic novel misfits searching for Dracula, and he did so mostly because Vanessa brought out his curious side. These days, Ethan may be the truest friend she has in the world, and Green and Hartnett's chemistry only becomes more entrancing as the show goes on.
3. When We First Saw Him Wolf Out
Attentive viewers guessed Ethan was a werewolf long before his big transformation scene in the finale, but that did not make the moment any less thrilling. Hartnett spent most of the season playing Ethan as the goodhearted cowboy (who was carrying a dark secret), so it was incredibly satisfying to watch him bring real menace to the role.
4. The First Time We Saw Ethan
Way back in the first episode, Ethan showed up as an actor putting on a show as an American gunslinger for an enraptured crowd of Victorian England onlookers. It was campy, fun, and a fantastic way to reintroduce Hartnett to the world— it didn't hurt that after Ethan's performance, Hartnett illustrated how Penny Dreadful would operate under a nudity equality policy when his naked butt became the first instance of nudity on the show.
5. When He Refused to Leave Brona
Brona and Ethan were doomed from the start. Consumption was slowly killing her and she wanted nothing more but to spare Ethan the pain of watching her die. Ethan was having none of that though, and stayed with Brona right up until the bitter end, making all of our hearts ache in the process.
6. The Time He Found a Way to Save Vanessa
Vanessa's last possession of the season was brutal. She was in pain for so long that Ethan came very close to shooting her when she begged him to do it, but at the last moment he did an on the fly exorcism instead. The result was a killer scene between Hartnett and Green that showed just how far Hartnett has come as an actor.
7. When Ethan Made Friends With a Wolf
Hartnett proved just how cool and secretive Ethan was in the moment when Ethan approached a snarling wolf with his hand held out. Not only was it a major clue about Ethan's past, it was one of the first times Hartnett got to show off Ethan's reckless side.
8. When He Played Ethan, Playing the Devil
A sweet scene between Vanessa and Ethan turned creepy fast when the devil manifested himself as Ethan. From our standpoint, it was scary and more than a little hot watching Hartnett flip the switch and go dark so fast.
9. When This Happened
And in that moment we seriously considered pulling our Hartnett posters out of storage, adulthood be damned.
Images: Showtime (4); jaimelannister/Tumblr; areddhels/Tumblr (2); fypennydreadful/Tumblr (2); Giphy