Sunscreen-Meets-Setting Spray Is A Dream Come True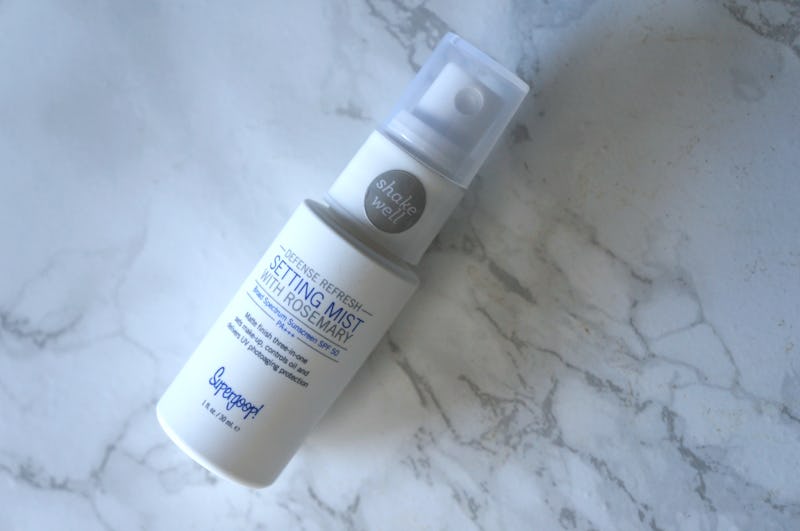 This might make me sound unbelievably boring, but sunscreen is one of my favorite beauty products. Once I realized that all the expensive creams and serums in the world can't undo the effects of sun exposure, I began to take my sunscreen application very seriously. In the winter I wear a moisturizer with SPF 30 every day, but in the summer I try to ramp up my efforts. I'm always interested in trying different kinds of sunscreens — drugstore and high-end, chemical and physical, stick and powder sunscreen — which is why I was stoked to hear about Supergoop's Defense Refresh Setting Mist.
The end goal, of course, is to find my Holy Grail sunscreen. Everyone's skin is different, but for me a HG sunscreen has the following attributes: a non-greasy, matte finish, no white residue, no harsh smell, works well with makeup, and has at least SPF 30. I don't know what I did to deserve this, but recently something amazing happened: I found a sunscreen that checks all those boxes. And that's not even the best part.
The best part of this new sunscreen, the aforementioned Supergoop mist ($12-28, supergoop.com), is that it solves what has always been my biggest sunscreen problem. Specifically, the problem of reapplying. Everyone knows that you should reapply sunscreen every two hours if you're out in the sun, but that can be a huge inconvenience for many reasons. Nobody wants to carry a big tube of messy sunscreen lotion around with them all day. More importantly, it's almost impossible to slather sunscreen on top of a full face of makeup (or even a light layer of BB cream and concealer) without completely destroying your look.
That's where this Defense Refresh Setting Mist comes in. It has broad spectrum SPF 50 and comes in a handy spray bottle. You simply squirt this sheer sunscreen mist on your face and not only will you get your required sun protection without messing up your makeup, but your makeup will actually look better. The mist dries to a matte finish that sets your makeup and controls oil.
Sound too good to be true? I thought so too, but for the most part this sunscreen delivers. Check out the proof.
Here's what my face looks like before using the setting mist. I'm wearing my favorite BB cream and concealer, both of which have a dewy finish that's great for my dry skin in the winter but unfortunately too shiny for the summer months.
Before:
I like a healthy glow as much as the next girl but my T-zone has way too much shine going on — and this is immediately after my makeup application. It only gets worse as the day goes on.
So, with fingers crossed, I closed my eyes and gave my face a few sprays of the setting mist.
After:
A huge improvement, right? One thing was immediately apparent: this product definitely delivers on its matte finish claim. Shine was completely eradicated in seconds (especially around my T-zone). I was also pleased that my skin still looked bright, not dry and dull in the way that some matte-finish products can end up looking.
But what about the overall experience? Let's break it down into pros and cons!
Pros:
Matte finish.
Does a good job setting makeup for the day.
Refreshing rosemary and mint scent (and no added synthetic fragrance).
SPF 50.
Convenient spray-on application.
Comes in a handy travel size.
Cons:
May not control oil all day for oily skin types. I have normal to dry skin and my T-zone got a little shiny again a few hours after one application on a hot day.
Can sting eyes when spraying it on, so be careful!
There is a large amount of alcohol included, which can be drying.
You need to make sure to use a lot to actually get the sun protection.
That last con is probably the only thing that concerns me. There has been some speculation about spray-on sunscreens being ineffective at best and harmful at worst. Nothing has been proven yet, but if you want to be on the safe side (as I do), I would recommend taking a few precautions. Obviously you should close your eyes tightly and avoid breathing in the mist as you spray it on.
Secondly, make sure you don't skimp on application. Supergoop recommends spraying four to five mists total as you go in a circular direction around your face. I also like to spray some on my fingers and gently pat around my face to make sure I'm completely covered and it's all evenly distributed. Reapply every two hours that you're in the sun.
I wouldn't be surprised if I run out of my 1 oz travel size very quickly, since I usually reapply two to three times a day. If you love this product as much as I do, I recommend keeping the travel size in your bag (or in your car or office) and investing in the larger 3.4 oz size to keep at home.
If you use it properly this setting mist will be pricier than your typical drugstore sunscreen lotion, but I honestly think it's worth it because it's both convenient and multi-tasking. So many times I've gone without a much-needed sunscreen touchup in the middle of the day because I didn't have a product like this. The fact that it smells good, feels refreshing, and gives my makeup a nice matte finish is just icing on the cake.
Images: Kelly Dougher (3); Giphy (2)